This Valentine's Day, during National Heart Month, UCF partnered with Orange County Fire Rescue partnered to launch two lifesaving apps, PulsePoint Respond and PulsePoint AED.
The apps support first-responding agencies like Orange County Fire Rescue by encouraging CPR-trained citizens to respond to sudden cardiac arrest incidents as emergency crews are en route.
The partnership to launch the technology at UCF was a natural selection. In 2015, the UCF student body was devastated by the loss of Michael Namey, a student who collapsed on campus and later died after suffering a sudden cardiac arrest.
"I am proud to stand with Orange County Fire Rescue to launch the PulsePoint apps," said Orange County Mayor Teresa Jacobs, who is also CPR certified. "When help is needed, our superhero first responders arrive as quickly as possible, but we know that when minutes matter, finding help just steps away can be the difference between life and death. This extraordinary technology helps make it possible for a CPR-trained citizen to also be a hero."
PulsePoint Respond notifies users through their mobile device that someone nearby is in need of CPR. The application also directs them to the closest publicly-accessible automated external defibrillator (AED), all while emergency crews are responding to the scene. The notification can only be sent by a participating 911 system, which has also dispatched emergency personnel. Notifications are only sent when an individual is in cardiac arrest in a public area.
PulsePoint AED enables users to upload a photo and mapped location of an AED, which is then available to all users during an emergency. An AED is a device that checks an individual's heart rhythm when experiencing cardiac arrest and then delivers a potentially life-saving electric shock to restore the individual's normal heart rhythm, Today's AEDs are very easy to use, with many designed to provide clear verbal step-by-step instructions to the user.
Both applications are available as free downloads on mobile devices.
"UCF has worked diligently to provide CPR training to our students, faculty members and staff members. Since the tragic death of student Michael Namey in 2015 following a cardiac incident inside a classroom, we've also increased the number and visibility of defibrillators on campus," said UCF President John C. Hitt. "As we embark on this partnership, we do so with the safety and well-being of our entire campus community in mind. Of the 500 defibrillators included in PulsePoint's location feature, I am proud to note that 200 are on this campus."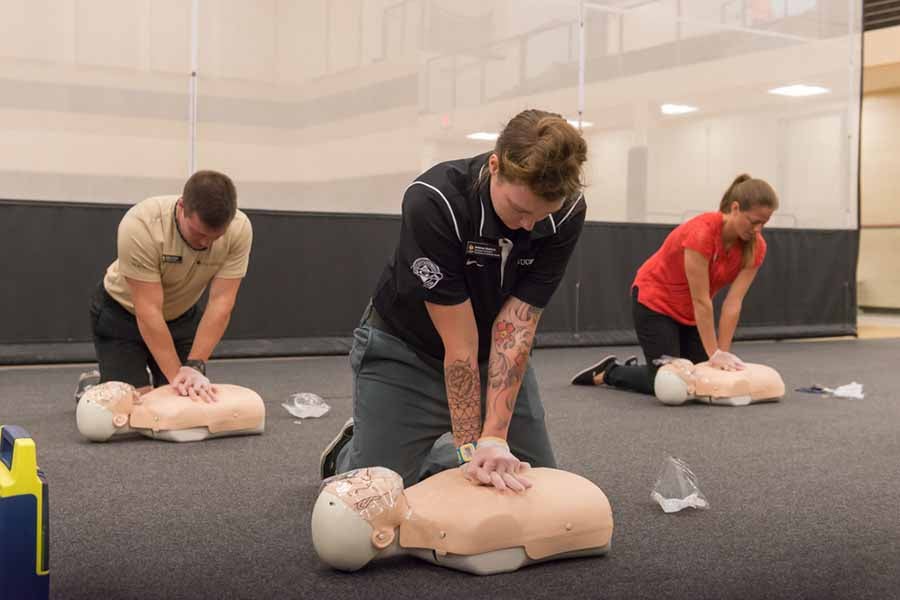 Staff from UCF's Recreation and Wellness Center, which hosted the event, demonstrated hands-only CPR
The apps are the first line of hope for individuals experiencing cardiac arrest. Now, users who are within walking distance of the individual in cardiac arrest can be alerted and respond within seconds as emergency crews navigate to the scene
"First responders are trained to rush to the aid of those in need in our communities," said Orange County Fire Chief Otto Drozd III. "However, 57 percent of U.S. adults say they have had CPR training, and most would be willing to use CPR or an AED to help save a stranger's life. With PulsePoint, we can engage those who are willing to help and increase the survivability of cardiac arrest incidents in Orange County."