When photography was invented in 1822, some painters believed it was the end of art. But in fact, photography became its own medium that helped launch the modern art movement. Today, artificial intelligence (AI) — the simulation of human intelligence processes by computer systems — is transforming the art world, among several other industries, as we know it.
The impact of this cutting-edge technology on the arts is a hot topic as a new generation of "generative" AI applications can create works of art in seconds by simply typing a few words into a text box — raising questions about the creative process, ethical values and more. While people around the world are desperately trying to navigate the intersection of AI and human creativity, UCF is exploring the possibilities that lie ahead.
A prime example was this year's UCF Celebrates the Arts that turned the spotlight on the intersection of arts and technology for the first time ever. Through dance, concerts, film, discussions and more, the university's best and brightest artists merged visual arts with AI and other revolutionary technologies to showcase the endless creative possibilities at this intersection.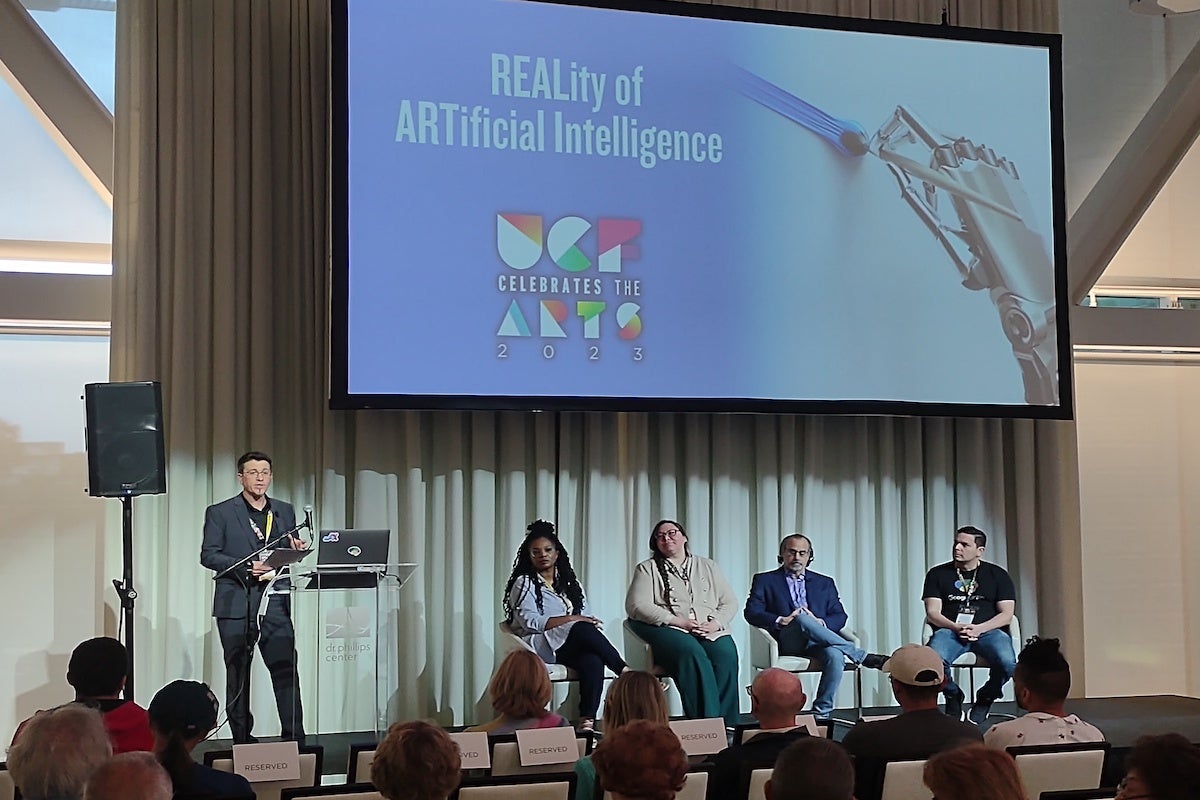 Knights and the Central Florida community alike saw AI in action while attending the festival's REALity of ARTificial Intelligence event hosted by the UCF Center for Ethics in collaboration with the Center for Computer Vision and the School of Visual Arts and Design.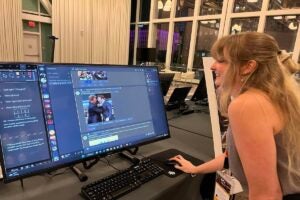 Attendees gained hands-on experience using AI tools at computer stations where they typed in keywords and statements to create their own art using generated scriptwriting and photographs. AI even assisted with the event's ambiance, too, as the sounds of AI-generated techno music played in the background. There to help attendees make sense of it all were experts in ethics, visual art and computer science like Google Brain Research Scientist Ruben Villegas who explored the idea of AI being "the new paintbrush" during a panel discussion on the technology's functions and how it's reshaping the creation of art, music, writing and more.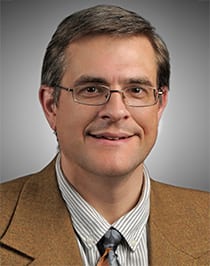 When the world needs answers for today's most challenging problems, UCF is often looked to as a leader in innovation. This is what inspired Professor Stephen Kuebler, co-organizer of REALity of ARTificial Intelligence and founding associate director of UCF's Center for Ethics, to design an experience that would inform the community on must-know innovations and techniques in AI technology.
"Communities at all levels need to get ahead of the curve and understand the implications of AI so we can implement it in ethical and sensible ways that truly improve the quality of life for all," Kuebler says. "[UCF] is well positioned to do just that because we are a vibrant community of growth and change. But the first step is education and awareness."
The intersection of art and technology represents a shift and milestone in the evolution of art itself.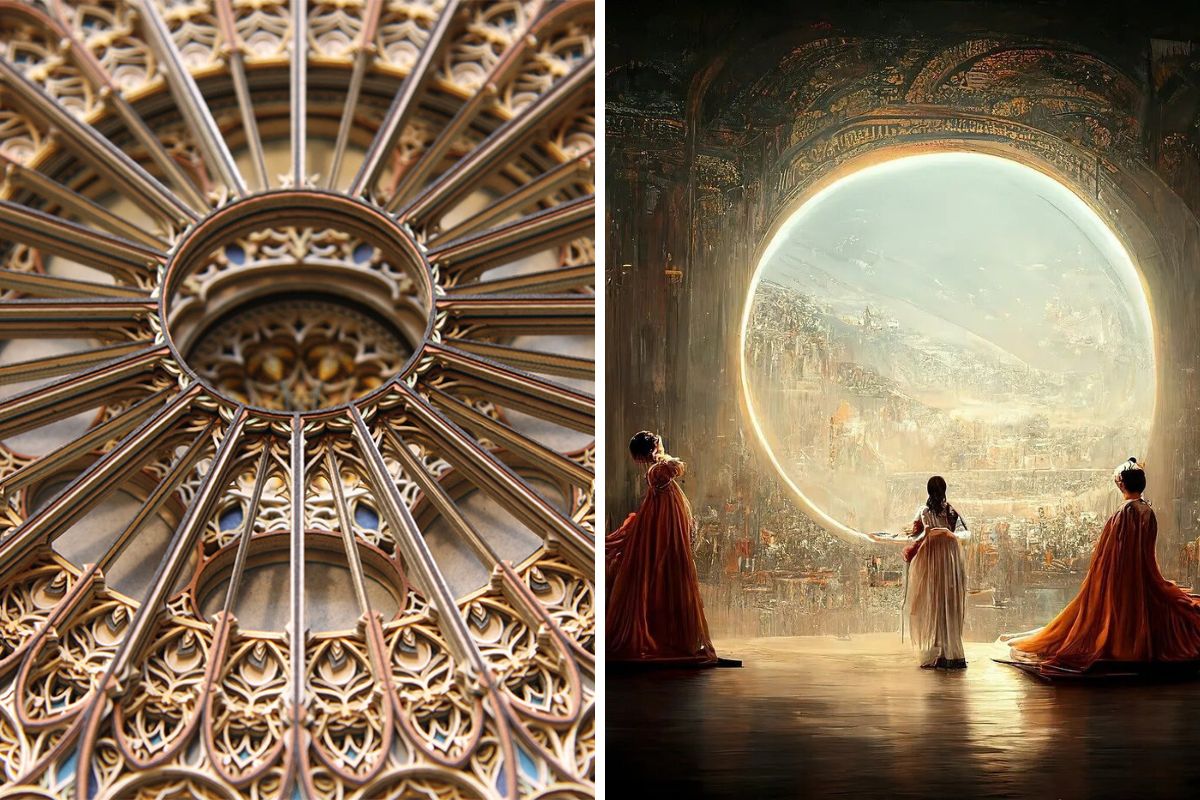 The 90s kickstarted a technology revolution that gave artists more tools — from digital colors to 3D printing — to express their creative visions while also improving the accessibility of their art. More recently, memorable installations like artist Eric Standley's stained glass windows made from stacked laser-cut paper or designer Jason Allen's "Théâtre D'opéra Spatial" — one of the first AI-generated pieces to win the Colorado State Fair's annual art competition; are examples of how advanced technology has enabled artists to transform and manipulate their artwork.
As human beings, Kuebler says he believes we tend to think that only intelligent beings have the ability to create.
"AI challenges our view of art, creativity and how we value things," he says. "Very few claim AI tools are anything like self-aware or intelligent, and yet they produce new images, stories and other works that can be exceptionally appealing."
Understandably, AI tools are receiving backlash from many human artists who fear for their own professional futures. Their main concern: Why would anyone pay for art when they could generate it themselves?
Kuebler argues that a lack of familiarity with the AI-art making process may be causing particular distrust among human artists.
"The works are inherently derivative because they are generated by an algorithm that samples a database of existing art," he says. "But in many ways, human artists do the same because their work is informed and inspired by everything that came before."
Kuebler explains that our value for artwork changes once we know how it was created. Some people ascribe less value when they discover that it was created by a computer.
Yet despite the wave of criticism and fierce debates, the use of AI-generative platforms can undoubtedly birth new types of artists and art genres and may even deepen our appreciation for artists who use traditional, hands-on methods as they add a new level of authenticity to their artwork.
But the integration of visual arts and AI is just one of many avenues that UCF is exploring.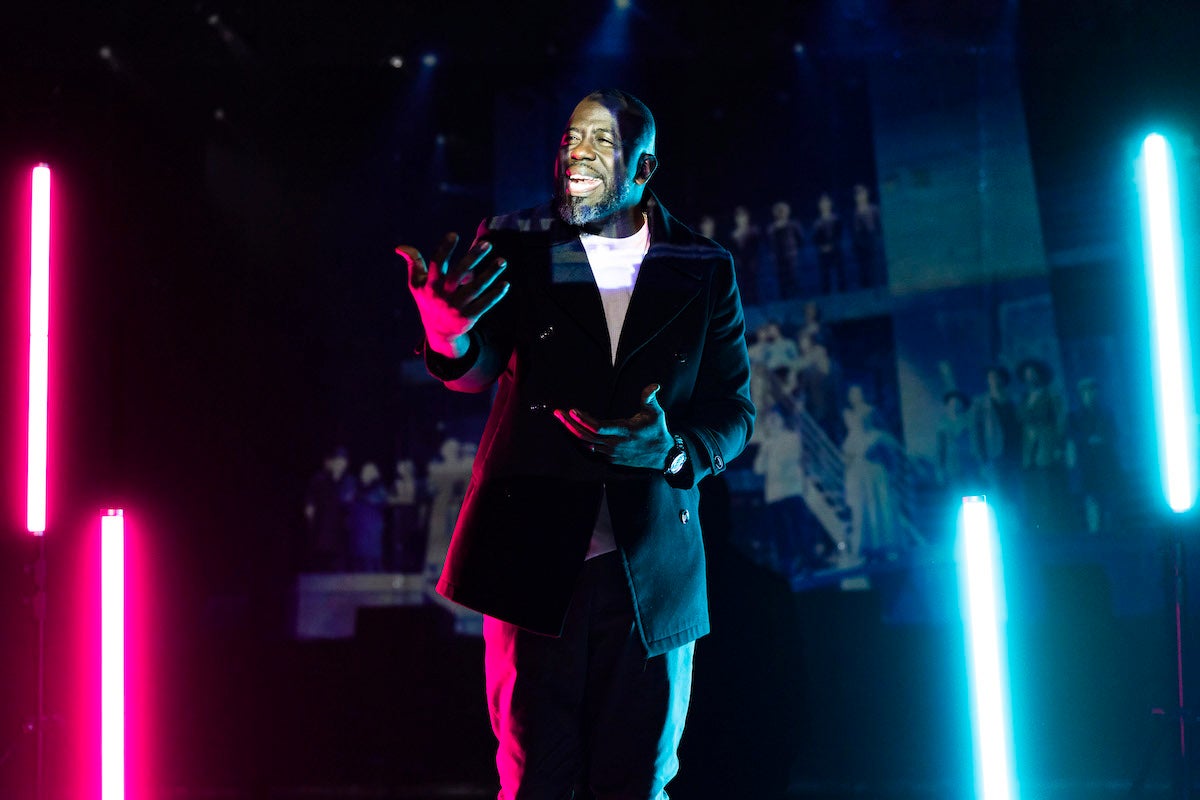 When professional speaker and
Orlando Poet Laureate
Shawn Welcome '17
was invited to perform spoken word poetry for a hologram installation at UCF Celebrates the Arts 2023, it was his curiosity about the technology that drove him to participate.
The merging of hologram technology with the art of spoken word "represents something new for both disciplinary areas that we've yet to discover," says Welcome, an English alum and current applied sociology graduate student.
The hologram device was acquired by UCF's College of Health Professions and Sciences thanks to a gift from Brooks Rehabilitation. The new technology produces a lifelike person in hologram form that is being used to train UCF's future healthcare professionals in learning how to assess and treat patients.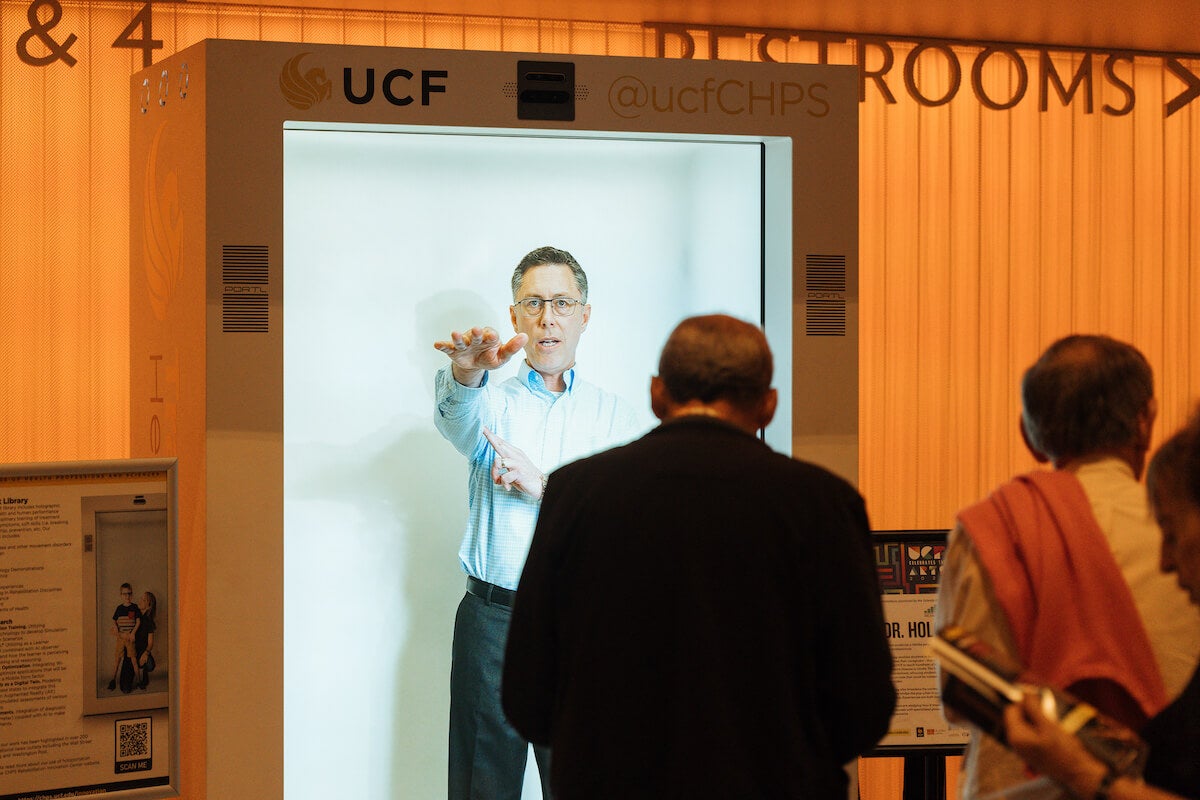 The wonders of this simulation tool were amplified during UCF Celebrates the Arts through a collaboration with researchers and the arts and humanities. A series of holograms, including Welcome's poetry performance, were displayed in the lobbies and public spaces of the Dr. Phillips Center for Performing Arts where the annual art showcase is held.
The hologram installation is something Welcome says he is still processing.
"As one uses body language and tone in addition to the actual words to creatively communicate, the hologram captures what you simply can't capture in 2D," Welcome says. "And for anyone in the world to engage with that is really fascinating."
As technology evolves, it's no surprise that UCF, like many artists, is bringing it to the human experience to push boundaries and meet the changing aesthetic tastes and needs of society.
"[UCF] afforded me the opportunity to think critically about the intersection [of art and technology]," Welcome says. "[The university] gets to imagine what the future holds with accessibility to technology like this … and for better or worse, that is always a good thing."