Having spent his early years in his native Colombia, Gustavo Marino experienced the challenges that underserved people have accessing healthcare.
"I saw members of my family experience difficulties and it just made me want to be able to do more for underserved communities," says Marino, now a fourth-year medical student. "Even when my mom and I moved here when I was five years-old, we thought we were going to have better access to healthcare but her job as a housekeeper didn't offer insurance, so things weren't necessarily better. So that's always made me want to help the underserved communities in the U.S. and internationally."
Marino, who is a 2nd Lt. in the U.S. Air Force, this week matched into a military residency in otolaryngology — one of medicine's most competitive specialties — and will train at the Brooke Army Medical Center in San Antonio, Texas.
"I'm incredibly grateful for the opportunity to have matched into this specialty and to be able to care for the military," says Marino. "I see the military as a special population that sacrifices a lot to provide a better life for their family, for the country and for future generations. Those are the people I want to help the most, that motivate me to get up every day and train and provide the best care I can."
Gustavo is a recipient of the military's Health Professions Scholarship, which covers tuition and living expenses for medical students who agree to serve their country for one year for each year of scholarship. Students match into residencies at military hospitals or do their service after civilian residencies.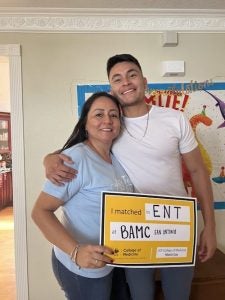 Medical school graduates must complete a residency program in their chosen specialty before they are able to practice. Students apply for and then interview with residency programs and rank their choices. Residency programs do the same. A computerized service then matches top choices from both. While the majority of the nation's medical students will learn their residency match on March 18 — this year's National Match Day — some specialties, including urology, ophthalmology and military-based residencies, announce matches early.
As an otolaryngologist, Marino will specialize in diseases of the ear, nose and throat. He says he became interested in the specialty during his third-year surgical clerkship when he cared for a woman who needed facial surgery.
"When we talked to the patient, we heard her concerns about some of the cultural implications of having a facial laceration and how she was going to be shunned by her community for the scar," he says. "We were able to come up with a plan that would allow her to have minimal scarring and allow her to reintegrate into her community. So just seeing that intersection between culture and what medicine can provide especially in ENT made it a really exciting field for me."
Marino says he hoped to serve as a mentor for others from underserved communities and people of color and is looking forward to caring for military veterans and minority populations.
Brooke Army Medical Center is the military's only Level One trauma center, and Marino said his residency there will allow him to focus on two areas of interest — trauma and surgical reconstruction.
"A lot of their trauma patients are primarily Spanish-speaking in that area, because they treat civilian individuals as well," he says. "I will be one of the only Spanish-speaking residents, so I will be able to work in a place where I can use my Spanish as well as provide culturally sensitive care."
Soraya Smith, the College of Medicine's assistant dean of students, congratulated Marino on his achievement.
"I am so very proud of Gustavo for having matched into a very competitive specialty," she says. "I have been a part of his journey from first-year until now. It has been incredible working with him and I cannot wait to see what the future holds."