On this Saturday morning, more than a dozen uninsured children are getting their health checks and vaccinations through the Nemours Children's Health Mobile Clinic — thanks to a College of Medicine-trained physician who has spent her career advocating for others.
Laura Chilcutt '19MD graduated from UCF's medical school in 2019 and was one of the first physician Knights to join Nemours in Lake Nona for her pediatric residency training. Today, she is on staff at the hospital and is medical director of the clinic — a van that provides care once a month at three Orlando locations for children in need.
Chilcutt created the effort after learning of an unused van at a Nemours hospital in Delaware. With help from a $25,000 grand from TD Bank, she began providing services such as check-ups and vaccinations out of the van. Now she has expanded the effort, arranging office space at the Mexican Consulate, Hope Community Center and the Hispanic Federation in Orlando so children and their families don't have to wait outside in the heat and rain. She has also gotten UCF medical students to volunteer at the clinic, giving them the opportunity to practice their clinical skills while serving the community.
"Nemours Children's Health's Mobile Clinic is one way that Nemours is addressing health outside the walls of our hospital to bring high quality care to some of the most vulnerable children in our communities," says Daniel Podberesky, the hospital's chief medical offer and a professor at the College of Medicine.
At the recent clinic at the Hispanic Federation on Orlando's Sand Lake Road, Chilcutt's team prepared vaccinations for measles, mumps, rubella, polio and meningitis in the van while medical students registered patients and took their vital signs in makeshift exam rooms on the office's third floor.
Carolyn Rapp, a third-year UCF medical student, placed a blood pressure cuff on the arm of a girl who was visiting the clinic with her mother and sister. She recorded the child's heart rate, height and weight and then sent her to the next room for a vision check. Rapp is one of six M.D. students who regularly volunteers with the Nemours effort. She became involved after learning how the clinic was providing care and education to children with asthma and their families.
"I love the kids," she said. "They're so sweet and a lot of them are Spanish-speaking so it's a great way for me to practice my Spanish and get to know the community."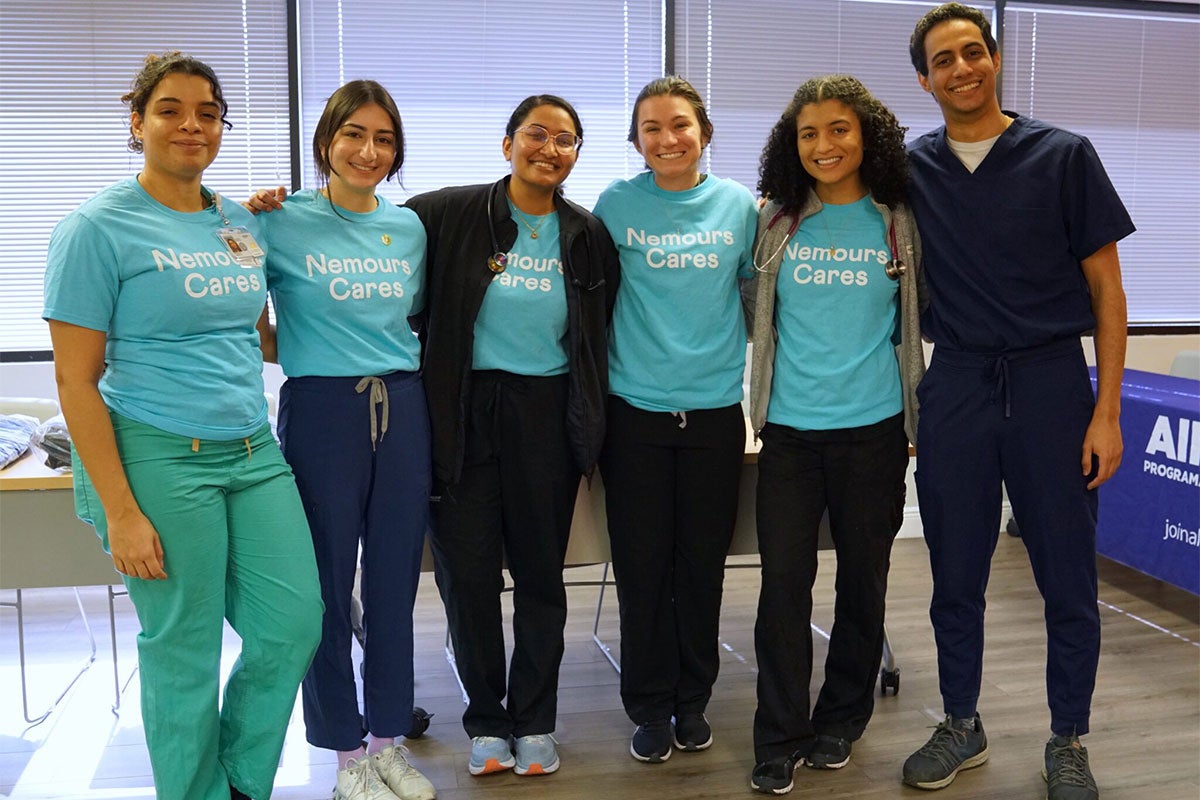 The clinic sees 14 patients a session. Students are supervised by Nemours physicians who run the electronic health record system and recommend other resources, such as mental health counseling for those in need.
Chilcutt says the clinic provides an opportunity for medical students to see the real-life challenges that children — especially those without medical insurance — face.
"This is a great opportunity for them to not just learn clinical but actually interact with patients, talk to families, find out things like suicide, domestic violence," she says. "This is exposure to a lot of issues in the community and in the world that you may not get going into a private practice or hospital."
Such community service has always been part of Chilcutt's career.
Before becoming a pediatrician she practiced humanitarian law.
"As a lawyer, my specialty was helping victims of human trafficking, domestic violence and immigration cases," she says, "so I love that I'm back working with a similar vulnerable population."
During medical school, she also volunteered at the student-run KNIGHTS Clinic that serves uninsured patients at Grace Medical Home in Orlando.
She sees her role at the mobile clinic as both educational and clinical.
"It's teaching, giving residents and medical students a chance to learn about running a clinic, learning about this type of need in the community and ways we can fill in the gaps," she says.
She's also inspiring tomorrow's healthcare leaders. Third-year medical student Deepti Singam says she will likely pursue a career in pediatrics because of her work with Chilcutt.
"This is the fourth clinic that I've done, and I absolutely love it," she says, "I get to interact with kids and provide health care, seeing the community and seeing their experiences, seeing them smile and laugh, it's really a good way to start the morning and the weekend. Chilcutt created this, she's just such an incredible physician. It's definitely something that we should all aspire to be."