UCF's next vice provost for Teaching and Learning and dean of the College of Undergraduate Studies is an accomplished administrator, researcher and author.
Theodorea Regina Berry joins UCF on Jan. 2 from San Jose State University. She currently serves as a professor and chair of the Department of African American Studies in the College of Social Sciences.
Berry's appointment by Elizabeth A. Dooley, UCF's provost and vice president for Academic Affairs, concludes an extensive national search. In her role, Berry will drive efforts to offer students in her college robust programs while supporting university-wide initiatives to advance undergraduate education and take learning beyond the classroom.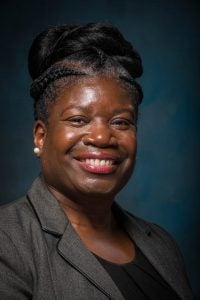 She will lead a division that will be renamed and reorganized in January to promote greater student success. The reimagined Division of Student Learning and Academic Success will include the Office of Student Success, First Year Advising and Exploration, Transfer and Transition Services, Student Academic Resource Center, and the Registrar's Office. The division will also entail existing units, such as Academic Advancement Programs, UCF Abroad, Experiential Learning and Undergraduate Research.
"Dr. Berry brings a breadth of experience, expertise and scholarship that will energize the student experience and academic excellence at UCF," Dooley says. "We look forward to her contributions on many fronts that will advance UCF as a 21st century model for higher education."
Prior to joining San Jose State University, Berry served in various leadership roles at the University of Texas in San Antonio. Those included being the associate dean of Academic Affairs and director of Graduate Recruitment and Engagement in the Graduate School and being the director of the African American Studies Program. She also served as an assistant professor at Mercer University in Georgia within the Tift College of Education and as the chair of the Department of Curriculum and Instruction at the American College of Education in Chicago. Her professional engagements also include being a scholar-in-residence at the University of North Carolina at Chapel Hill.
She is a pioneer scholar on critical race feminism in the context of education. Her research papers have appeared in such journals as the Review of Educational Research, Journal of Curriculum Theorizing, Race, Ethnicity, and Education, Journal of Educational Foundations, and Urban Review. Dr. Berry has published books and numerous book chapters. For example, she is lead editor of Latinx Curriculum Theorizing (Lexington Books, 2019) and author of States of Grace: Counterstories of a Black Woman in the Academy (Peter Lang Inc., 2018).
Her professional honors include being the recipient of the 2014 Critics Choice Award from the American Educational Studies Association for her work as co-editor and contributing author of The Evolving Significance of Race: Living, Learning, and Teaching (Peter Lang Inc., 2012).
"I am extremely excited to join the University of Central Florida on its path toward transforming higher education in the 21st century while serving as a model for building a strong academic community inclusive of faculty, staff, students and administrators," Berry says. "I look forward to working with UCF in continuing its commitment to research, scholarship and academic rigor with access to innovative curriculum and teaching for students throughout Florida and the U.S."
She holds three advanced degrees from National-Louis University in Chicago: a doctorate in education in Curriculum and Social Inquiry; an education specialist degree in Leadership in Curriculum and Teaching; and a master's degree in Interdisciplinary Studies in Curriculum and Instruction. She earned a bachelor's degree from Slippery Rock University of Pennsylvania in Communications.