The Simulation, Technology, Innovation & Modeling (STIM) Center at UCF's College of Nursing is among an elite group of nine simulation programs worldwide — and the only one in Florida — to earn the new Healthcare Simulation Standards Endorsement from the International Nursing Association for Clinical Simulation and Learning (INACSL).
The international endorsement recognizes the STIM Center for demonstrating excellence in applying the Core Four Healthcare Simulation Standards of Best Practice, which are Prebriefing: Preparation & Briefing, Facilitation, Debriefing, and Professional Integrity.
"The designation of a full endorsement recognizes the high quality of our simulation experiences, the expertise of our faculty and staff, and our commitment to diversity, equity and inclusion across simulation," says Simulation Center Associate Director Syretta Spears, who is among six certified simulation experts and five certified telehealth educators at the college.
The STIM Center was also recognized for its commitment to innovation in the field, as it regularly incorporates new technologies, such as augmented, virtual and mixed reality, into simulation learning experiences.
This is the second global honor for the STIM Center, which earned accreditation from the Society for Simulation in Healthcare in 2020.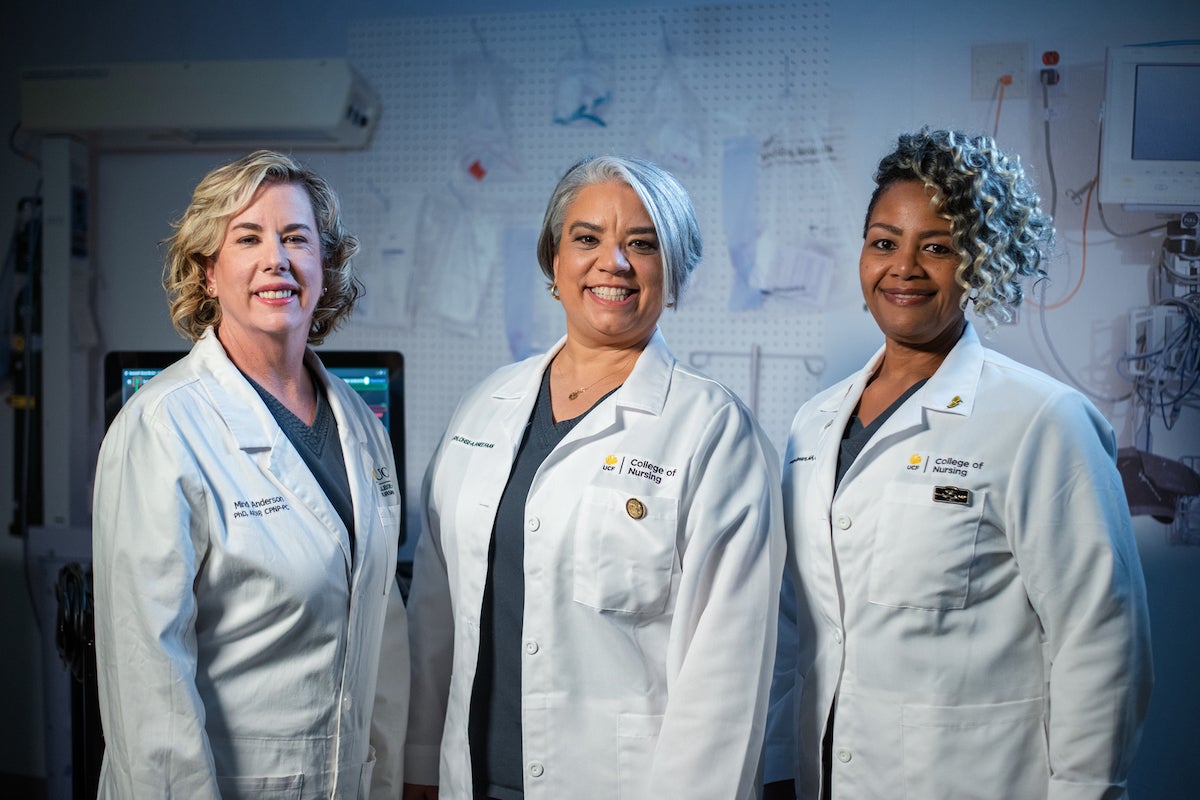 "With the accreditation and now this endorsement, UCF is strengthening its reputation as a leader in the field and a driving force in the future of simulation," says Associate Professor Desiree Díaz, an advanced certified healthcare educator and president-elect of INACSL. "These honors also shine a light on the work of our dedicated team who are passionate about the field and in educating the best healthcare provider possible."
UCF College of Nursing attracts visitors from around the world to learn from its simulation operations, and is home to Florida's first — and one of a few nationwide — healthcare simulation graduate programs.
The state-of-the-art 7,500-square-foot STIM Center, which is located in Central Florida Research Park adjacent to the main campus in Orlando, is designed to replicate a hospital and other clinical settings while providing a safe, controlled setting to foster learning and skills development. Each year, the STIM Center provides more than 7,500 total contact hours of invaluable hands-on, real-world training for undergraduate and graduate nursing students.
The STIM Center also fosters innovative, interdisciplinary research. College of Nursing experts, together with faculty across disciplines, are advancing the field through their contributions to new best practices, published research in peer-reviewed journals and innovations such as the patented physical-virtual patient simulator.
UCF College of Nursing was among only 12 schools worldwide invited to apply to the pilot of the INACSL endorsement program. Endorsement was not guaranteed to pilot program participants. The INACSL endorsement program and the first recipients were announced Friday, June 17, at the INACSL22 conference.