Language experts know that it is critical for children who are deaf or hard of hearing (D/HH) and their families to have access to listening and spoken language services at an early age from knowledgeable, skilled, credentialed providers.
To better address those needs, a new partnership at Lake Como Elementary School between the UCF Listening Center and Orange County Public Schools (OCPS) began in September 2019 for pre-kindergarten children who are D/HH. There are currently 12 students ages 3-5 enrolled in the program.
This partnership was realized through two-years of planning between Linda I. Rosa-Lugo, director of the UCF Listening Center, Debra Knox, director of UCF's Communication Disorders Clinic, and Elizabeth Padilla, an ESE administrator with OCPS.
Rosa-Lugo has been working for over seven years to establish and grow the outreach of the UCF Listening Center. With each grant and charitable donation she got along the way, she expanded the impact of the center.
The focus of the partnership at Lake Como Elementary is to partner a teacher with a graduate clinician in speech-language pathology in the classroom to enhance the children's listening and spoken language skills, says Padilla. This new partnership is the beginning of what Rosa-Lugo hopes will be similar programs throughout the area.
The children do not primarily utilize American Sign Language (ASL), Padilla says. The children have hearing aids or cochlear implants and are seen by a cadre of professionals that work collaboratively to enhance their listening and spoken language skills and support their academic development.
UCF graduate clinicians also benefit from providing speech language pathology services in the specialized, real-world classes, under the supervision of a licensed and certified speech language pathologist, and in this case, the supervising SLP has expertise working with children with hearing loss.
The clinical educator behind the new partnership is Whitney Haas, a UCF speech-language pathologist and certified Listening and Spoken Language Specialist (LSLS).
A LSLS is a qualified provider for children with hearing loss who are pursuing listening and spoken language. Padilla estimates there are approximately 35 LSLS in Florida.
"LSLS are rare because the certification is extremely hard to get," says Padilla.
According to the AG Bell Association for the Deaf & Hard of Hearing, the LSLS certification requirements include 900 clock hours within the past three to five years, 80 continuing education units and mentoring by a certified LSLS.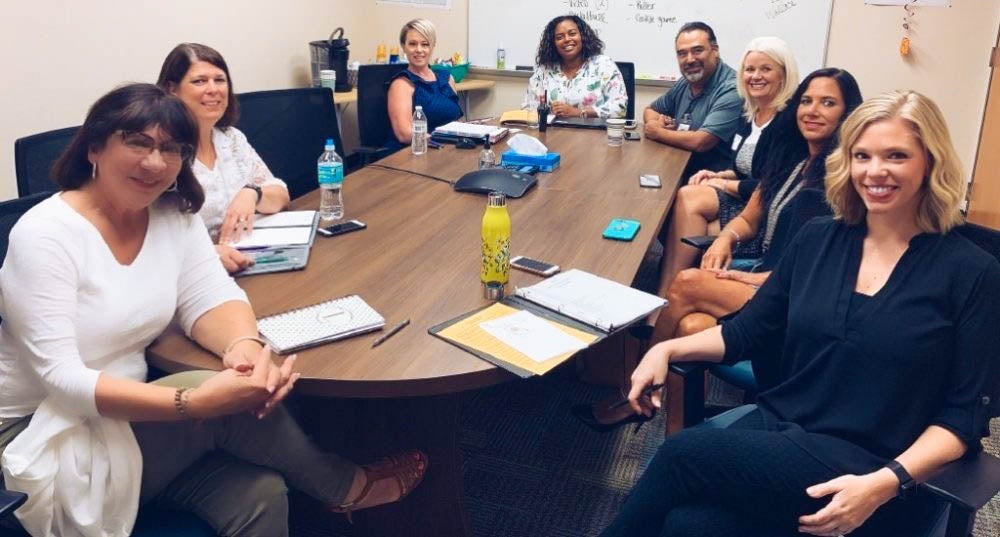 Although D/HH children receive services through the public-school system, this partnership provides a UCF speech language pathologist with this additional special certification to provide intensive, enhanced services, along with mentoring of the classroom teachers, amplifying what is already being done.
When it comes to introducing language to children with hearing loss, Haas says, "The earlier we introduce language to children who are deaf and hard-of-hearing, the better."
Haas supervises the graduate clinicians in the classrooms and works collaboratively with the public-school teachers who have a background in deaf education.
For example, the theme for one week was ocean animals; Haas and her students worked side-by-side with the children using colorful pictures of sea animals and matching them to corresponding pictures on boards at the front of the classroom. This activity allowed the graduate clinicians to incorporate listening and spoken language strategies with the children's literacy development.
Parental involvement is also key to the success of the program, Padilla says. A 2010 study from the National Institutes of Health indicated that approximately 90 percent of children with hearing loss are born to parents with intact hearing, who may initially know little about deafness or sign language. The program engages parents by holding regular meetings with them and offers resources and other assistance.
"We are thrilled to partner with OCPS on this project," says Knox, who also serves as vice president of the Florida chapter of the A.G. Bell Association for the Deaf & Hard of Hearing. "It is a win-win for all of the students involved. Our ultimate goal is to help OCPS build its internal capacity for LSL services in the district."
"The pairing of special education teachers and specialized speech language pathologists is where the magic happens," says Haas. "It's the best place for this learning and development to occur, guided by two of the most qualified professionals to assist these children."
"It's also a great experience for our graduate clinicians," Haas added. "Because they are able to see the strategies they've learned in their Aural Rehabilitation graduate class in action. Also, they can see how natural and helpful for students the rapport can be between teachers and clinicians."