Two of Florida's leading healthcare systems and Florida's leading producer of nursing talent are uniting to address the state's nursing shortage.
Fueled by $10 million in combined commitments from AdventHealth and Orlando Health, the UCF College of Nursing has moved a major step closer to a new building at Lake Nona that will enable the college to graduate hundreds of additional nurses annually who will care for patients throughout the region and state. The new building also will expand the college's capacity to educate future nursing faculty members who are needed to teach the nurses of tomorrow.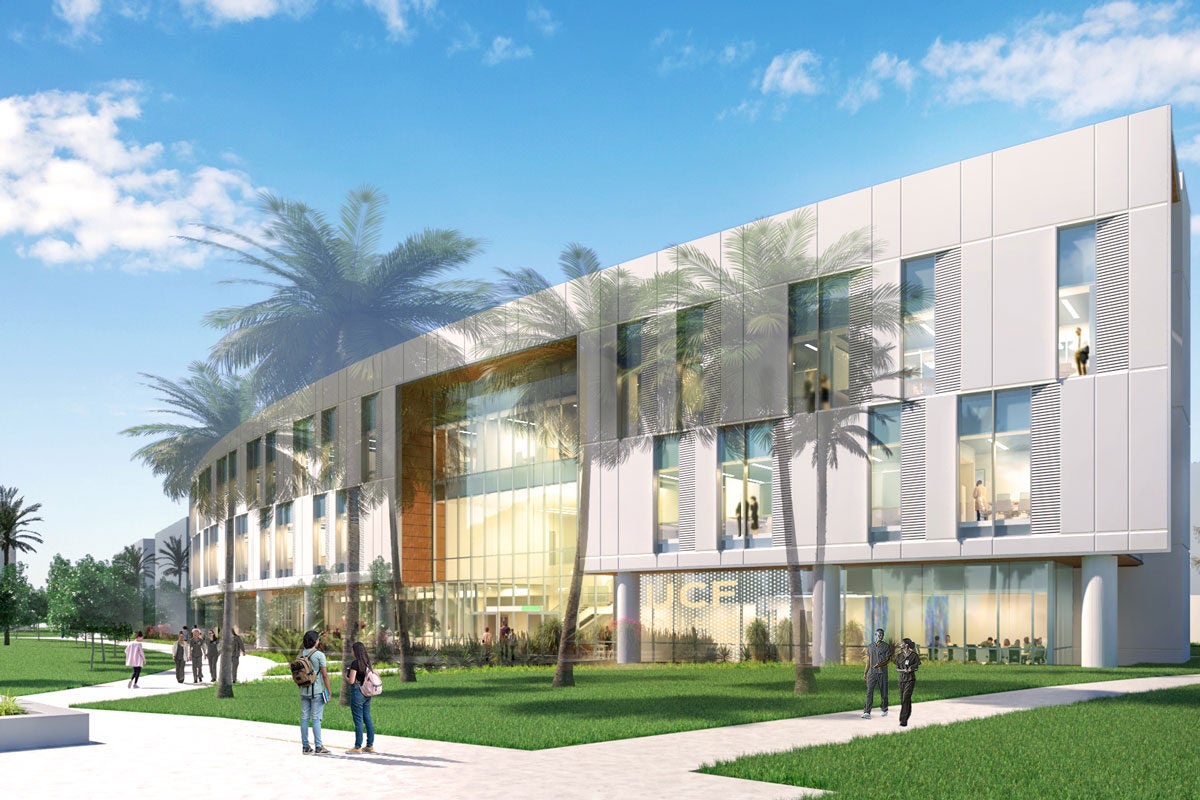 As UCF's inaugural Pegasus Partners, AdventHealth and Orlando Health have each committed $5 million to support those much-needed efforts as well as to provide tuition assistance and additional paid internships for UCF nursing students.
"AdventHealth and Orlando Health have been valued, transformative partners to UCF as we collaborate to support the health and well-being of our community," says UCF President Alexander N. Cartwright. "Their continued partnership and generous investment in UCF's College of Nursing will make a difference in our region for generations to come."
AdventHealth and Orlando Health employ more than 12,000 nurses combined at a total of 34 hospitals across Central Florida. Both systems will rely on UCF to help prepare the additional talent they need to combat the national nursing shortage and expand their workforces.
"Ensuring we have well-educated, highly trained and skilled nurses to meet Florida's growing health care needs is a pressing challenge for the entire health care sector," says Randy Haffner, CEO of AdventHealth Florida. "Partnering with leading educational institutions such as UCF is absolutely vital to ensuring these efforts are successful."
"Like many healthcare systems across the state and the nation, Orlando Health constantly evaluates and adjusts strategies in order to deliver exceptional patient care," says Karen Frenier, senior vice president, human resources and chief nurse executive, Orlando Health. "We are excited about our long-term partnership with UCF as we continue to strategically plan nursing workforce opportunities for the future."
In addition to contributing to the new building, each hospital's gift will support student success with the creation of a scholars program named in their honor. Each of those programs will provide tuition assistance to 10 senior BSN students annually and establish a paid summer internship program for an additional 10-15 students annually.
"Our longstanding partnerships with AdventHealth and Orlando Health have a wide-reaching impact on the community, from supporting a quality education of our students who join the workforce and provide compassionate, skilled care to funding faculty research and innovation to improve outcomes," says Mary Lou Sole, dean of the UCF College of Nursing. "We are extremely thankful to these leading health systems for their commitment to UCF and their generous gifts to fuel the future. Together, we will continue to make our Central Florida communities healthier."
UCF currently graduates more newly licensed RNs annually than any other institution in the State University System, with approximately 260 Knight nurses entering the workforce each year. Almost all of them — 85% of the 16,000 nursing alumni — live and work in Florida.
Last year, the College of Nursing added 100 students beyond its usual enrollment to help keep pace with the state's demand for new nurses. The new building is needed for the additional enrollment growth, and when complete, the 90,000-square-foot building will be large enough for the college to increase enrollment by at least 50% to make a much bigger impact in helping to alleviate the state's nursing shortage.
UCF continues to seek philanthropic investments in the new building, as we near the goal of raising $70 million needed to break ground on the College of Nursing. $26.2 million has been raised through philanthropy to-date, which will be combined with $43.7 million committed by the State of Florida, to support the region and guide 21st century healthcare.
AdventHealth and Orlando Health join Dr. Phillips Charities, Helene Fuld Health Trust, Elizabeth Morse Genius Foundation, Parrish Medical Center and VNA Foundation in support of this transformational project.
About Pegasus Partners
UCF's new Pegasus Partners program offers opportunities for select partners to engage across the university in ways that create meaningful value for both organizations. That engagement includes talent development and recruitment, shared research projects, joint ventures and collaborations, and strategic philanthropy. UCF is proud to welcome AdventHealth and Orlando Health as two of its inaugural Pegasus Partners.
About AdventHealth
AdventHealth, one of the nation's largest nonprofit health care systems, is headquartered in Central Florida. They have been a long-standing partner of the College of Nursing for over 40 years, dating back to the establishment of the bachelor's in nursing program. AdventHealth has been a partner both clinically, including student clinical placements, research, faculty and adjunct support; and philanthropically.
AdventHealth's Central Florida Division encompasses more than 20 hospitals and ERs in the six counties in and surrounding metro Orlando. The world-class hospitals, combined with a comprehensive outpatient care network, see more than 5.7 million patient visits annually.
AdventHealth also has an expansive research portfolio in Central Florida, with more than 500 clinical trials and studies in progress.
The organization has a deep commitment to serving the community and has a local financial impact of more than $1 billion annually. AdventHealth and its employees are responsible for nearly 20% of Central Florida's economy.
The division's flagship campus — AdventHealth Orlando — boasts nationally and internationally recognized programs, and serves as a major tertiary and quaternary referral hospital for much of the Southeast, the Caribbean and Latin America. Quality specialty care is provided through AdventHealth Institutes, which is nationally recognized in numerous specialties.
AdventHealth Orlando has been recognized by U.S. News & World Report, Newsweek, Centers for Medicare and Medicaid Services, and the Leapfrog Group.
About Orlando Health
Caring for Central Florida has been an Orlando Health tradition for over 100 years, and their healthcare services extend well beyond their hospital walls. Orlando Health has been one of the first and longest-standing partners of UCF, including serving our Knights' athletics teams and student-athletes as the official medical provider for UCF Athletics.
Headquartered in Orlando, the system is a not-for-profit healthcare organization with $9.2 billion of assets under management that serves the southeastern United States and Puerto Rico.
It is recognized around the world for Central Florida's only pediatric and adult Level I Trauma program as well as the only state-accredited Level II Adult Trauma Center in Pinellas County. It is the home of the nation's largest neonatal intensive care unit under one roof, the only system in the Southeast to offer open fetal surgery to repair the most severe forms of spina bifida, the site of an Olympic athlete training facility and operator of one of the largest and highest performing clinically integrated networks in the region. Orlando Health has pioneered life-changing medical research and its graduate medical education program hosts more than 350 residents and fellows.
The 3,888-bed system includes 29 hospitals and emergency departments — 24 of which are currently operational with five coming soon. The system also includes nine specialty institutes, more than 100 adult and pediatric primary care practices, skilled nursing facilities, an in-patient behavioral health facility under the management of Acadia Healthcare, and more than 60 outpatient facilities that include imaging and laboratory services, wound care centers, home healthcare services in partnership with LHC Group, and urgent care centers in partnership with FastMed Urgent Care. More than 4,750 physicians, representing more than 100 medical specialties and subspecialties have privileges across the Orlando Health system, which employs more than 27,000 team members and more than 1,200 physicians.
In FY22, Orlando Health served nearly 142,000 inpatients and 3.9 million outpatients. The healthcare system provided more than $782 million in total value to the communities it serves in the form of charity care, community benefit programs and services, community building activities and more in 2021 fiscal year, the most recent period for which this information is available.