Barbara Truman '94 '96MA, who helped create and develop UCF's early ventures into online learning, died July 17 from cancer. She was 59.
Truman held multiple positions at the university dating back to 1996, beginning when she was a graduate student hired to help build UCF's inaugural online program.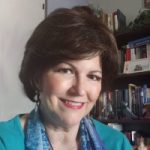 She later was named director of course design and development for the Center for Distributed Learning before becoming strategic advisor for immersive learning and collaboration at UCF's Institute for Simulation & Training in 2014. A video about her involvement with online learning was made by the Center for Distributed Learning in 2013.
Thomas Cavanagh, UCF vice provost for digital learning, says Truman's spirit was exemplified by the Rosie the Riveter poster she kept in her CDL office.
"It's hard to overstate her importance in the creation and development of online learning at UCF. We are all the direct beneficiaries of her work," says Cavanagh. "She had an unmatched optimism for the work we do and an enthusiasm that was contagious."
Truman was born in Park Ridge, Illinois, moved to Central Florida in 1972, and graduated from Lyman High School in 1980.
At UCF she earned her bachelor's degree in journalism and master's degree in instructional systems design.
While studying for her doctorate in 2001, she was diagnosed with stage IV non-Hodgkin's lymphoma. Her interest in community development and transdisciplinary research led her to start collaborations remotely. In 2013, she completed a doctorate in computer science from Colorado Technical University and briefly worked for a private company before returning to UCF.
Until she recently stepped away from work, she was a graduate faculty member in UCF's School of Modeling Simulation and Training and worked at the Institute for Simulation and Training on various projects involving innovative technologies for healthcare, cybersecurity and a Navy training initiative.
"Her work and impact will be felt far into the future, not just at UCF but across the higher education landscape," Cavanagh says.
The Dr. Barbara Truman Memorial Endowed Scholarship Spending Fund has been set up in the UCF Foundation to benefit students, faculty and research in the College of Graduate Studies.