Whether you're a police officer responding to the scary unknown or a defensive lineman working to contain the offense, Christopher Gavette is the type of guy you want on your team.
The UCF Police Sergeant prioritizes being there for others, giving back to the community and serving as a role model.
"Being a police officer is not about riding around in a car," Gavette said. "It's about getting out there, shaking hands and making this a better community to be a part of."
It's that attitude that's made Gavette one of three winners in the RISE Awards, presented for the first time by TASER and PoliceOne to members of law enforcement who have made extraordinary contributions to the police community and the public.
Officers from across the country were nominated in three categories, and Gavette won in the police leadership category for dedicating himself to training and educating other officers in an effort to create a better police department and safer community.
"It's an honor for the agency as a whole and for Chris individually to be selected for the leadership award," said UCF Police Chief Richard Beary. "What's telling about this is being nominated by one of his personnel. A lot of times as a supervisor, the people who work for you don't always like the decisions that you make, so it means a lot for an individual officer to take the time to commend a supervisor."
Ofc. Frank Imparato, who worked as a patrol officer under Gavette's supervision, nominated him.
"I saw the awards online, and when I got to the leadership category, it said something to the effect of a leader is someone who embodies training, family and dedication to the department. When I read the description, I thought, 'That's Chris,'" Imparato said. "The type of person he is personally and professionally, I just couldn't be happier that he's getting this well-deserved recognition."
Gavette and Imparato were two of the first officers to respond to a call in March 2013 about an active shooter in the Tower 1 residence hall.
"It wasn't 'You go in first' or 'I'll wait out here, let me know how it goes,'" Imparato said. "It was 'Let's go in and do this together.' A supervisor says 'Go.' A leader says 'Let's go.'"
Gavette is a two-time graduate of Florida State University, earning a bachelor's degree in criminal justice and a master's degree in criminology. In 2002 he graduated from the Pat Thomas Law Enforcement Academy near Tallahassee, where he was president of his academy class.
It was during the police academy that a colleague first put the idea of university policing in his head.
"I was told that university policing is the best kept secret in law enforcement because you get to do a little bit of everything," Gavette said.
Ride-alongs with FSU Police cemented that path, and he went on to work for the department until relocating to Orlando in 2004 and joining UCFPD. He first worked as a patrol officer before moving into the community relations and training divisions, and he became a detective in 2013.
When he's not working, Gavette is spending time with his wife, Kelly, a kindergarten teacher in Seminole County, and his four-year-old daughter, Kylie, or teaching criminal justice students as an adjunct instructor for Kaplan University.
Last year, he also took on a new role: Defensive tackle and punter for the Orlando Guardians, part of the National Public Safety Football League. The team competes around the country each spring, and the games raise money for local charities.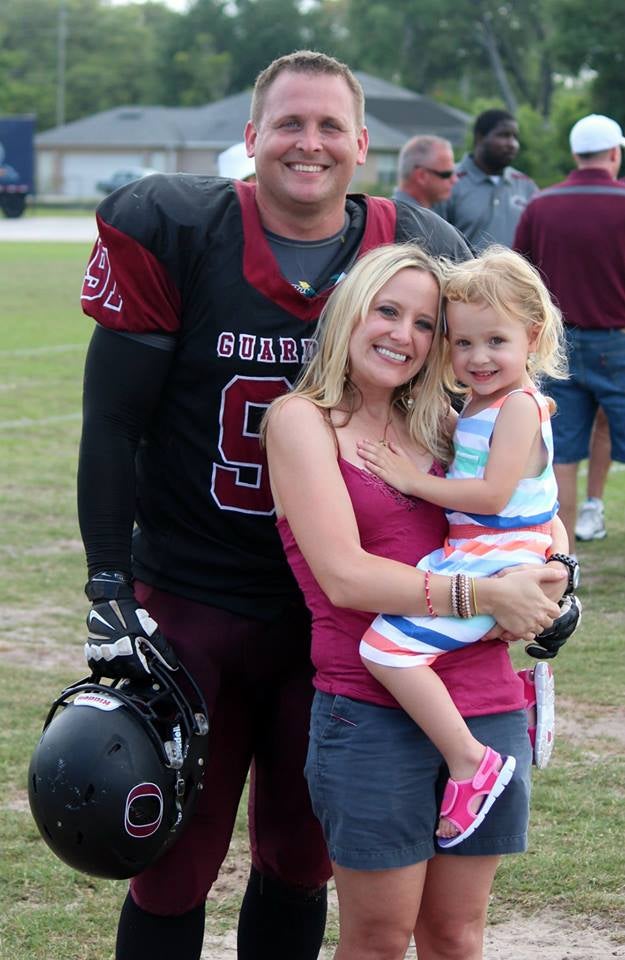 "Playing with the Guardians gave me a greater understanding of what the bond of public safety is all about," Gavette said. "It exposed me to how each organization—police, fire and corrections—comes into play, and the guys are just awesome."
The Guardians is another opportunity to be a part of a team—a family—and to exercise leadership. Gavette says it's all about earning the respect of others, listening to them and encouraging them to pursue their passions.
"People are part of teams, but they're also still individuals with their own goals," Gavette said. "It's a leader's job to figure out what drives them, help them be better and then help them succeed."