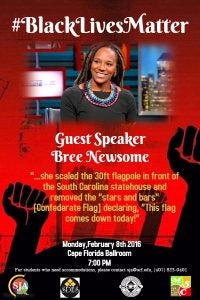 The Multicultural Student Center, the Office of Social Justice and Advocacy and UCF CARES welcome activist, filmmaker, singer and songwriter Bree Newsome on Monday, Feb. 8, 2016, at 7 p.m. in the Student Union Cape Florida Ballroom. Newsome will share her perspective on the demonstrations and debates around #blacklivesmatter.
Driven by an unwavering belief in the power of the individual, Newsome received national attention in 2015 when she, in an act of civil disobedience, proclaimed "this flag must come down" and scaled the flag pole on the grounds of the South Carolina state capitol and to remove the Confederate Flag. A staunch advocate for human rights and social justice, Newsome was arrested last year during a sit-in at the North Carolina State Capitol where she spoke out against the state's recent attack on voting rights. She continues to work as an activist and youth organizer in North Carolina, serving in the capacity of Western Field Organizer for the youth-led organization Ignite NC. Newsome is a graduate of New York University's prestigious Tisch School of the Arts where she received a BFA in film & television.
This event is open to the public. For more information or to request accommodations, contact the Office of Social Justice and Advocacy at: 407.823.0401 or email: sja@ucf.edu.