UCF invites the community to campus Monday, June 10, to honor and remember the 49 people killed at Pulse three years ago.
The "UCF Remembers" ceremony will begin in the Live Oak Event Center, 4115 Pyxis Lane, on the main campus at 10 a.m. The event will celebrate diversity and equality and will feature campus and community speakers, an exhibit from UCF Libraries' special collections and archives, and a reading of the names of the 49.
The victims included UCF student and pre-finance major Juan Ramon Guerrero and alumnus Christopher Andrew Leinonen '07 '09MA, who earned bachelor's and master's degrees in psychology. The two have been memorialized in a mural at the Student Union on main campus.
Michael Nunes '16 '18MA, student life coordinator for LGBTQ+ Services at UCF, spearheaded the efforts to organize the first vigil at UCF in 2016 and has been an active part of planning the memorial events annually since then.
Nunes, who had just graduated with his bachelor's degree in psychology when the Pulse shootings occurred, was gearing up to start his master's program in counselor education. He says he was particularly moved by the university's message to the community in 2016 after the attack — "UCF stands with its LGBTQ+ students, staff and faculty" — and those words still ring through his head every year around this time.
"To think what that message meant, not just for the community at UCF but Orlandowide — that one of the largest institutions openly and proudly stands with their queer students and staff," Nunes says. "Each memorial since then has proven that UCF still believes in that and still is here for its students and faculty and staff members."
In addition to the memorial on campus, UCF is involved with several other initiatives and events connected to the anniversary.
CommUNITY Rainbow Run
June 8, 8 a.m.-10:30 a.m.
The third annual CommUNITY Rainbow Run, hosted by the onePULSE Foundation in partnership with the UCF DeVos Sport Business Management Program, will begin at 8 a.m. June 8 at Wadeview Park, 2177 S. Summerlin Ave., Orlando.
The run, which initially started as a DeVos graduate student project, follows a 4.9K course and includes a "Remembrance Journey" that will guide runners past the Orlando Health Trauma Center and onto the Pulse site.
Participants can pre-register until noon June 7 for $49. Registration increases to $60 on the day of the race. ​Each runner will receive a CommUNITY Rainbow Run T-shirt, bib number and finisher medal.
Proceeds from the run will support the onePULSE Foundation, which was established to support construction and maintenance of a memorial, community grants to care for the survivors and victims' families, an educational program to promote amity among all segments of society and an endowed scholarship in the name of the 49 victims.
Love and Kindness on the Lawn
June 9, 12:30-2:30 p.m.
Students and staff involved with UCF's LGBTQ+ Services will volunteer at One Orlando Alliance's Love & Kindness on the Lawn event June 9 at Dr. Phillips Center for the Performing Arts in downtown Orlando.
The free event is open to the public and begins at 12:30 p.m. with live music and food trucks. Later, attendees will be encouraged to form a "human heart" that will be filmed for a video tribute scheduled to be released June 12.
The event will end at 2:30 p.m. with a meditation session. Orlando United commemorative pins will be distributed.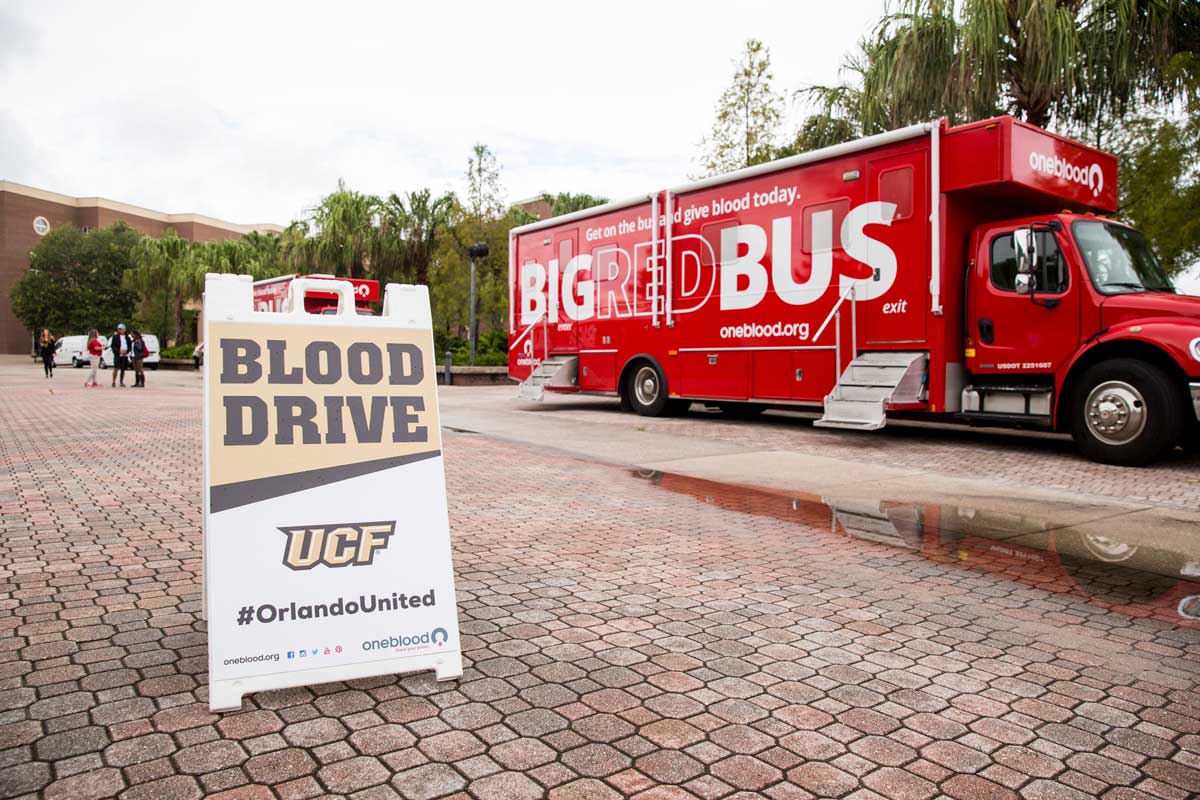 Campus Blood Drive
June 11-13, 9 a.m.-7 p.m.
OneBlood buses for blood donations will be stationed on UCF's main campus at the Veterans Commemorative Site on Memory Mall from 9 a.m. to 7 p.m. June 11-13. Blood donors will receive a Pulse remembrance T-shirt.
Appointments are encouraged and can be made through oneblood.org.
Coping Resources
The Pulse anniversary can trigger traumatic experiences for survivors and the community. This article explains what signs to look for if you or someone you know needs help.
UCF offers several resources on campus for students to access, as well:
Counseling and Psychological Services
CAPS, a free service for students enrolled at UCF, offers individual, group and crisis counseling, along with a variety of other programs. An after-hours crisis hotline can be reached at 407-823-2811. CAPS also offers online resources on trauma and coping with grief, among others.
On June 12, CAPS will have a memorial table in its waiting rooms with electric candles, and pieces of paper so people can write messages of remembrance. Students are welcome to stop by any day if they need additional support and would like to talk to one of the staff clinicians.
UCF Victim Services
Victim Services is a confidential victim-advocacy program for students who have been impacted by crime, violence or abuse. Crisis intervention is available 24/7 through UCF Victim Services, either in person, by calling 407-823-1200 or texting 407-823-6868.
Student Care Services
Student Care Services guides students through stressful situations and offers resources and referrals. SCS can be reached at 407-823-5607.
Therapist-Assisted Online Self Help
The online program provided by CAPS allows students to individually work through interactive modules, which are meant to help overcome anxiety and depression, at any time of the day from the comfort of their home.