While UCF students are enjoying spring break, staff members are working on campus to ensure the health and safety of the campus community.
About 50 essential personnel gathered Tuesday morning at the UCF Emergency Operations Center for a hands-on practical discussion related to the coronavirus (COVID-19). Although no cases have been reported at UCF or Orange County, the university is collaborating with the Florida Department of Health and U.S. Centers for Disease Control and Prevention to prepare in the event the outbreak affects Central Florida.
The group has met twice this month and includes personnel from nearly every facet of campus, including housing, human resources, finance, operations, counseling, health services, admissions, police and others.
"This is a critical moment for UCF, for our region, for our state, our country and for our world," UCF Interim President Thad Seymour Jr. says. "We must be as prepared as we can possibly be. The attributes of this great institution — which is led by our compassion but is driven by our ability to think outside the box and our ability to use the grit that each of us, including all our students, brings to every problem in the world — gives me incredible confidence that we will get through this together."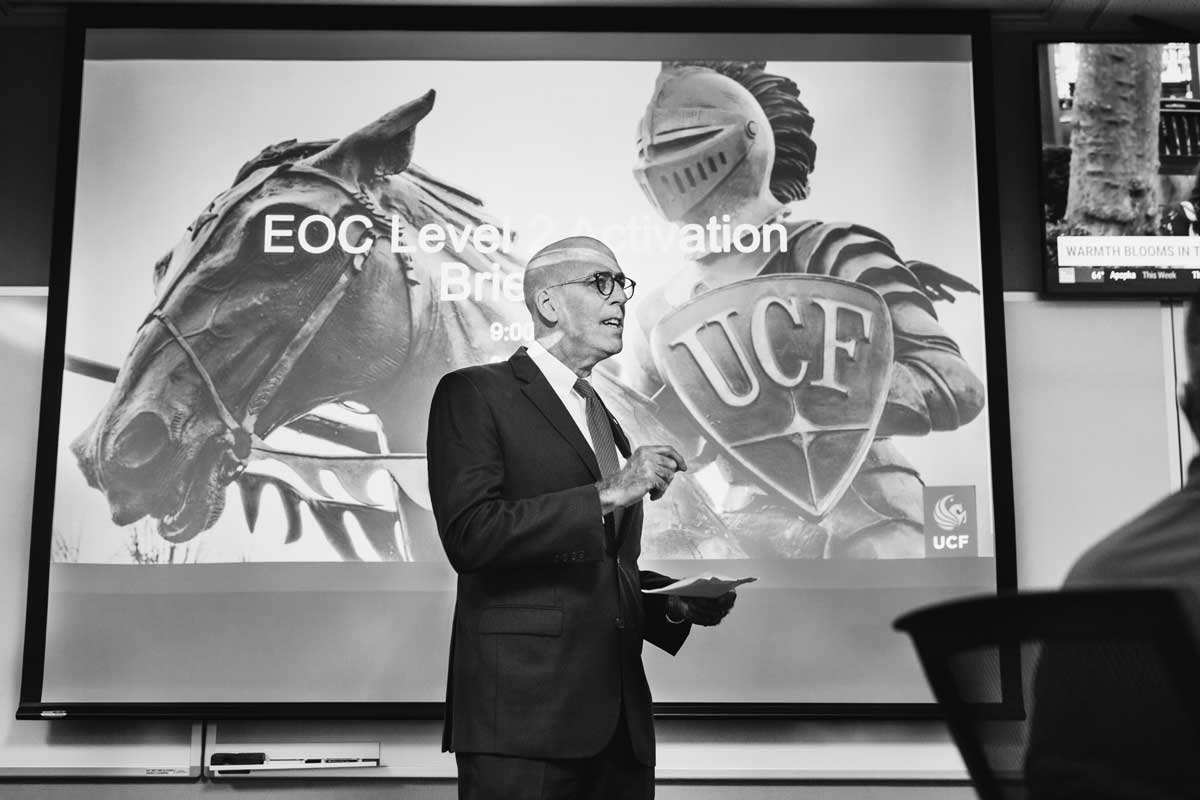 "We do have experience in this room, a lot of talent in dealing with crises," says UCFPD Chief Carl Metzger '03MS, who cited the team's hurricane experience during recent years. "We know we have a lot of work ahead of us, but I have great confidence in looking around the room at all the talent and dedication. All of us are committed to keeping our campus safe."
Joe Thalheimer '08, manager of UCF's Department of Emergency Management, stressed that if COVID-19 hits Orange County, UCF will modify "how it does business," with potential for employees working remotely and students taking classes online.
The Division of Digital Learning this week launched https://dl.ucf.edu/keepteaching, a website with tools to help faculty members with online course delivery.
Michael Johnson, interim provost and vice president for academic affairs, is encouraging professors to consider relaxing attendance policies so ill students do not feel compelled to go to class.
"This is not the time to panic. This is the time to prepare." — Michael Deichen, UCF associate vice president for Student Health Services
Hand sanitizing stations have been strategically placed around campus, and UCF is working to procure another shipment that can be placed in high-traffic areas.
"UCF has a robust pandemic plan and we are monitoring guidelines from the health department, CDC and Board of Governors," says Michael Deichen, UCF associate vice president for Student Health Services. "This is not the time to panic. This is the time to prepare."
More messaging is expected to be sent to faculty, students and staff later this week before campus is scheduled to resume normal operations March 16 following spring break.