The UCF community gathered Thursday evening to commemorate the individuals who were tragically killed at Pulse nightclub five years ago. The vigil has become an annual tradition that embraces both the grief and the love with which we remember the 49.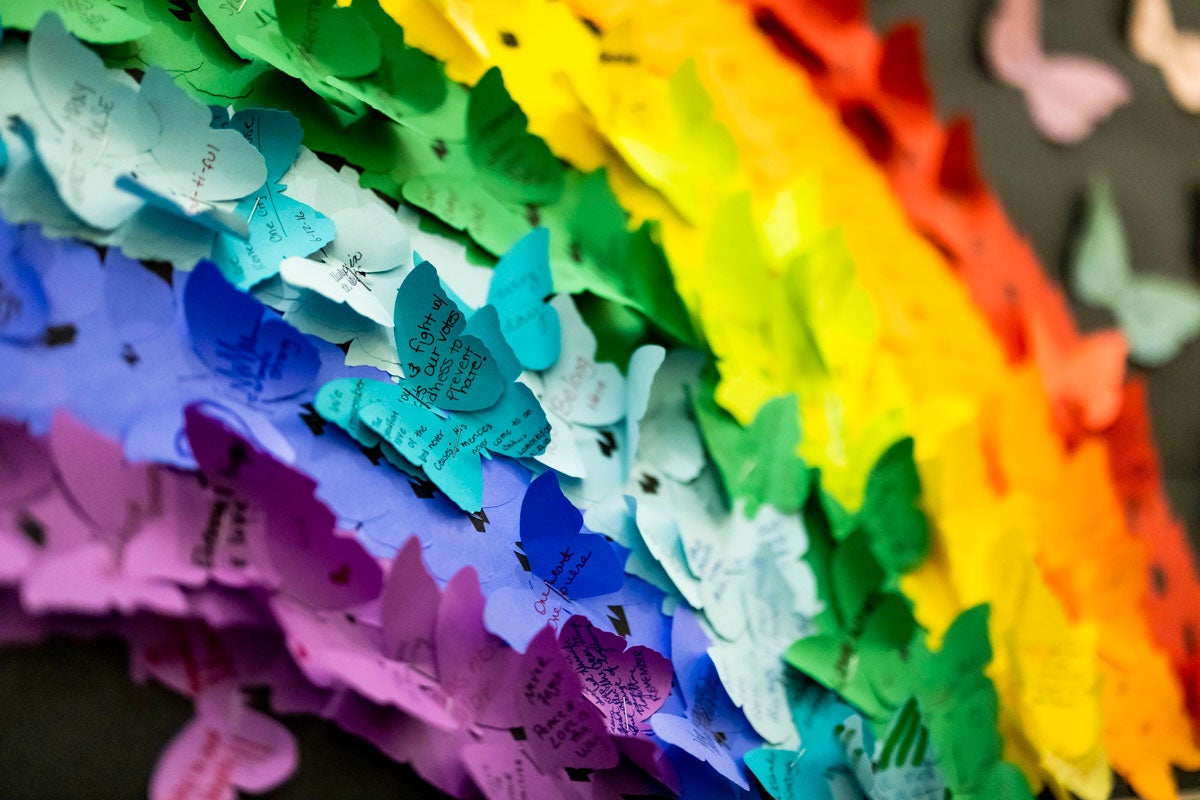 Attendees of the vigil were encouraged to write notes on butterfly-shaped paper to help create a rainbow wall of support that will hang in the UCF Counseling and Psychological Services (CAPS) office.
"The violence that brought us all here today is devastating but in our grief we are reminded of the continuous unity that we share in the face of hate. We are reminded of those who fought for our rights, who died refusing to be anything but themselves, and who loved each other endlessly. And I feel if the span of that love is as infinite as the grief we must bear, then it cannot be a waste to feel this pain." — Ava Devine, English major and UCF Lavender Council member
The names of the 49 who were killed at Pulse — including Eternal Knights Juan Ramon Guerrero and Christopher Andrew "Drew" Leinonen '07 '09MA — were read aloud by international and global studies major Valentina Diaz, who is a recipient of this year's onePULSE Legacy Scholarship. As each name was read, students, staff, faculty and alumni placed a single rose in a vase to honor their lives.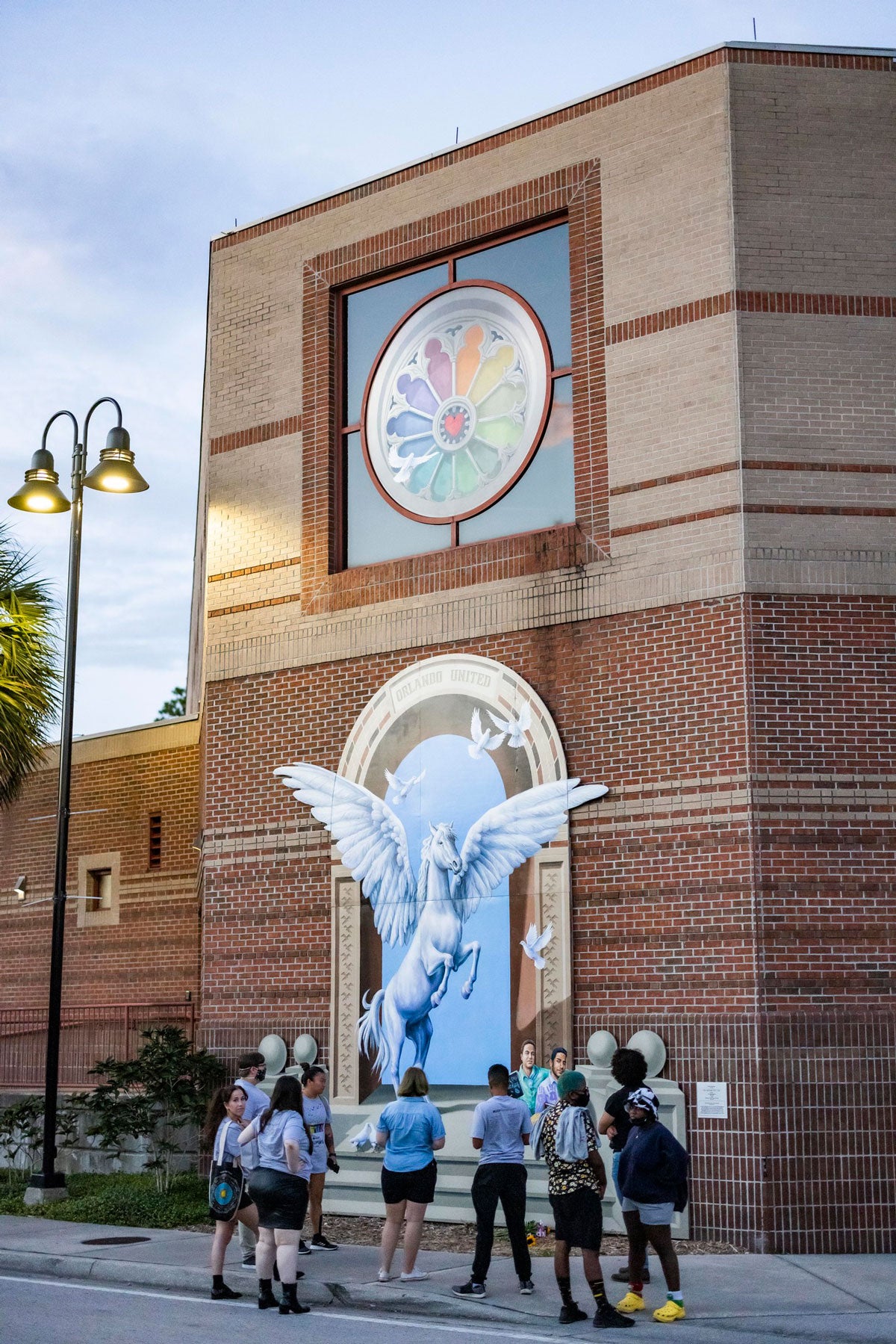 UCF installed a mural in 2017 honoring Guerrero, who was a pre-finance student, and Leinonen, a psychology alum. The two were a couple. A group took time to reflect at the tribute, which is located just outside of where the vigil took place in Pegasus Ballroom at the Student Union.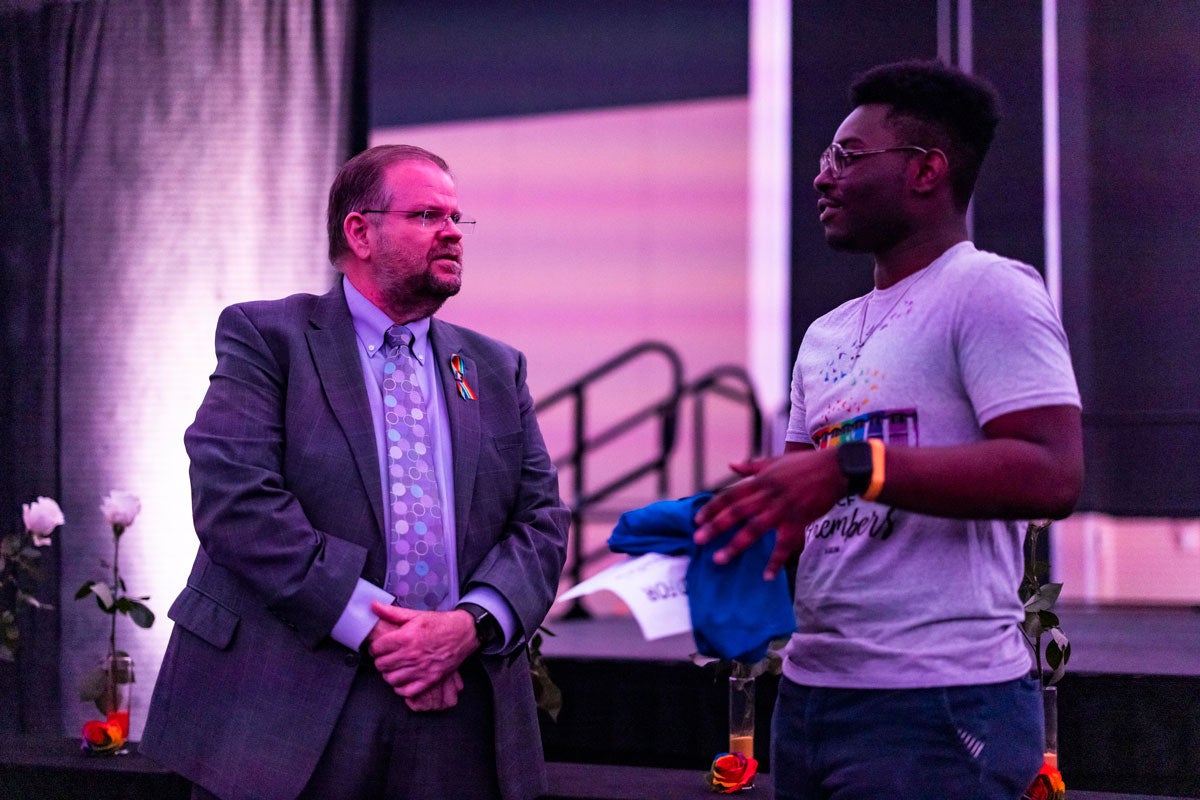 President Alexander N. Cartwright, who arrived at UCF in 2020, was able to attend his first Pulse vigil.
"When I first had an opportunity to tour UCF, one of the first things that I saw was the [mural] and I will tell you it was that day that I felt very proud to be selected as president of this university. It is remarkable that we are at a place where we can continue to strive for inclusive excellence and being the model for the country and the world — a model that will continue to be an example of a welcoming community that all universities should strive to be. And that society should strive to be. … If we are to become the best version of UCF that we can be, everyone must feel welcome, included, supported and celebrated on all of our campuses every day. … If we all lead with love, hate can never win."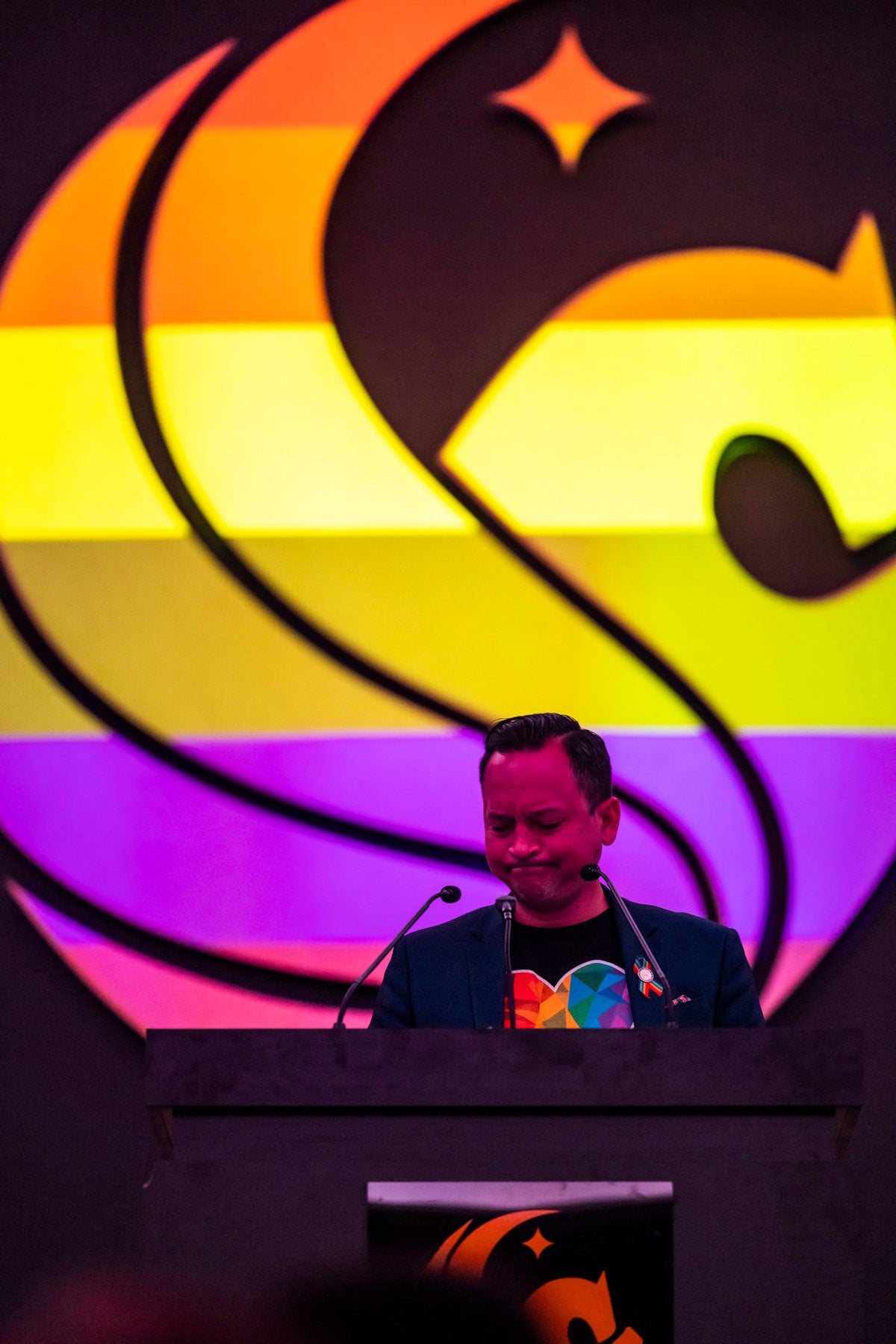 "We've got to remember the lives of those 49 angels, of our two Eternal Knights Juan and Drew. Five years later, I think it's incumbent upon all of us to re-commit to honoring them all with action so that tragedies like this stop happening. That's why I always wear the Pulse ribbon on my jacket to remind me of that commitment I made in 2016 — to honor them with action, to honor the 49. And a lot of times when I'm down, when I'm searching for hope, I can look at the ribbon and I remember not only that commitment and the 49 angels, but I remember what's really important and what's worth fighting for. And that's life, love and equality for all. And so, Charge On. Charge On, Juan and Drew and the other 47 angels who were taken June 12, 2016." — Carlos Guillermo Smith '03, Florida state representative for District 49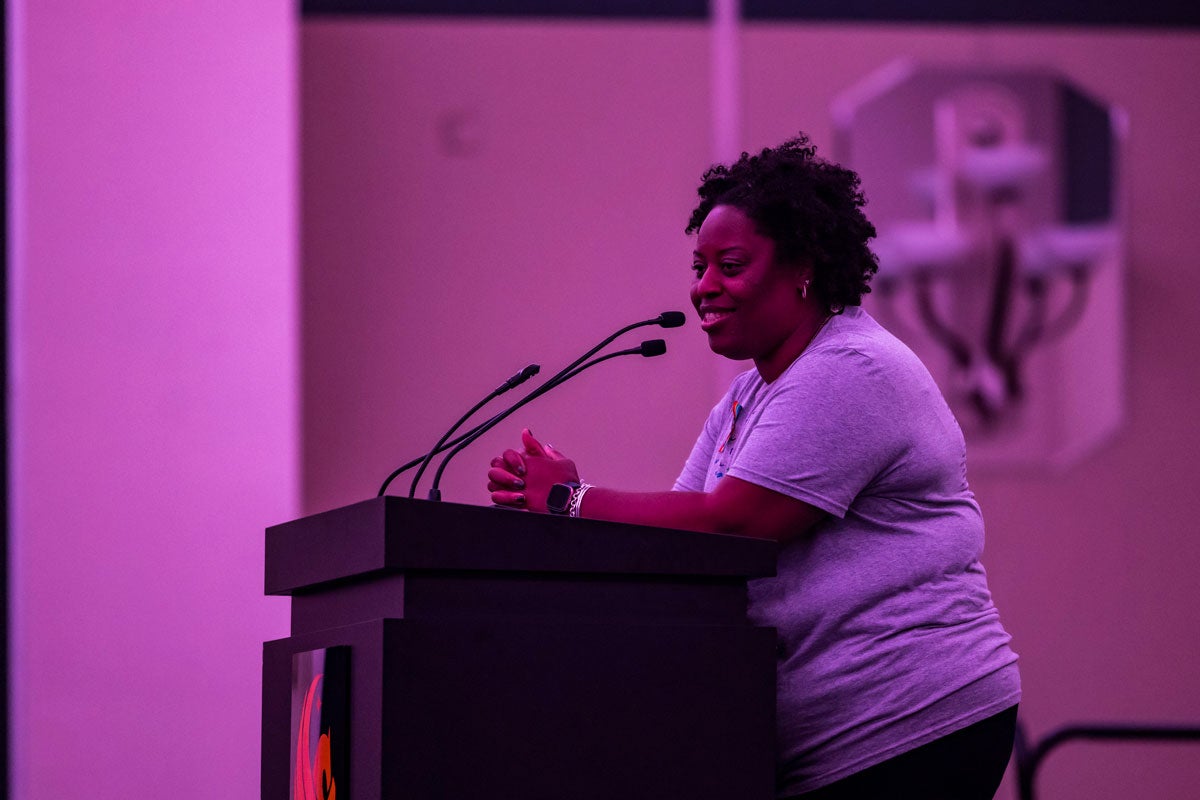 Although she was not originally scheduled to speak at the vigil, Edwanna Andrews '99 '05MA '17PhD, assistant vice president for community support, was inspired to share the story of how UCF's first Pulse vigil came to be and why it has continued annually. In 2016, Michael Nunes '16 '18MA was an undergraduate student and, along with a group of fellow students, he approached Andrews about organizing a vigil in two days time following the tragedy. Nunes has been instrumental in organizing the vigil ever since in his role as LGBTQ+ Services Coordinator. Her remarks led to a standing ovation.
"The Pulse nightclub shooting taught us a lot. … It taught us, especially this year in the pandemic, that you've got to give people their flowers, their accolades while they're here. Because everyone matters. So I know I interrupted the schedule. I wasn't on the program. But I took the liberty to share that story and to give Michael his flowers. Because you have been here since the beginning. Thank you."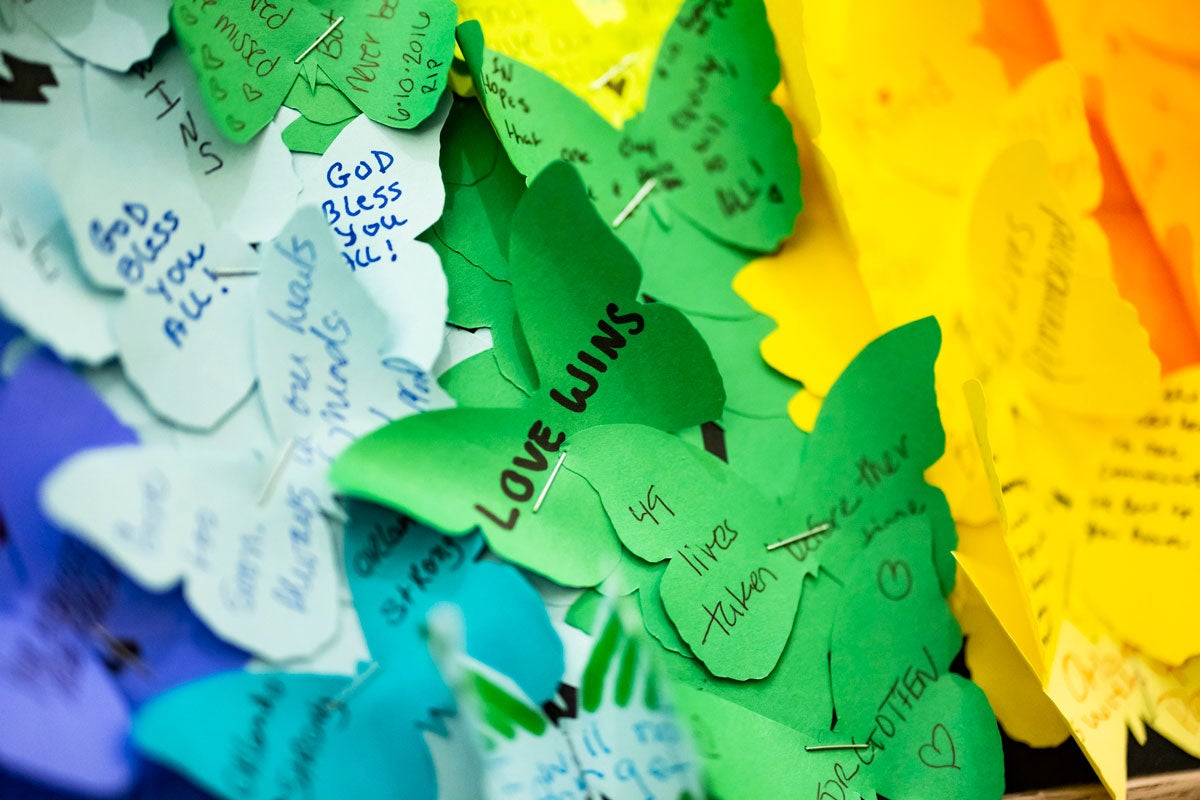 "The legacy of Pulse is what came in the aftermath, and that's love. So I appreciate the opportunity we have to mark this date. I appreciate the opportunity we have to be together. I hope that what you feel tonight, even in the midst of so much grief, is a deep and abiding love." — Josh Bell, executive director of the One Orlando Alliance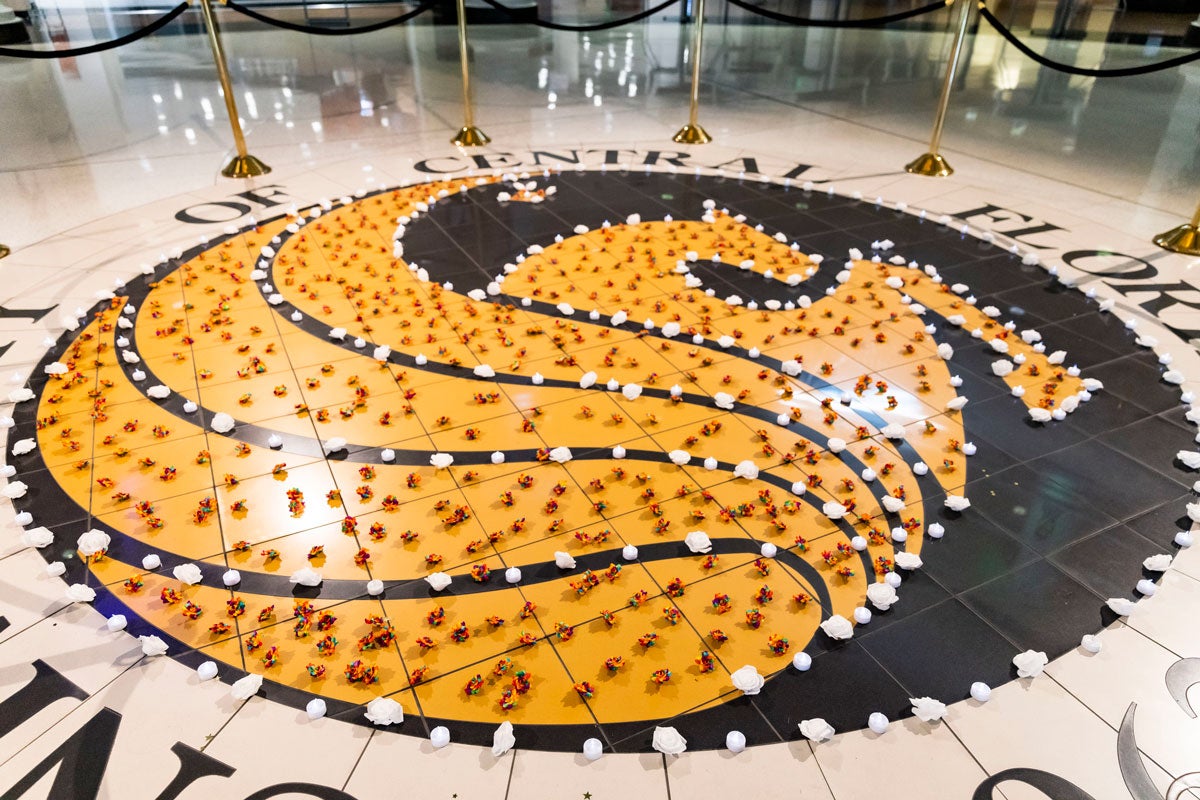 UCF remembers the 49.
Stanley Almodovar III
Amanda Alvear Oscar
A. Aracena-Montero
Rodolfo Ayala-Ayala
Alejandro Barrios Martinez
Martin Benitez Torres
Antonio D. Brown
Darryl R. Burt I
Jonathan A. Camuy Vega
Angel L. Candelario-Padro
Simon A. Carrillo
Fernande Juan Chevez-Martinez
Luis D. Conde
Cory J. Connell
Tevin E. Crosby
Franky J. Dejesus Velazquez
Deonka D. Drayton
Mercedez M. Flores
Peter O. Gonzalez-Cruz
Juan R. Guerrero
Paul T. Henry
Frank Hernandez
Miguel A. Honorato
Javier Jorge-Reyes
Jason B. Josaphat
Eddie J. Justice
Anthony L. Laureano Disla
Christopher A. Leinonen '07 '09MA
Brenda L. Marquez McCool
Jean C. Mendez Perez
Akyra Monet Murray
Kimberly Morris
Jean C. Nieves Rodriguez
Luis O. Ocasio-Capo
Geraldo A. Ortiz-Jimenez
Eric Ivan Ortiz-Rivera
Joel Rayon Paniagua
Enrique L. Rios Jr.
Juan P. Rivera Velazquez
Yilmary Rodriguez Solivan
Christopher J. Sanfeliz
Xavier Emmanuel Serrano Rosado
Gilberto Ramon Silva Menendez
Edward Sotomayor Jr.
Shane E. Tomlinso
Leroy Valentin Fernandez
Luis S. Vielma Luis
Daniel Wilson-Leon
Jerald A. Wright