New research out of the University of Central Florida has the potential to give war crime investigators a new tool and to help the victims' families find closure.
The National Institute of Justice has awarded UCF Associate Professor Matthieu Baudelet at the National Center for Forensic Science a grant to advance a technique that may help identify individual human remains found in mass graves.
Baudelet's method generates unique chemical profiles through laser-induced breakdown spectroscopy (LIBS). This approach will allow his team to pinpoint the exact number of individuals in a comingled mass grave and sort them out individually based on bone metabolism. Positively identifying someone by name requires further testing using DNA, which is outside the scope of this project. But Baudelet notes that identifying the number of individuals present among the remains reduces the number of DNA tests necessary to reach that point. In other words, the UCF technique could help investigators determine just how many people are found in a mass grave, which can help accelerate identifying individuals.
Mass graves have long been part of war. Most recently a mass grave was found in Bucha, a town in Ukraine. Dozens of mass graves have been found in Iraq dating back to the war in the Gulf, several sites were discovered after the Bosnia conflicts of the 1990s, such as the largest mass grave in history to date at Crni Vrh, Serbia.
Baudelet's technique may be especially helpful for sites found years later where identification becomes much more difficult. The potential applications to anthropology field work are considerable.
"This is unique because it is the first time that elemental profiling will be evaluated on such a large number of individuals," Baudelet says. "It is gratifying to see the LIBS technology, something I have been working on for the last 17 years, be applied in this situation."
Baudelet's technique was successfully tested at USF's Facility for Outdoor Research and Training. With the new funding Baudelet and his team will continue testing at Western Carolina University's decomposition facility.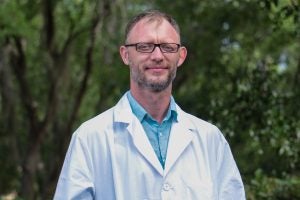 Part of Baudelet's funded research project is the creation of a mobile application containing a database for anthropological use. It will focus on classifying remains through chemical composition and development of protocol for field deployable instrumentation. The end goal is to improve accuracy and streamline the process of differentiating individual anthropological remains in the field.
More work is still needed, but the potential to help investigators and families is something that drives Baudelet and his team.
"Think about 9/11, for example," he says. "This technology could eventually sort out the remains of those that have fallen victim to mass casualties such as the terror attacks. It can help bring closure to many people and their families."