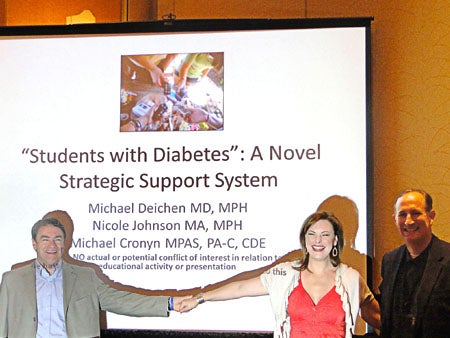 Representatives from UCF Health Services participated in the annual American College Health Association meeting in Phoenix the last week of May.
The meeting was attended by more than 1,700 college health professionals from across the U.S. Presenters from UCF included Dr. Michael Deichen, Michael Cronyn, Mary Schmidt-Owens, Kristina Grabnickas and Dr. James Schaus.
Their topics included the Type 1 student support group initiated at UCF which helps students with diabetes manage their condition; identifying and combating sleep issues in college students; how to construct a performance improvement program; and how to implement evidence-based screening and preventative programs such as the Healthy Knights Checklist utilized at the Health Center.
"Sleep is a topic I'm very passionate about," said Kristina Grabnickas, advanced registered nurse practitioner for UCF Health Services. "I hope we brought light to the importance of sleep in college students and what we as medical providers can do to help them."
Participation in the meeting is one way the UCF Health Center upholds its commitment to superior health care for all our students. In addition to UCF's providers sharing their new approaches and ideas, they benefited from hearing the presentations from other universities' health centers.
"It was exciting to see the level of interest in all our topics," said Deichen, associate director of Clinical Services at the Health Center. "These are challenges and concerns we have dealt with here at UCF and now we were able to pass on all of our lessons learned for the benefit of other university health centers."
UCF Health Services provides a wide-variety of health care services to UCF students and employees on campus with an Accreditation Association for Ambulatory Health Care accredited facility. Services include primary and acute care, gynecological care, dental care, pharmacy services, clinical dietitian services, psychiatry, x-rays, immunizations and more. UCF Health Services excels in providing comprehensive physical and mental health services both in-house and through collaboration with other entities to promote wellness and accessible care.
UCF Health Services is a department in the Division of Student Development and Enrollment Services.