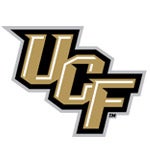 A day after UCF's women's basketball team won on a clutch shot in the closing seconds, the men's basketball team made a landmark comeback and played deep into a third overtime, the baseball team tied the score in the ninth and won in the 12th and the softball team upset Nebraska in extra innings, the teams came back with even more success on Sunday afternoon.
UCF's softball team pulled off a second consecutive upset on Sunday, beating No. 9 Alabama in the NFCA Leadoff Classic. And UCF's baseball team (6-1) closed out a three-game home sweep of Siena on Sunday with a 10-8 victory.
In a matter of two days, UCF's softball team pulled off two of the biggest victories in school history. The Knights beat No. 9 Alabama behind a four-hit complete game from senior pitcher Ashleigh Cole. She has now beaten No. 9 Alabama and No. 16 Tennessee this season, showing why the Knights could very well to win the Conference USA title after going through such a tough nonconference schedule.
"We preach to the players how important it is to have nationally ranked teams on our schedule this year," coach Renee Luers-Gillispie said. "It made me so proud to see them step up and take advantage of that opportunity and to see them perform at the level we know they are capable of playing."
UCF's baseball entered the season with soaring expectations after returning 14 players and adding the nation's fourth-ranked recruiting class, and the Knights are living up to their lofty praise. UCF's only loss so far has been to Florida, and the Knights pushed the Gators to the final pitch before securing the victory.
The Knights won on Saturday at home in dramatic fashion when sophomore sensation Beau Taylor singled in freshman Darnell Sweeney in the 12th inning. Check back to UCFathletics.com on Monday for a story on the Knights' All-American expectations this season for Taylor, a freshman All-American last season.
And it took even more drama for UCF just to get in position to win the game. UCF needed consecutive doubles from Austin Johnson and Chris Taladay in the ninth to tie the game. Reliever Chase Bradford and closer Joe Rogers made the rally possible with 6.2 innings of shutout pitching.
Rogers, a true freshman who seized the starting closer job right away, is a star in the making for the Knights, UCF coach Terry Rooney said.
"Some guys just have it and it doesn't matter how good their stuff is. They know how to compete and rise to the occasion," Rooney said of Rogers. "From the moment that Joe walked on this campus, he exudes that confidence. He's got a great future here."
UCF junior guard Chelsie Wiley, who moved into the 1,000-point club last week, made one of the best shots of her career on Saturday when she drilled a 17-foot jumper with four-tenths of a second remaining in UCF's 50-49 defeat of Tulsa.
The victory could prove to be extremely valuable for the Knights considering that the Conference USA tournament begins next Monday in Tulsa.
UCF's men's basketball team suffered the most crushing loss of the weekend, but it certainly wasn't because of a lack of effort. The Knights made a furious rally from 17 points down and forced overtime when sophomore guard Isaac Sosa drilled a 35-foot 3-pointer.
As it turned out, Marshall needed three overtimes to shake the Knights. Marshall won 121-115, but only after six Knights fouled out of the game.
John Denton's Knights Insider appears on UCFathletics.com several times a week. E-mail John at jdenton@athletics.ucf.edu.