A new report from the University of Central Florida will guide local efforts to reduce truancy among elementary school children, who return to the classroom on Aug. 24.
The report from UCF College of Health and Public Affairs researchers concluded that an Early Truancy Intervention Program, jointly run by the Orange-Osceola State Attorney's Office and Orange County Public Schools, has been effective in reducing truancy in many public classrooms.
The report also recommends adjustments that could enhance the program's effectiveness. School resource officers now attend meetings with parents about children who habitually miss school. The report finds that if outside law enforcement officers attend those meetings, parents would be more likely to take action.
Schools could improve attendance by more quickly placing children who are frequently absent and their parents in the Early Truancy Intervention Program, the report says.
The researchers also suggest developing a more comprehensive system to help solve the issues that contribute to truancy with a team of case managers, counselors, school district and State Attorney's Office representatives and families.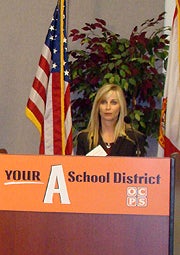 Lead researchers Shawn Lawrence and Wendell Lawther evaluated the program's effectiveness at the request of State Attorney Lawson Lamar. Truancy has been linked to higher rates of criminal and gang activity among youths.
"It is better to spend a lifetime educating our children than prosecuting them," Lamar said. "Education is the cornerstone of building an individual's character."
The researchers analyzed data from 1999 to 2005 provided by OCPS. They focused on "habitual truants," defined as students who had 15 or more days of unexcused absences in an academic year.
"Children who stay in school are more likely to succeed and positively impact their communities," said Michael Frumkin, dean of UCF's College of Health and Public Affairs. "Working with the State Attorney's Office to improve school attendance is part our commitment to build community partnerships that create opportunities for families to support their children."
The researchers hope to continue the study by looking at the community- and family-based problems that can cause children to miss a lot of school.
Highlights of the findings include:
— In the first year of implementing the program, 34 of 36 schools experienced a reduction in truancy. Truancy decreased by 22 percent to 68 percent in 26 of those schools.
— Schools that opted out of the voluntary program after participating saw a dramatic increase in truancy. Of the nine schools that later reinstated the program, eight of them decreased truancy rates between 19 and 49 percent in one year.
— Many administrators, teachers and staff go above and beyond their usual job duties by providing students with transportation, supplying alarm clocks and donated clothing and making home visits after hours.
— School administrators and staff unanimously agreed that it is more effective to have an outside law enforcement officer, instead of a school resource officer, attend meetings with parents.
"We appreciate the collaboration with community partners such as UCF and State Attorney Lawson Lamar. This partnership helps us achieve our mission, 'To lead our students to success with the support and involvement of families and the community,'" said Orange County Public Schools Superintendent Ronald Blocker. "We look forward to working with the findings of the UCF study and examining improved procedures in our schools for the most efficient system of addressing truancy issues."