There are the average demands of a final semester in college, and then there's Raquel Lozano's life.
She's juggling two majors — political science and public administration — a minor in urban and regional planning and a certificate in human resources. The 24-year-old has the power of attorney and is the healthcare surrogate for her grandmother, who raised her and with whom she still resides in the home that Lozano grew up in in Belle Isle, Florida.
And yet the thought to run for public office didn't daunt her in the slightest. After winning her seat in November, she begins her role Jan. 5 as representative for District 3 on the Orange County Soil and Water Conservation District.
"I always liked the idea of working for people, working for a community," Lozano says.
Lozano explains more about her role, why she has a passion for helping others and what she hopes to achieve.
What is the Orange County Soil and Water Conservation District?
RL: With oversight from the Florida Department of Agriculture, this board promotes responsible use and conservation of soil, water and natural resources. We conduct surveys and studies on soil and water quality, educate the community members on best land-use management practices, provide resources to farmers and land owners, and work to establish agreements with local government on soil and water initiatives. Unfortunately, in the recent past the board has been very inactive and lacks efficiency to manage the meetings well and communicate. But we're hoping to change that.
Why did you decide to run for office?
RL: My upbringing is a core aspect of why I ran and why I like to be a part of public service. I was adopted by my grandmother and grandfather on my mother's side along with my older sister. We were born and raised here in Central Florida. I still live in the same house that they raised me in.
My grandmother was raised in a small farm town in Mexico with eight brothers and sisters. She dropped out before high school to help out on the farm. She's always been an inspiration to me. She's always told me to be compassionate to other people, to give if we have something to provide. We have to open our hearts and minds to other people. So I've always been very passionate about being involved in my community.
While interning for Orange County Commissioner Emily Bonilla, I had the opportunity to work in local government and host community events and organize resources, and I met people along the way who are passionate about serving and understanding their community and wanting to enrich it.
That internship — and the encouragement of my friends — made me feel like I could do this position. That I have the people skills that allow me to connect with anyone regardless of our differences. We're trying to achieve a common mission of a better environment and a better future. We have to work together.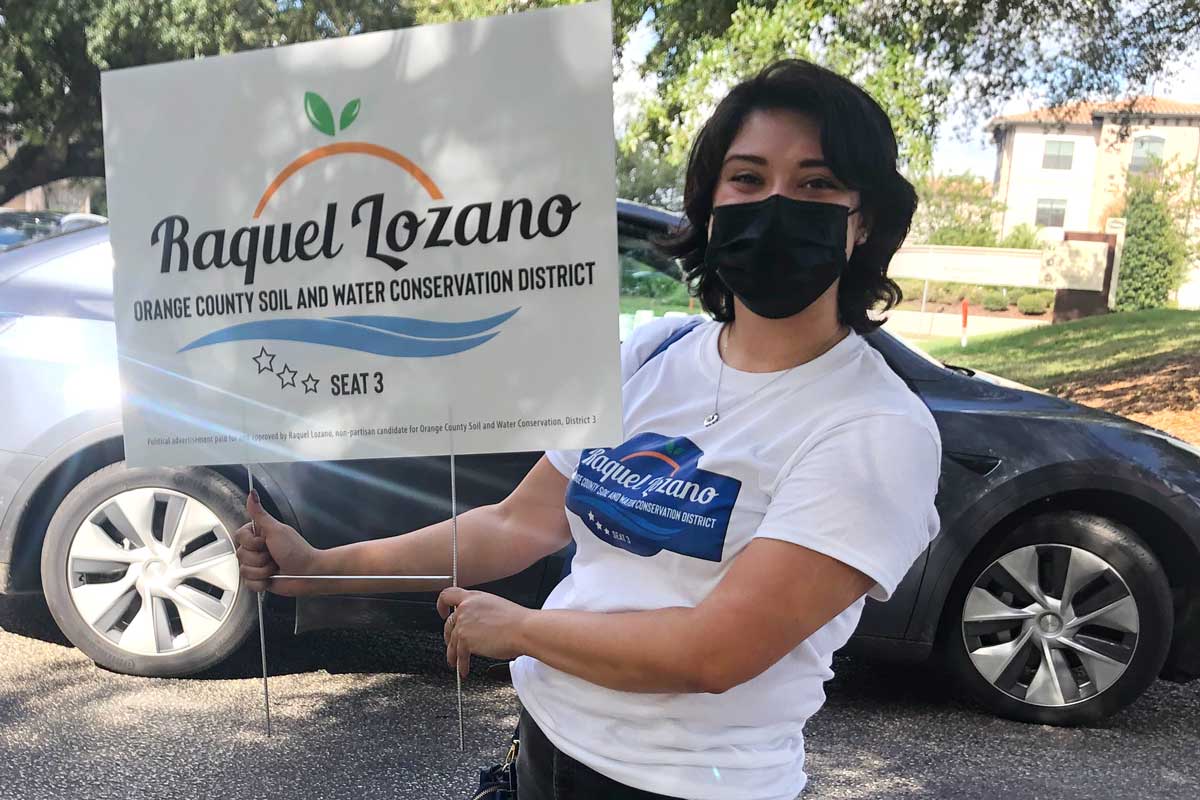 What do you anticipate your daily responsibilities will be?
RL: This is a volunteer, part-time position. We meet once a month on the second Friday of the month. Before COVID, the meeting would take place downtown in the county commission chambers, but now it's online.
This position isn't something that I just want on a resume. I'm a stakeholder here so I want to make sure our community is ready for more people.
This position isn't something that I just want on a resume. I'm a stakeholder here so I want to make sure our community is ready for more people. More and more people are moving to Orlando, and we're consistently one of the top tourist cities in the country. We need to make sure we are managing our resources well, that we aren't depleting it all mindlessly, and that we are encouraging businesses and local government to promote sustainable initiatives.
What do you hope to achieve in your work with the district?
RL: I plan to connect with people through community engagement. We need to get a complete view as much as possible to understand what their issues are and how we can best tackle these issues.
I want to promote democracy through education. This is primarily an educational board. We conduct youth education, agriculture education and consumer education. Being educated about local government is sometimes a luxury. We have to make sure that as public officials, this information is obtainable, accessible and easily digestible.
And finally I want to unite local resources for collaborative projects. I believe people want to be part of the community and see themselves represented.
How has your education at UCF helped prepare you for this role?
RL: I transferred as a DirectConnect to UCF student from Valencia College. My education in political science and public administration have definitely fueled and broadened my understanding of social issues in the community.
The education I've received at UCF has empowered and highlighted issues that pertain so much to local governance and this board. My professors encouraged students to apply for internships, and those internships have benefitted me personally. Those experiences solidified for me this is what I want to be doing: Helping people.
How do you want to impact the world?
RL: I just want people to feel cared for. I would just love to make sure I'm leaving a legacy to find a way to do better by your community; leaving it better than we found it. Making sure that people feel motivated or being part of the process.