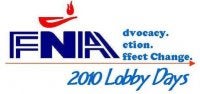 Members of the Student Nurses Association (SNA) at the University of Central Florida's College of Nursing will be attending the annual Florida Nurses Association (FNA) Lobby Days in Tallahassee, Fla. on March 16-17, 2010.
The SNA members will have the opportunity to lobby for or against bills that are in the process of legislation that affect nurses' licenses and health care policies in Florida, as well as witness the construct of policy. It also serves as an opportunity for the student nurses to come in contact with legislators and influential individuals in the nursing profession.
"Participation in Lobby Days allows the nursing student to experience first-hand the responsibilities as a Registered Nurse that relate to the critical importance of legislative regulation concerning health care issues. Involvement at the pre-licensure level gives the student an opportunity to learn how the legislative process can impact the nurse practice act in the state," explains Dr. Pamela Ark, assistant professor and advisor to the SNA chapter on UCF's Orlando campus.
This is the second consecutive year the SNA has participated in the Lobby Days Conference. Seven student nurses will be sent to the state capitol with the intent to actively participate in the legislative activities and become better educated in health care advocacy and learn how as an individual, they can affect health care needs in their state. The students will also attend a luncheon that will allow them to network with the legislators for a better understanding of the law making process.
Last year, the FNA Lobby Days had over 125 participants attend the conference in Tallahassee. Nurses and nursing students from all over Florida came together to get involved with healthcare advocacy, policy making, and professional networking to support the FNA and its initiative to improve the future of nursing. This year attendees hope for the best results as they reunite at the state's capitol.
Contributing writer: Kristin Soto, UCF College of Nursing communication intern