Language has an incredible ability to make us feel connected. For Abigail Reynolds the first time she connected through a foreign language was during a first-year UCF study abroad trip to South Africa, where a local woman gave her a Zulu name.
"I helped run a clothing drive and I had the greatest time working with some of the women in the local community and hearing their perspectives' on life," says Reynolds, a senior political science major. "One of the women I was working with gave me a Zulu name — Mampho (pronounced mam-po), which means gift. It was really impactful for me to feel like I belonged. It was a defining moment during the trip that influenced my decision to study African affairs."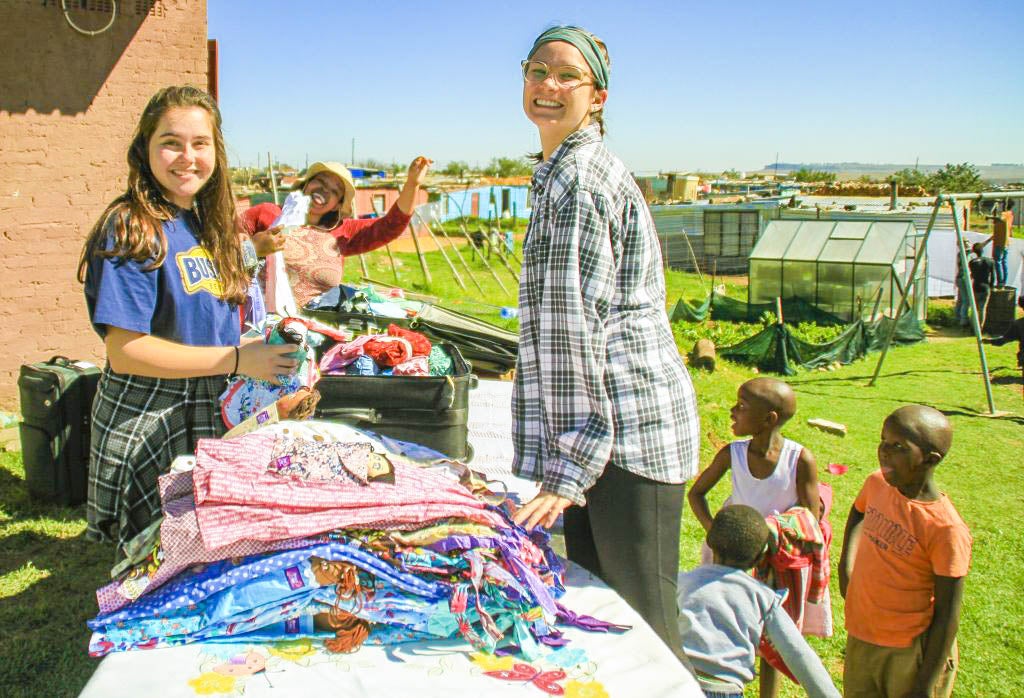 Now the Fort Myers, Florida, native is a Boren Scholar and will study Swahili — one of the most commonly spoken language in Africa — through a virtual summer program at the University of Florida and a four-month trip to Tanzania this fall. As an initiative of the National Security Education program, Boren scholarships provide opportunities for undergraduate students to study less commonly taught languages in regions critical to U.S. interests.
"I'm really excited to be around other Swahili speakers who are still learning the language and can understand what it's like to be learning a language that's less commonly taught," says Reynolds, who is also minoring in philosophy. "Learning a foreign language is hard, especially when you're lacking a support system or resources, so this opportunity will make it easier to practice."
Reynolds, who wants to pursue a career in international relations with a focus in African affairs, began studying Swahili with a personal tutor in August 2020. While the language is not taught at UCF, faculty and staff here — including the Office of Prestigious Awards, which encouraged Reynolds to apply for the scholarship — have supported her interests.
"I have a lot of really amazing people — like Morgan Bauer from the Office of Prestigious Awards, Dr. Tyler Fisher from the Department of Modern Languages, and my research mentor and Associate Professor of Political Science Jonathan Powell — supporting me and my academic and professional endeavors. I can't name them all, but basically all the faculty at UCF have been really wonderful and supportive of my interest in Swahili."
"I'm really excited to be around other Swahili speakers who are still learning the language and can understand what it's like to be learning a language that's less commonly taught," — Abigail Reynolds, UCF student
Worldwide, about 100 million people speak Swahili, which does not have a gendered structure that languages like Spanish and French do. While Reynolds says Swahili pronunciation is fairly easy for her, the complexity of the language's structure has been the biggest challenge.
"They don't have masculine or feminine nouns in Swahili, which is great, but they have [more] noun classes, which makes agreement a lot harder," she says. "So instead of two different noun groups there's six that you have to remember and make sure the adjectives, the prepositions, and the conjugations all agree."
While she has enjoyed learning about the entire diversity of Africa, Reynolds is especially interested in the eastern region, which her study abroad destination of Tanzania is located. During her trip, she says she hopes to hike Mount Kilimanjaro and take in as much of the culture she can.
At UCF, the Burnett Honors Scholar has explored African culture, politics and history through her coursework, as well as extracurricular activities. Reynolds has interned at UCF's Office of Global Perspectives and International Initiatives and is involved with the university's United Nations Association. Through the student organization she has also had the chance to learn more about international relations, including participating in a committee about the Rwandan genocide and empowering women in the country through economic and reconciliation processes.
"I didn't learn a lot about African history in high school, so there were a lot of question marks in African affairs, history and politics for me," she says. "It's been really rewarding to begin to fill in those blanks. The continent is just very diverse and there are so many different cultures, traditions, languages and political systems. There's so much potential across the continent that I'm really excited to learn more about."
Students interested in applying for Boren awards or other major national awards should contact the Office of Prestigious Awards at opa@ucf.edu.