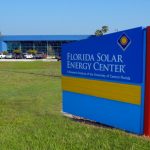 The University of Central Florida and University of Florida are in two of 15 partnerships that will split $30 million from the U.S. Department of Energy to come up with energy-efficiency strategies for American homes.
The partnerships will get federal funds for the first 18 months of their projects, with an option to split another $20 million per year afterwards for three potential one-year extensions. The 15 partnerships each will get $500,000 to $2.5 million depending on their performance.
The two local partnerships include:
The Building America Partnership for Improved Residential Construction research team led by UCF's Florida Solar Energy Center. It will focus on cost-effective efficiency solutions for new and existing homes in hot and marine climates.
The Building Energy Efficient Homes for America partnership led by the University of Florida and University of Nebraska-Lincoln. It will study energy-efficient systems-engineered solutions for homes.
"Home energy efficiency is one of the easiest, most immediate and most cost-effective ways to reduce carbon pollution and save money on energy bills, while creating new jobs," said U.S. Secretary of Energy Steven Chu, in a prepared statement. "By developing and using tools to reduce residential energy use, we will spur economic growth in America and help homeowners make cost-cutting improvements in their homes."
Source: Orlando Business Journal, UCF, UF getting cash to promote energy-smart homes