The UCF Police Department said a bittersweet goodbye to Buster, the agency's newest K-9 who has been forced into retirement due to medical reasons.
Buster, a 21-month-old German shepherd, joined UCFPD in November and became certified with Ofc. Matthew Scott in April following more than 400 hours of training.
Last month, Ofc. Scott noticed that Buster was having trouble biting and playing with his favorite toy. Buster's vet ran tests and took x-rays and found that Buster is suffering from Temporomanidublar Osteoarthritis, or TMJ, in both joints and has myositis of the jaw.
That means that Buster can't carry out the bite work expected of a full-service dog, and the conditions would eventually impact his narcotics dog scent work duty.
"We love Buster, but due to a medical condition he is no longer able to carry out his law enforcement duties," said Deputy Chief Carl Metzger at a small ceremony for officers and staff. "We thank him for his dedicated service."
UCFPD was connected with a local family who today formally adopted Buster. Lori and Ralph Eagen, who live in Kissimmee, have other dogs that require special care, and they'll be able to tend to Buster's medical requirements.
"This is a great opportunity for him to live his life as a normal dog," Ofc. Scott said.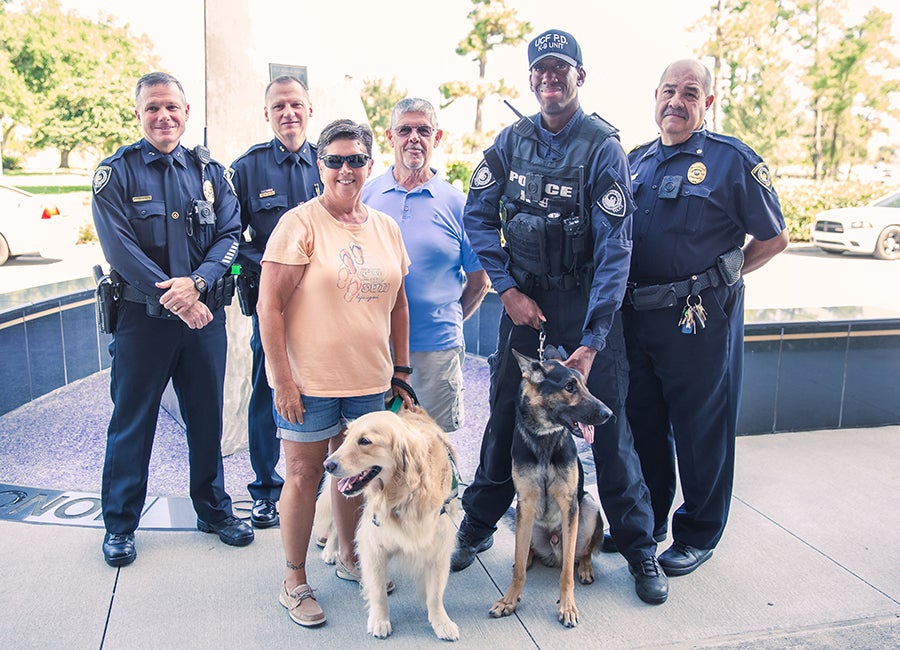 Together, Ofc. Scott and Buster worked 30 night shifts and were deployed 27 times, including to assist the Orange and Seminole county sheriff's offices and the Oviedo Police Department.
Buster was purchased using money raised by the community through campus events and class fundraisers.
A new narcotics dog, to be named Justice, is expected to join UCFPD soon.