The UCF Public Safety team is growing with the addition of five new officers to the UCF Police Department.
"A law enforcement agency can be rightly judged by the quality and caliber of their personnel," says UCF Police Chief Carl Metzger '03MS. "When you have good people, you have a good agency. We are excellent because we have excellent people, and these five exemplify that."
The new officers will be assigned to the patrol division upon completion of their field-training program, where they will spend several weeks paired with senior officers to receive hands-on experience out in the field before graduating to solo patrol.
Meet the New Officers
Talbot Allen '19

joined UCFPD in December 2022 as an officer recruit, where he was sponsored by the agency to attend the law enforcement academy at Valencia College. Originally from Connecticut, Allen went to high school in Satellite Beach, Florida, and later earned his bachelor's degree from UCF in 2019. Before joining UCFPD, he served as a community service officer with the Orlando Police Department.
Hayden Bonas is o

riginally from Trinidad & Tobago, but comes to UCFPD after serving with the Maitland Police Department. He's looking forward to continuing his law enforcement career here at UCF, which is a little closer to home. He wanted to be a part of UCF because he's heard great things about the agency and the community it serves.
Andres Carbone is n

o stranger to the Orlando area. He is a Hagerty High School graduate and previously served as a deputy sheriff with Orange County. Carbone chose to come to UCFPD to make an impact on students and to help bridge the gap between civilians and law enforcement. He is also a drug recognition expert who is passionate about getting drunk drivers off the roads and is a trained K-9 decoy.
Rudy Castaneda also joins UCFPD after serving with the Orange County Sheriff's Office and is looking forward to working the sporting events on campus and meeting students. Castaneda has served in the U.S. Army Reserves for 11 years and counting and is hoping to take advantage of UCF's educational benefits.
Tyesa Spidell '06 is originally from Boca Raton, Florida. She is a UCF alumna who came back to UCF because she says she wants to bring her knowledge and personality to the UCF community. Spidell spent the past two years as a school resource officer with the Orlando Police Department and is now looking forward to growing in her career and retiring at her alma mater.
In addition to welcoming the latest public safety team members, UCFPD also celebrated two individuals who were recently promoted.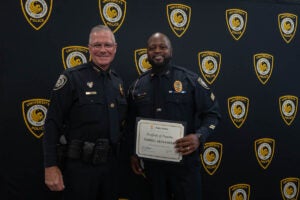 Sergeant Terrell Alexander '08 '23MS was promoted from Corporal in March 2023. Alexander joined UCFPD in 2015 after serving as a deputy sheriff with Orange County for several years. He's also a U.S. Navy veteran and two-time UCF alum. He completed his master's degree in May — only a few short months after his promotion — and now serves as the sergeant for Delta night squad.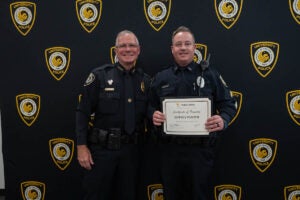 Corporal Jeffrey Panter was promoted from Officer First Class in March 2023. Panter also joined the UCFPD team in 2015 when he started as a patrol officer and worked his way through the ranks to become a detective. He recently served on a federal task force and currently serves on Alpha day squad for the main campus.
A live stream of the swearing-in ceremony can be viewed here.
Additional Officer Hirings to Come
UCFPD strives to be the most professional and innovative law enforcement agency in the country. To reach that goal, we're committed to finding the best officers to serve our community while providing them with high-quality training and equipment.
The department has recently created a Backpacks to Badges program where the agency's recruiting team is connecting with criminal justice students before graduation to help guide them to a career in law enforcement. The program will also offer sponsorships to the law enforcement academy with guaranteed UCFPD employment upon completion.
Another group of officers is expected to start at UCFPD in September 2023. The department will start recruiting again for positions that will begin in the spring.
To learn more about job opportunities with UCF Police, visit police.ucf.edu/recruiting.