Family, friends, UCF Police officers and staff, and members of the community welcomed six new officers to UCFPD today.
The officers, who started their field training in July, were sworn into the agency by UCFPD Chief Richard Beary. Lieutenant Christine Gigicos, who joined UCFPD in July after retiring from the Orlando Police Department, also was formally sworn in.
"When you come here and work here, you're a part of a team that is responsible for a lot of young people, a lot of important research and a lot of guests and visitors," Beary said. "Our job is to support you and make sure you have the tools you need to do your jobs."
The new officers will complete classroom and field training before hitting the road on their own. Each trainee will be paired with a patrol officer to get hands-on experience, and they'll be assigned to patrol when their field training is complete.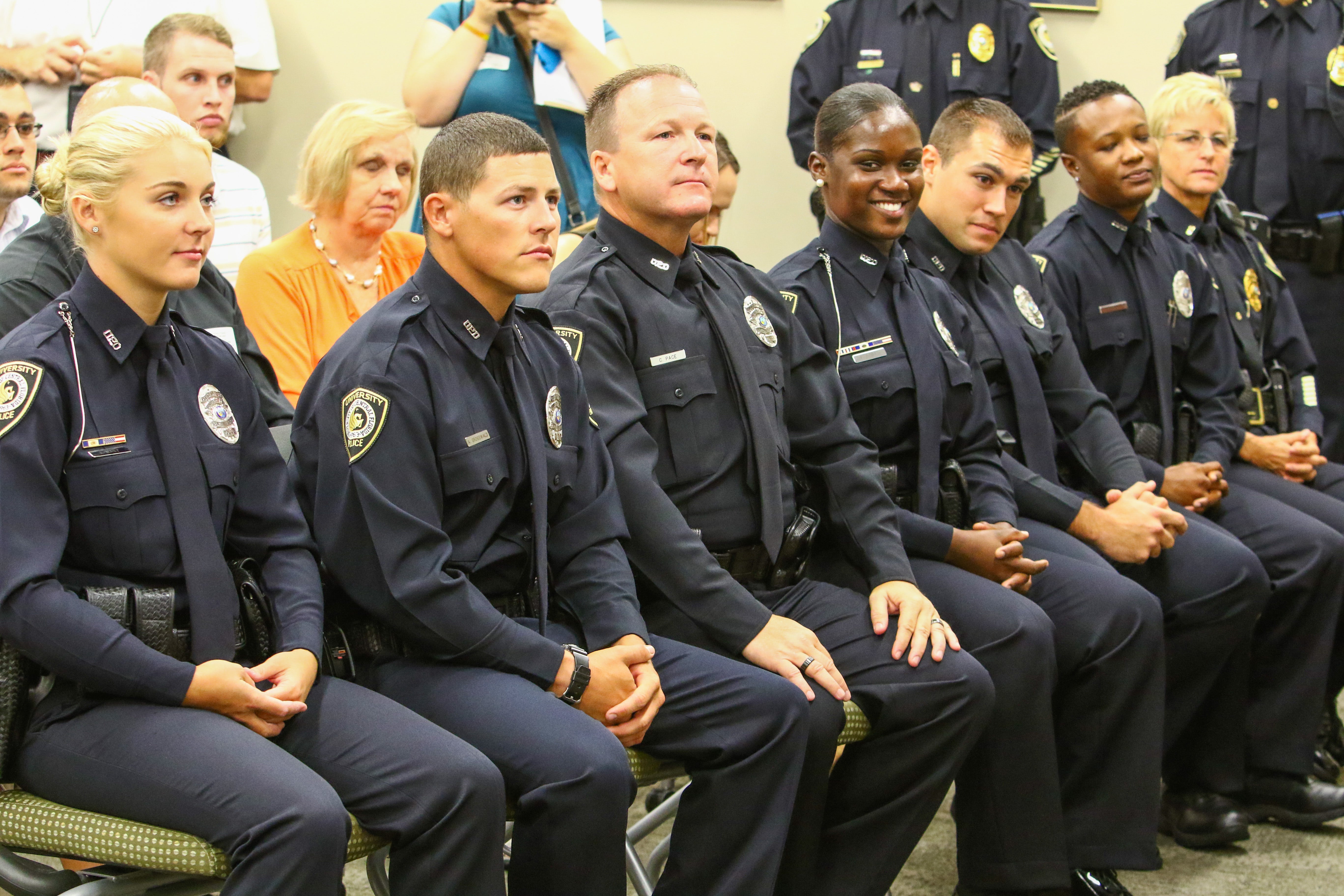 The new officers are:
Alex DeLuca, who first started at UCFPD as a member of the Safe Escort Patrol Service, or SEPS. He later served as a UCFPD Community Service Officer, and he earned a bachelor's degree in criminal justice from UCF in 2015.
Andrew Grosswald is following in his father and grandfather's footsteps by working for UCF. He is a veteran of the U.S. Navy.
Jade Mast is a former UCFPD CSO and a graduate of Seminole State College's police academy.
Charles Pace served in the U.S. Army for four years and Florida's Army National Guard for seven. He joins UCFPD after 22 years with the Orlando Police Department.
Ashley Scott comes to UCFPD from the Titusville Police Department. Originally from Charleston, S.C., she was an award-winning basketball player at the College of Charleston.
Victoria Scott also is former UCFPD CSO. She earned a bachelor's degree from Florida Agricultural & Mechanical University, where she was a color guard, and graduated from UCF with a master's in criminal justice in 2015.
To learn more about them and watch a video of the ceremony, visit https://www.facebook.com/UCFPolice/.