On his most rewarding days at UCF, Police Chief Richard Beary '04MS was protecting football fans at Spectrum Stadium, interacting with K-9s or swearing in UCF's newest police officers.
On his worst, he was evacuating threatened students from Tower 1 residence hall.
But through his 41 years in law enforcement, there's been one constant for Beary.
He cared.
And he has taught his officers to care.
"Law enforcement is still a face-to-face business," Beary says. "I will ask my officers: 'Tell me what you did this week to show you cared,' and they share with me the things they did. As long as we care, and the public knows we care, this will be a great community. That's when you know we're in a good place."
"As long as we care, and the public knows we care, this will be a great community."
The Lake Mary resident will retire this week after spending 11 years overseeing UCFPD, UCF's Victim Services program and the Department of Security and Emergency Management. Combined with his 15 years of experience as chief of police for Lake Mary, he retires as the most tenured law enforcement executive in Central Florida.
"Under Chief Beary's extraordinary leadership, the police force at UCF has become an innovative pacesetter for campus police organizations worldwide," UCF President John Hitt says. "He has worked tirelessly to enhance safety, prevent crime, and strengthen ties among many campus and community stakeholders. The result is a better quality of life for UCF students, faculty, staff, and visitors."
Call of Duty
Beary graduated from the police academy at Seminole State College in 1977 at the age of 18 as the youngest officer in Florida. So young, in fact, that he needed his parents to purchase his gun and bullets for him.
But his first glimpse of life in public service happened well before then.
His father, Ray, was the chief of Maitland and Winter Park, and his older brother, Kevin, was the former Orange County sheriff.
As a child, Beary remembers many nights hanging around the Bearys' kitchen table where his father plotted raids alongside members from local organized-crime units.
"When you grow up around it and you see that you're supposed to help other people and supposed to support your community and do the right thing, you fall into that mindset," Beary says. "It's what we're supposed to do."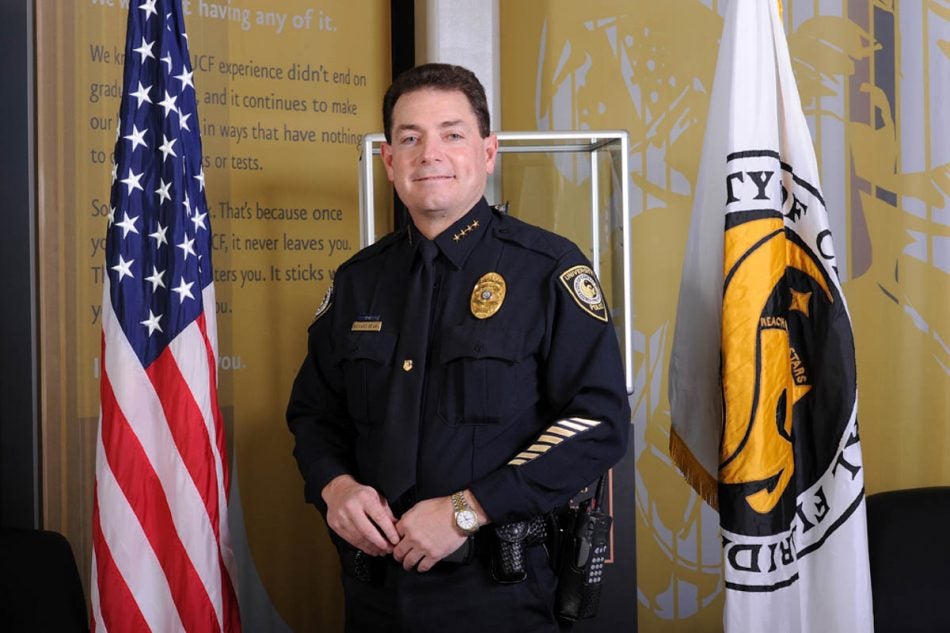 And Beary has done it well.
He was inducted into the Florida Law Enforcement Officers' Hall of Fame in 2017 and has twice been awarded the Medal of Valor for performance undertaken at great personal hazard.
In 2014, he became the first police chief of a university or college law enforcement agency to serve as president of the International Association of Chiefs of Police, an organization of more than 22,000 members at the time.
Perhaps, though, the greatest testament to his legacy is that his children have followed his lead.
His son, Greg, who earned his degree from UCF in criminal justice in 2011, works for the Orlando Police Department, and his daughter, Jill, is a homicide detective with the Orange County Sheriff's Office.
"I didn't direct my children into law enforcement. They made those decisions on their own," he says. "They do a great job and are very dedicated employees. I'm really proud of their careers."
Protecting Knight Nation
When Beary arrived at UCF in June 2007, he focused on building a team that incorporated good community policing and mental-health training. He believes those two priorities are the bedrocks of an effective unit.
"The community has to support you, understand your mission and they have to want to be a part of keeping their community safe," he says. "As for the mental-health piece, we deal with so many people who are in crisis, so we need to teach people how to deal with that."
That philosophy has led to a soft interview room at the UCFPD station for victims of violent crimes, and Paisley, the department's first therapy dog.
Whether it is improving their services for victims or making the community stronger, Beary said his proudest moments as chief are when his staff comes to him with ideas to address these needs.
"When your people are thinking about things [ like victim services and community building], that's when you know you've had an impact."
"When your people are thinking about these things, that's when you know you've had an impact," he says.
A self-proclaimed college football fanatic, one of his most memorable days was the football team's first game in its on-campus stadium in 2007 against Texas.
It was his 79th day on the job.
"It was organized chaos. We did a great job of adapting on the run. It was a very challenging day, but it was very rewarding because every obstacle that got thrown at us, we handled, all the way down to a lightning delay at the football game," he says. "All the contingency plans we had, everything happened that first game. It really bonded those of us that worked it."
His face lights up when he talks about witnessing the Knights' last home games of the 2017 season – the memorable wins over rival USF and Memphis to clinch the American Athletic Conference Championship. When UCF punched its ticket to the Peach Bowl, Beary traveled to Atlanta with his wife to support the Knights in perhaps the most thrilling game in school history.
"My wife never knew I could yell like that," he said with a laugh. "She had never been to a ball game with me because I'm always working. When you saw the heart of our student-athletes, how they really and truly cared in what they brought forward – to be a part of that was a lot of fun."
He has also experienced some truly terrible days – the ones that every officer hopes to avoid, but prepares for if they come. Without hesitation, he cites March 18, 2013, as his hardest day at UCF – the day a former student planned a gun attack but instead took his life at Tower 1.
"I think that's where education keeps you current and helps you adapt to how the world is changing."
"That was a very, very difficult day when you come to the realization … there is evil in this world. Only by some good police work and the grace of God did we avoid that," he says. "No matter how much we try to do, when you are an open community, there's chances for these kinds of people. We doubled down on our training. We made a lot of changes internally at the university. We really focus on trying to make sure no one slips through the cracks."
In addition to his service to the university, Beary further cemented his bond to UCF when he earned his master's degree in criminal justice in 2011. He recalls spending more time at the kitchen table completing homework than his daughter, a high school senior at the time, and pre-teen sons. Still, he credits education as a crucial tool in making him into a better officer.
"Anybody can sit in a job and keep doing the same thing over and over. The key is what's going to be happening next? How are you going to handle things as they evolve?" he says. "I think that's where education keeps you current and helps you adapt to how the world is changing."
Trading in a Cruiser for a Cadillac
When Beary announced his retirement from UCF in November, he quoted his father in his letter to his officers: "Train the next generation of leaders — then step aside and give them the opportunity to step up and excel."
Beary says the time feels right now, but he won't quit the badge completely.
He plans to teach law enforcement leadership and officer- safety programs for the federal government and also act as a consultant for local companies.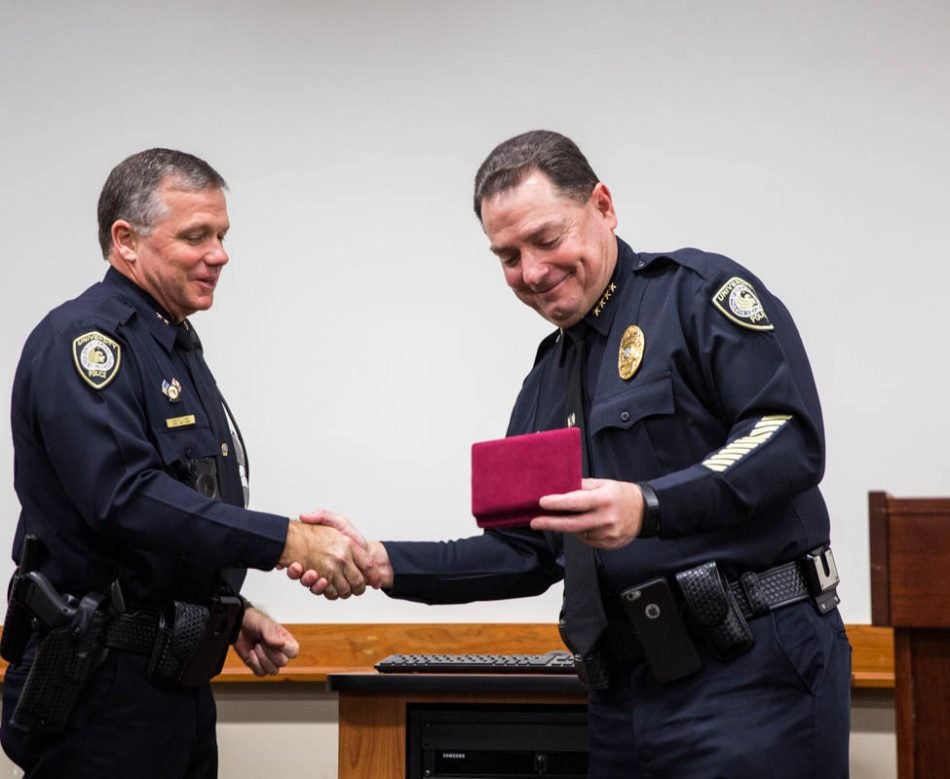 As he reflects on the past four decades and what he's learned, he says there are three tenets that seem to have guided his every move.
It's simple ideology, but maybe that's why it works, and it's what he hopes his officers at UCF carry on after he's gone:
Honor your oath of office. It's critical.
Be humble with your authority.
Always stay current and constantly advance your training.
As for what he'll do when he actually takes some time to relax?
There's grandkids to play with and a to-do list five years in the making. At the top is organizing his workshop at a house he owns in Georgia near a lake.
And there will definitely be some joyrides in his white, 1976 Cadillac Eldorado convertible with plenty of memories in the rearview mirror.