Although UCF alum and faculty member Ashley Taylor '12 didn't travel to this summer's FIFA Women's World Cup in France, she can't help but smile every time she tunes into a match and sees the United States' diehard fans in the stands wearing her artwork.
Taylor is a member of the American Outlaws, the official fan group of the U.S. men's and women's national teams. Established in 2007, the group now claims 30,000 members and 200 chapters around the world, including one in Orlando, which Taylor joined a few years ago.
After her concept was selected as the Outlaws' official membership T-shirt this year, Taylor was asked to design graphics and scarves for the "Tour de Four" — a nod to the women's team's quest for its fourth Women's World Cup championship. Many USA fans have been sporting her designs at the tournament.
"To see so many of the Outlaws with the scarf, shirt or standing in front of graphics I have designed has been the most rewarding experience." — Ashley Taylor '12, UCF lecturer
"To see so many of the Outlaws with the scarf, shirt or standing in front of graphics I have designed has been the most rewarding experience," says Taylor, who earned a Bachelor of Fine Arts degree in art and is a lecturer for UCF's School of Visual Arts and Design.
According to a June 21 Reuters article, out of the 1.05 million tickets sold for the Women's World Cup so far, more than 100,000 were purchased by American fans.
ESPN reported Wednesday that ticket prices and demand for Friday's quarterfinal between the USA and France has skyrocketed. According to its article, the least expensive ticket on the resale site StubHub.com is $295, while the most expensive one is listed at $11,398, with a number of tickets on sale in the $2,000-$3,000 range.
Taylor isn't surprised by the number of fans who traveled or their passionate support. For her, and many others, the women's team represents something bigger than the game.
"I grew up watching this team. They taught me love, dedication, grit, and compassion," she says. "Time and time again, they have inspired so many by the way they face and overcome adversity."
In this Q&A, she shares details about her experience with the American Outlaws, where the best place is to watch a Team USA match in Orlando and her teaching philosophy for the next generation of artists.
What is it like to be part of the American Outlaws?
I have been a soccer fan since I was 8 years old. At the time, the national team wasn't anywhere near the popularity it is now. When the American Outlaws was started, it was a way for all us passionate fans to find a place where we could show our pride.
It's a thrilling experience, the American Outlaws create an exciting atmosphere — from the march to the stadium, the smoke, the chants, the red, white and blue to the energy in the stands, you're surrounded by passionate people who celebrate their love for this team and have become family.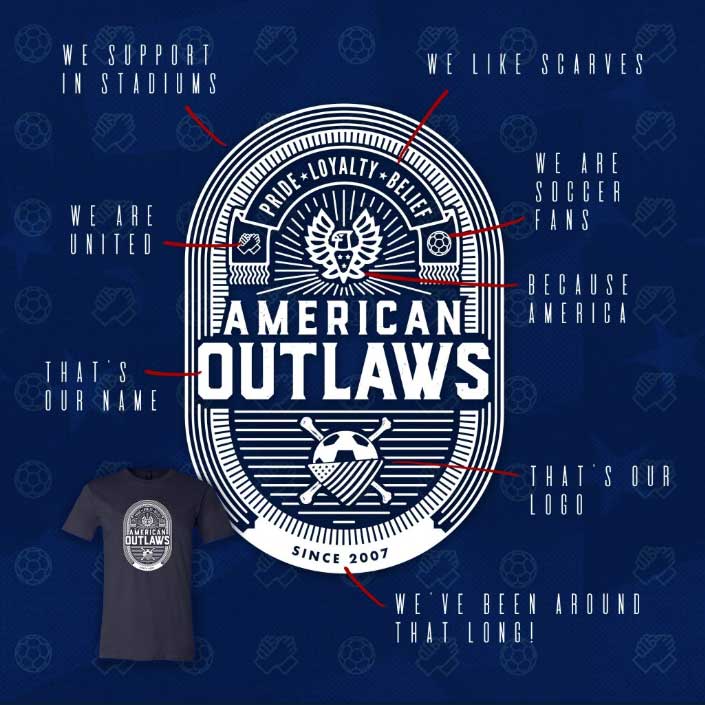 How did you come up with the design for this year's member T-shirt?
The American Outlaws headquarters contacted designers who had worked with local chapters and asked us to submit a design for the shirt. Out of 8 submissions, mine was picked, and 30,000 shirts were printed for all the members nationwide. I'm quite proud of this design. I tried to encapsulate the dedication of the American Outlaws, and it's been really exciting to see so many people wearing it at the matches.
Where is the best place in Orlando to watch Friday's USA-France showdown?
The Harp and Celt in downtown Orlando. It's the American Outlaws' Orlando chapter watch party location, and it's a great atmosphere. I'll be there.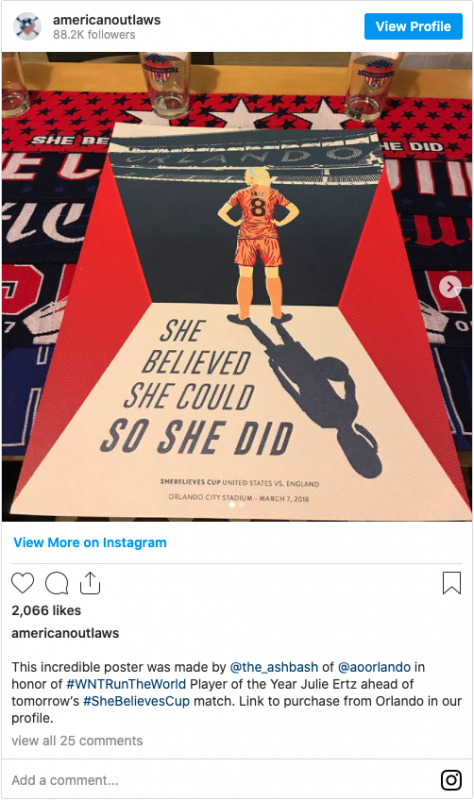 What was your meeting like with 2018 U.S. Soccer Female Player of the Year Julie Ertz?
I designed a poster for the 2018 SheBelieves Cup that featured her as the subject, which was placed in her locker room before the game in Orlando. After the game, she came over to me to say how much she loved that poster — it was surreal. I was so glad she liked it. (Ertz shared a photo of the poster on her personal Instagram story.)
Where do you find inspiration to create?
I find inspiration in observing the world around. I believe that the role of an artist is understanding one's relation to the world they live.
What do you try to instill in your students?
I strive to instill in them a dedication and work ethic that along with grit and perseverance leads to being nimble and creative artists.
What will students experience if they enroll in your courses?
I strive to create an environment that promotes growth, risk-taking and problem-solving and that also rewards a students' passion and work ethic. I am a very passionate, empathetic, mistake-prone and creative teacher. I show them that making mistakes is part of the process. I encourage this mindset because the mistakes lead you to somewhere unexpected and greater.