Before the Knights square off for back to back home games against Temple and Cincinnati, fans should be aware of several changes that have been implemented at the Bounce House — the new name for UCF's on-campus stadium — due to COVID-19.
UCF Athletics is working with university leadership, the American Athletic Conference, the NCAA and public health officials on a return to competition this fall that prioritizes the health and well-being of all involved. These and other precautions undertaken are consistent with the guidance of Orange County and the State of Florida.
UCF Athletics' A to Z guide has the most up-to-date information regarding the football season. Some of the key changes are outlined below regarding what to expect for home games this season.
Can fans attend games?
After meetings between UCF Athletics, Florida Department of Health officials in Orange County, and university administration, it has been determined that stadium capacity will be reduced to 25 percent of the normal 44,206 capacity at the Bounce House for the first home versus Tulsa. Officials will monitor the situation to determine if capacity limits can be increased during the season.
A limited number of ticket packages and single-game ticket options are still available for UCF football games, and can be purchased online. All seating within each zone is general admission, with a maximum occupancy of 25 percent for each section.
Can students attend games?
The 12,000-seat student section has been reduced to 25 percent capacity (3,000 students) for the start of the season. Tickets are available via a lottery process. For details about the lottery system click here.
Students should not arrive before gates open to stand in line.
Students should not arrive before gates open to stand in line. Unlike previous years, student lottery winners will arrive to the stadium with a guaranteed ticket to the game.
For the 2020 season, the Knightmare student section will only be in the north end zone, but it has been expanded into additional sections. Students will be required to enter Gates 6-9.
Students will be required to have their mobile ticket and a valid student I.D. to enter the Bounce House. Once in the stadium, students will be able to select a seat in any of the designated student sections (116-123 or 216-224), but each section will be limited to 25 percent of its capacity.
Do I need to wear a face covering to attend a game?
All fans will be required to wear coverings at all times due to COVID-19 except for when they are eating or drinking in their seats or designated tables on the concourse. Physical distancing is strongly encouraged in seating and common areas.
Consider Armoring Up with an exclusive UCF face covering from Knight-owned business Rock 'Em Socks. Proceeds benefit the UCF Student Emergency Fund.
Do I have to sit by myself?
You may choose to sit next to roommates, family members or friends with whom you are regularly in close contact as long as your tickets are in the same zone and occupancy levels for that section have not reached capacity.
I'm attending a game. How do I know where to enter the stadium?
All tickets will be digital beginning in 2020. Fans will be required to enter at the assigned gate listed on their mobile ticket, and a clear-bag policy is in effect.
Ticket-holders will access tickets through the UCF Knights app (supported on Apple and Android devices) and available for download via the App Store (Apple) and Google Play (Android). Tickets also will be available to download and save on your digital wallets. Tickets also are accessible through your phone's mobile web browser at UCFKnights.com/DigitalTix.
To expedite entry and ensure the best possible game day experience, fans should download their tickets prior to arrival and save to their phone's digital wallet through Apple Wallet or Google Pay.
Can I buy tickets for away games?
There is no expectation for sales of any tickets to away games due to limited capacities at all venues. Fans interested in attending games at other stadiums will need to either purchase tickets directly through the home team's ticket office or through the secondary market.
What is UCF's schedule?
For a complete schedule, visit: ucfknights.com/sports/football/schedule.
What changes have been made to pregame activities?
IOA Plaza pregame festivities will be limited in 2020. We look forward to all festivities returning in 2021.
What will be taking place:
Sponsor Fan Zone: Engage with a wide range of UCF Athletics corporate partners before kickoff. Make your way through different partner areas and stop at each for chances to win prizes, coupons and more. All partners will be adhering to CDC guidelines on physical distancing and face coverings. Fans are encouraged to use face coverings when engaging with partner ambassadors
Photo Stations: Photo opportunities will be available throughout IOA Plaza. These photo stations may have special appearances from Knightro, cheer and dance teams, Knugget and Pegasus.
What will NOT take place in 2020:
Knight Walk
Tailgate Concert Series
March to Victory
Kids Zone (inflatables, face painting, etc.)
Can I tailgate on campus this season?
Following guidance from health officials, tailgating is prohibited until further notice. There will be no open-container waiver on UCF's campus this fall, meaning fans cannot consume alcohol on campus grounds or in parking lots or garages.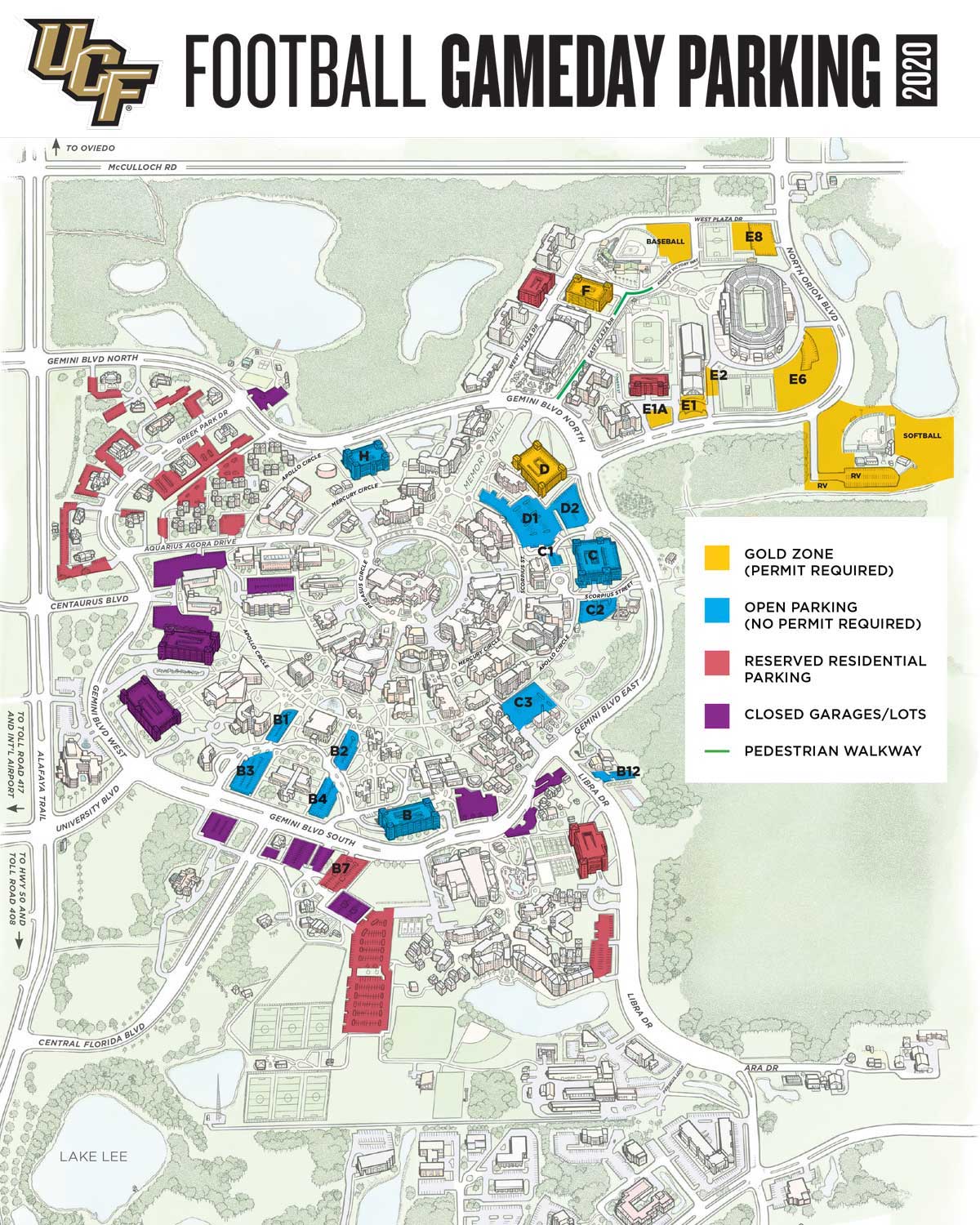 Where can I park?
Parking will be allocated by the location of tickets/zone in the Bounce House. Parking will be provided with minimum of two tickets purchased.
ADA parking will be available in Garage C, with shuttle service to Gate 14. A Florida DHS&MV permit is required. The individual who was issued the permit must be with the vehicle. Additional accessible parking spaces will be available throughout the campus (available on a first-come, first-served basis).
A free shuttle for patrons with disabilities and fans who accompany them will be provided from the bus stop adjacent to Garage C to the stadium (Gate 14). Shuttles will run from three hours prior to kickoff until two hours after kickoff.
Students driving to the game should park in Garage H. Parking for other fans is being allocated in the Gold Zone based on the location of their tickets.
Overnight parking in the C, D and F garages; C, D and E lots; and on East Plaza Drive is prohibited.
Some parking typically reserved for game day purposes will be open parking. Those include Garages C and H and the C and D lots.
Because of the limited fan capacity, several campus parking lots and garages will be blocked off and unavailable. They are garages A and I, as well as lots B 5-7, B10-11, H 3-4 and H10.
Student shuttles
For students, game day shuttles will be available for all normally serviced apartment complexes, with the exception of North View, Tivoli, and Northgate Lakes due to their close proximity to the stadium. Shuttles will run continuously from two hours before kickoff until two hours after the game ends.
Shuttles are available to and from the UCF Downtown campus and the Rosen College of Hospitality Management.
Riders will need to show a valid UCF ID prior to boarding any UCF shuttle.
Will traffic flow on campus be affected?
Because of the limited attendance, the area of Gemini Boulevard in front of the Arena will remain open to traffic before, during and after the game. Traffic will continue to flow both ways on North Orion Boulevard during the game. While postgame traffic is exiting campus, vehicles will not be able to turn from McCulloch Road onto North Orion Boulevard.
Will the Marching Knights and spirit team be at games?
The American Athletic Conference established the following rules for 2020 football games for marching bands and spirit squads:
No on-field performances by the home team band
No spirit squads on the field to start the season
No visiting team bands or spirit squads permitted
UCF Athletics, the Marching Knights and the UCF spirit team are taking guidance from health officials. The Marching Knights and spirit team will still have a presence in the stadium. At this time the usage of wind instruments in the stands is not permitted.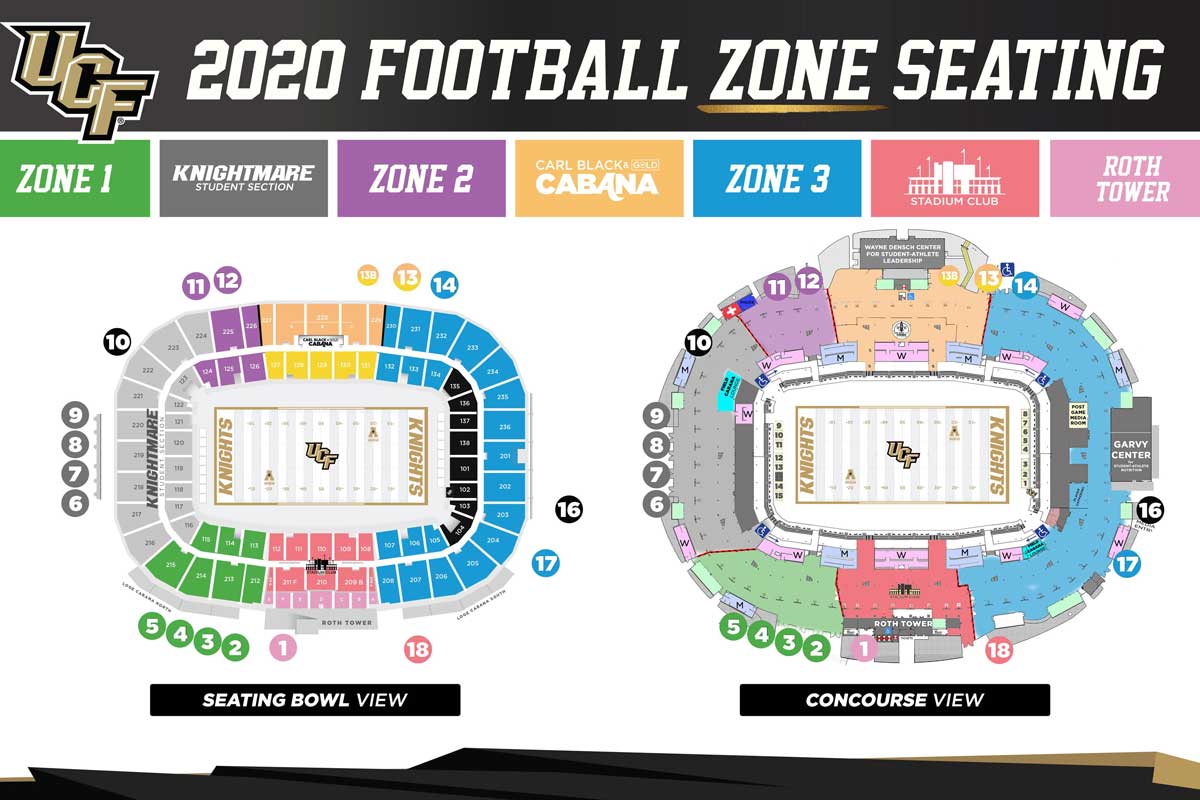 What precautions will be implemented at the stadium due to COVID-19?
UCF Athletics is following the guidance and direction of the Florida Department of Health, Orange County and UCF health professionals in addition to consulting with Orlando Health. All of those units are informing UCF Athletics decisions on how to best protect the health and well-being of fans. UCF also is working off a lengthy list of health protocols and recommendations provided by the AAC.
The stadium will be divided into seven zones and movement on the concourse from zone to zone will not be permitted. This will prevent overcrowding and enable physical distancing throughout the stadium. Each zone will have adequate concessions and restrooms for the limited capacity permitted.
Fifty Ecolab hand sanitizer kiosks have been installed throughout the Bounce House.
Fans are asked to do their part by conscientiously practicing physical distancing, frequently washing hands, using hand sanitizer, wearing face coverings and entering the assigned gate on their mobile ticket to ensure the healthiest possible environment. All fans should keep a safe distance between their party and other fans while inside and outside of the Bounce House.
Those fans who are not feeling well or have been in close contact with someone they suspect may be infected should stay home and contact their doctor.
How will concession stands operate?
To provide the maximum access and physical-distancing measures, all concession stands will be operational. Menu offerings will be limited to the most high-demand, fan-favorite items for speed of service and efficiency. Food items will be wrapped or pre-packaged and offered in easy-to-carry bags along with packaged utensils.
Where can I find black and gold game day gear?
The UCF Bookstores at both the John T. Washington Center and Knights Plaza locations.
If I can't attend a game, how else can I support the team?
The Keep Charging On Fund is a one-year fundraising effort to provide charitable support for UCF Athletics. It will provide funding to maintain the significant momentum built over the past four years, despite the budgetary uncertainty caused by the COVID-19 pandemic.
You can also consider joining virtual watch parties hosted by UCF Alumni. Watch parties are hosted through Facebook Rooms or Zoom. More details can be found at ucfalumni.com/watchparties.