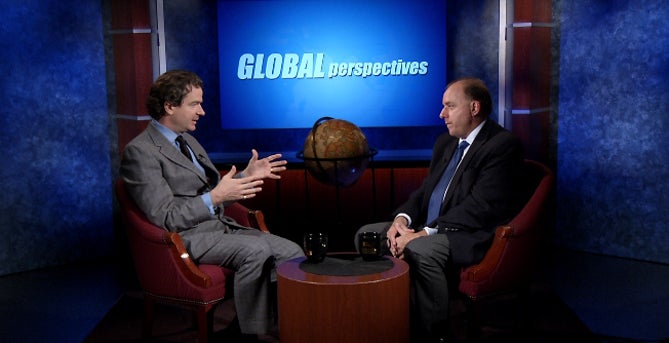 New local shows and several familiar national names will hit the airwaves this month when WUCF TV launches its new evening lineup.
Two new locally produced shows – Global Perspectives and Metro Center Outlook – will fill the 7 p.m. weekday slots on Tuesdays and Wednesdays, respectively. Both shows will re-air starting at 9 p.m. Thursdays.
To make room for the new shows, WUCF TV is moving the PBS NewsHour to 6 p.m. and Nightly Business Report to 7:30 p.m.
National shows Inside Washington, The McLaughlin Group and White House Chronicle are also joining the WUCF TV weekday lineup.
The new schedule takes effect Monday, Oct. 24.
"The move will allow us to add great national affairs programming that viewers had previously enjoyed, plus new local shows that feature Central Florida issues and guests from around the world," said Grant J. Heston, assistant vice president of WUCF TV.
"And we'll be adding these programs without losing primetime PBS favorites – like NOVA, Antiques Roadshow and History Detectives – that our viewers value," Heston added.
Hosted by Pulitzer Prize winner John Bersia, Global Perspectives explores current international issues with world-renowned newsmakers, authors, scholars and experts.
Its debut season on WUCF TV will feature CNN national security analyst Peter Bergen; Arun Gandhi, peace activist and grandson of Mahatma Gandhi; and Anthony Shadid, Pulitzer Prize-winning journalist and Beirut bureau chief for The New York Times, among others.
Central Florida PBS viewers also will have a front-row seat for discussions with Gov. Rick Scott, Orlando Mayor Buddy Dyer and other area "movers and shakers" on Metro Center Outlook.
Metro Center Outlook is hosted by Diane Trees, director of the Metropolitan Center for Regional Studies at UCF, and explores issues impacting Florida's economic prosperity and development.
Prior to its permanent spot on Wednesdays at 7 p.m., Metro Center Outlook will kick off with a special interview featuring Gov. Rick Scott at 9 p.m. this Thursday, Oct. 13.
Starting Oct. 24, Inside Washington will air at 7 p.m. Mondays; The McLaughlin Group will air at 7 p.m. Thursdays; and White House Chronicle at 7 p.m. Fridays.
Each of the new national and local shows will re-air Sunday from noon to 2:30 p.m. on WUCF TV.
NewsHour fans have another option, too: The program will air at 7 and 11:30 weeknights on UCFTV, a subchannel of WUCF. Nightly Business Report will air at 11 weeknights on UCFTV.
UCFTV is available for Bright House Networks customers on digital channels 457 and 9 in Orange, Osceola and Seminole counties; and for Comcast customers on digital channel 206 in Orange, Osceola and Polk counties and digital channel 205 in Lake, Volusia, Marion and Sumter counties. UCFTV is available over the air on 68.3.
For an online channel guide and schedule, visit http://wucftv.org.