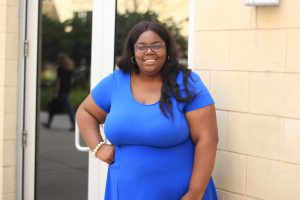 Anacia Brooks sits in an Orange County courtroom watching as the judge hears case after case. Some of the defendants have a private attorney, and others are represented by a public defender. But a small few rely on a "conflict" attorney for help. These are the defendants who Brooks patiently awaits.
A junior UCF legal studies major, Brooks is an intern at the Criminal Defense Legal Clinic at FAMU Law School in downtown Orlando. The clinic represents individuals who cannot afford a private lawyer nor make use of the public defender's office due to conflicts of interest or other extenuating circumstances.
Under the guidance of an attorney, Brooks' internship allows her to function as a paralegal at the clinic, focusing on drug and petty theft misdemeanors. She observes real criminal cases at Orange County Courthouse, as well as arraignments, pretrial meetings and client interviews. The partnership is both rare and unique, as most law schools do not invite undergraduate students to participate in clinics.
"Our students get to go into the courtroom, but they also get to learn the research and writing aspect of law, which they cannot get currently on main campus," said Legal Studies Experiential Learning Coordinator Marc Consalo.
The clinic operates with two attorneys assigned to a division or judge. Each attorney has a UCF student working with them as the paralegal – an opportunity that Consalo says is a signature partnership with the UCF Legal Studies program.
"I have always wanted to be an attorney," said Brooks, who now credits the experience with clarifying her career ambitions in law. "This was a valuable experience for me because it helped me confirm that I do not want to do criminal law. I saw how criminal lawyers have to be quick on their feet, so they are under lots of pressure. One word can make or break a case for their client."
Beyond the courtroom, Brooks stresses the value of working on the law school campus. "I got to see what actual law courses consist of and the amount of work students have to engage in through those courses," she said. "Being at a law school helps me realize that this is something I want to pursue."
Consalo said learning experiences like Brooks' are beneficial to students, particularly upon graduation. "Many students have received full-time positions after an internship," Consalo said. "When placed with private law firms or public defender's office, students are getting exposure to people who would potentially hire them. Also, those experiences resonate so much more when applying for law school, graduate school or going into the workforce. An employer looks at these experiences as a more valuable experience compared to what can be learned in the classroom."
Experiential learning has had such a positive impact on Legal Studies students that the department is seeking more opportunities for students and considering an internship or capstone class as a degree requirement. "Legal programs may teach students how to write and think like a lawyer, but many fail to teach how to actually be a lawyer. We want to remedy that situation for our students," Consalo added.
The Legal Studies program will benefit from its new geographic location in downtown Orlando when the campus opens in fall 2019 and neighbors the FAMU Law School.
Bringing speakers into a class or sending students to the courtroom just a few blocks away to observe or for assignments will be much easier, Consalo added.
There are more than 700 businesses related to legal studies in the five zip codes surrounding the UCF Downtown campus. Whereas there are fewer than 50 in the area surrounding UCF's main campus, according to data from the Orlando Economic Partnership.
While Brooks is disappointed that she will have graduated prior to the program relocating, she personally knows how it will benefit future students. "I love that UCF is going downtown," she said. "It will be more efficient for people to participate in experiential learning."
Consalo added: "The cool thing is with us moving downtown it really opens up the opportunities. It gives us the chance to make our degree really different from other degrees here at UCF, let alone across the country, and it gives us a chance to make the university different too."