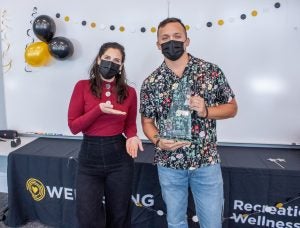 Posted May 13, 2021.
The Recreation and Wellness Center Employee of the Year is selected annually from a small and elite group of leaders of the RWC's facilities and program student staff teams. This person is recognized for their impact on students and enacting the values, mission, and vision of the RWC. In April 2021, Sam Pinto-Pannella, student lead at the RWC@Downtown, was recognized with this prestigious award. UCF Downtown wanted to know more about Sam, who transferred to UCF from Valencia College through the DirectConnect program. While he can lift up to 515 lbs., it turns out lifting other's spirits is what keeps this integrated business major motivated. 
How long have you worked at the RWC?
I have been working for the RWC @ Downtown since November 2019. 
What stands out to you about working at UCF Downtown?
What stands out to me the most is the community that we have here. From the diversity to how welcoming and open everyone is. Due to these qualities, we have been able to be involved and active in our community! We have an ability to help more than just our Valencia and UCF students but also people surrounding our campus too. 
What's your favorite part of being an RWC staff member?
My favorite part about being an RWC staff member has to be seeing patrons develop, and change their bodies and overall well-being! When I first started as a fitness attendant, I was able to get very close to our patrons and see them change mentally, physically, and emotionally. I also enjoy being able to contribute to these changes by helping patrons and maintaining a great facility for them to workout.  
Describe your experience as a student employee.
My experience being a student employee has been amazing! Last year was my first year in Orlando and this year is my first year as a UCF student. Working for UCF has helped me make friends, develop professionally, and has made me closer with some professors as well. 
When you're not studying or working at the RWC, what do you enjoy doing in your free time?
When I'm not studying or working, I am usually still at the RWC. The biggest thing I like doing in my free time is working out. This has kept me on track as it's my time to get away from my busy schedule and focus on myself for an hour! This has also led me to more ways of getting involved with UCF. A few fellow powerlifters and I at the school are trying to put together a Powerlifting club at UCF.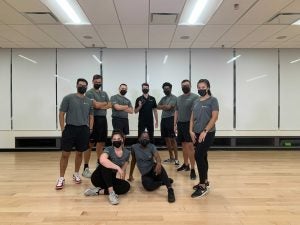 What advice would you give to someone looking to get involved on campus?
Go for it! Getting involved with the school can be a bit scary but it's honestly been the best thing I have ever done. I have been involved with school since high school and it's always kept me busy and out of trouble. It also helps with skills like social interaction, time management, and the development of communication skills. Also, the people you will meet along the way are awesome because everyone is all working towards one common goal. I would also suggest maybe stepping out of your comfort zone and challenging yourself as it will help you develop even more! 
What's your favorite spot for food in downtown Orlando?
My favorite place downtown has to be Tin and Taco. I love tacos and they have been by far the best tacos I have had downtown. 
Tell us what you are most looking forward to once the Fall 2021 semester begins.
What I am most looking forward to coming fall semester is hopefully opening the RWC @ Downtown a bit more as we get back into normal life again. I would love to start having indoor group exercise classes again and we have some neat programs we are brainstorming for the fall semester!  
Do you have any hidden talents?
I would say my hidden talent would be my powerlifting. My best lifts to date are a 430 lb. squat, a 315 lb. bench, and a 515 lb. deadlift. I have had a background in sports since I played football as a kid and ran track and field until my freshman year in college. Other than that, I am a mediocre juggler at best. 
What are your plans for post-grad?
My plans post-grad are to hopefully pursue a career in human resources, where I want to build another workplace culture as we have here at the RWC @ Downtown. This is my favorite part of my job now – being able to interact with many people with different personalities and backgrounds. Eventually, my dream is to be able to open my gym where all athletes and fitness lovers can come!