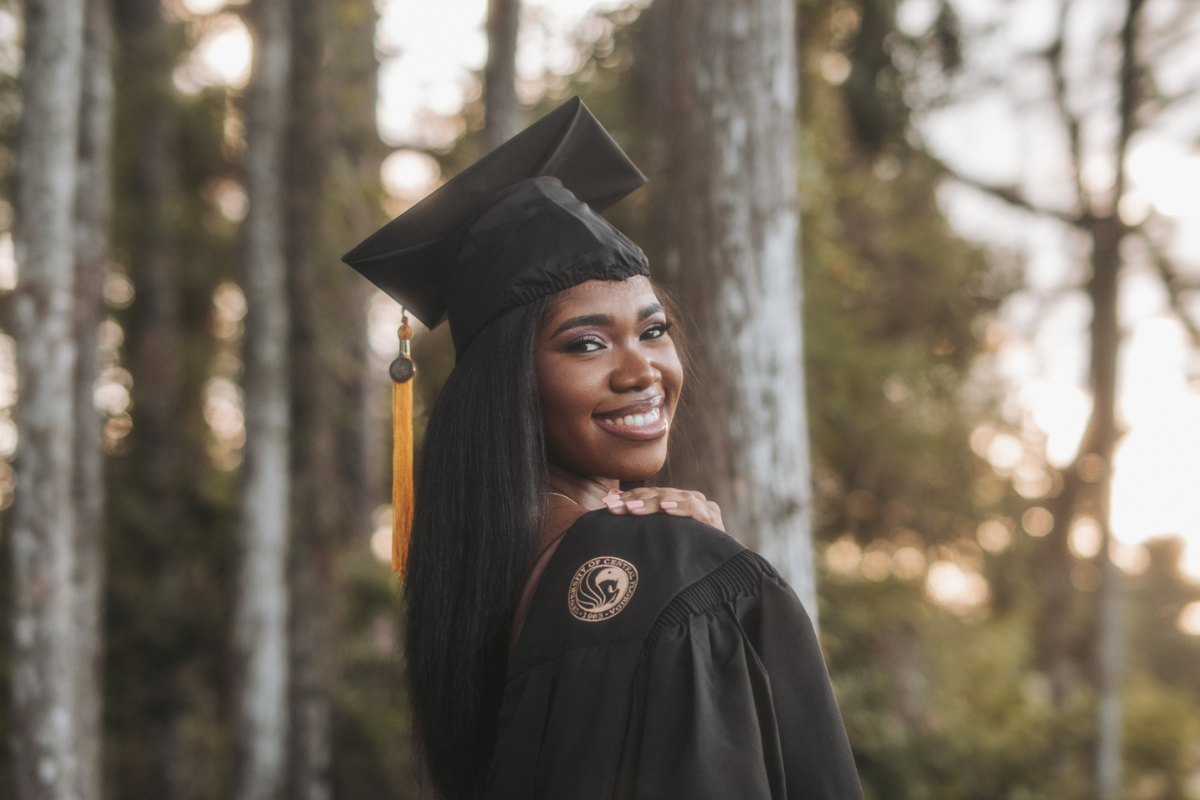 By: Jamie Giller
Connecting students to real world experiences at companies throughout downtown Orlando is one of the major benefits of attending UCF Downtown. For recent grad Aleah Blain '22, an internship at Electronic Arts was a chance to learn and contribute to the gaming industry.
"Getting the internship was one of the most rewarding experiences ever," she says. "I loved working for a company that really cares about their intern's growth and development. I grew up absolutely adoring EA titles, such as the Sims franchise, the Dragon Age franchise, APEX Legends, and more, so to work for the company was so meaningful to me and my inner child."
In fact, EA – one of the largest video game creators in Central Florida – employs more than 100 UCF graduates. The company often looks to UCF's digital media majors and Florida Interactive Entertainment Academy students for internship and job openings thanks to a close partnership between UCF and the company.
"Finding out that I was the finalist for the position – as there was only one intern spot on the team – was incredible," says Blain. "To know I had been chosen from dozens of applicants really helped lower my impostor syndrome, as well as prove to myself that I do have what it takes to make my dreams come true. I worked really hard to get to where I am, and scoring the internship was proof of that."
Blain says she took away a lot of important skills from the internship, including design principles, coding techniques, teamwork skills, overall how the game industry works and what it takes to make a successful game.
As a tech designer, Blain worked with EA's proprietary visual scripting engine "Frostbite," used to produce video games like the upcoming EA Sports "PGA Tour," on which she had the opportunity to directly work. She credits the internship with strengthening her skills as a game developer.
---
READ MORE: Ahead of the Game: The story behind how UCF's Florida Interactive Entertainment Academy grew into an industry game changer.
---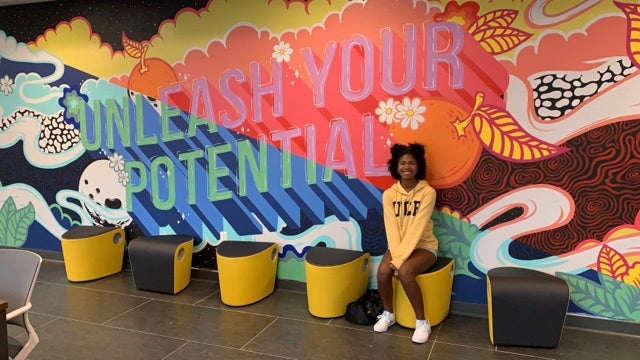 As of March 2022, EA is headquartered in Creative Village, placing job and internship opportunities just one block away from UCF Downtown. Although Blain's internship took place during the COVID-19 pandemic, Blain says she still enjoyed the downtown campus amenities like Dunkin', Subway and the common study areas in Dr. Phillips Academic Commons. She also likes how close the campus was to Lake Eola – "it's absolutely gorgeous and I love walking around!"
In October 2022, Blain is headed to Japan to continue her pursuit of the Japanese language and is working on landing a job in the gaming industry thanks to networking while at EA.
"EA introduced me to so many fascinating people," she says. "I really got my name out there and now I'm hopefully going to score a job at a studio I've dreamed of working at. They reached out to me due to my time at EA and even spoke to my previous managers to get a recommendation and understanding of how I performed during my time as an intern. It's looking good so far, so fingers crossed it pans out!"
Blain also shares some tips if you're thinking about finding an internship: "Get started as early as you can! Your resume and LinkedIn are most important. Seriously, don't wait until the last minute to build it all up. If you're interested in applications that open in October, start in August. Make a different themed resume per company – use the company's colors and fonts – use keywords from the job description in your cover letters and resumes, and make sure everything is up to date!"
We love seeing our #KnightsAtWorkDowntown in the City Beautiful. If you are a UCF Downtown student working in downtown Orlando, we want to share your story! All you have to do is send us an email at ucfdowntown@ucf.edu.