Since the fall, you've heard about our university's plans to establish a campus in downtown Orlando that would provide our students a valuable new learning environment and give many members of our community greater access to higher education.
Recently, we've seen a lot of progress on the downtown campus – more than 50 faculty members gathered to discuss possible academic programs that could relocate to the new campus as part of our UCF Downtown committees' exploration of the project. And another group of UCF faculty and staff took a closer look at potential partnerships in Parramore, the community adjacent to our proposed campus site. We also hosted several members of the Florida Board of Governors last week at our downtown Center for Emerging Media to discuss the project and its expected impact on students and downtown Orlando.
Yesterday, the Board of Governors asked to learn more about the downtown campus' development at its next meeting, which will be held in Tallahassee in February. This is a significant project, and we look forward to further sharing how UCF Downtown will impact our academics, community and state.
Part of this due diligence involves preparing a list of planned academic programs that we initially expect to relocate downtown. Final decisions on which academic programs would relocate are still expected at the end of the Spring semester.
We know the downtown campus will be a game changer for our university and the students and community we serve. It presents us with a unique opportunity to offer students new practical experiences in their chosen fields – and reshape our university's future as an innovator and economic driver for the region.
We enjoy support from the community for having a university downtown. We've also heard from faculty excited about the possibilities of integrating more experiential learning into their courses because of the proximity of downtown businesses, organizations and other agencies. In the coming weeks, we look forward to sharing our vision with the Board of Governors and Florida Legislature.
We are continuing to work very closely with our partners at Valencia College – with whom we'll share the new campus through joint-use-facilities – about how we can leverage our successes with DirectConnect to UCF in the downtown location. We are grateful for the support from our partners at the City of Orlando and the Creative Village development team, which have already contributed more than $65 million toward the project in land, infrastructure and other facilities.
I encourage you to visit our UCF Downtown website, where you can provide input and ask questions about the project. On the site, you'll also find updates and media coverage of the project, along with a schedule of UCF Downtown committee meetings. Additionally, we will be hosting faculty and staff and student forums this semester to further discuss the project with you.
I am glad to have your support and your valuable feedback as we move this project forward.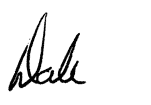 Dale Whittaker, Ph.D.
Provost and Vice President