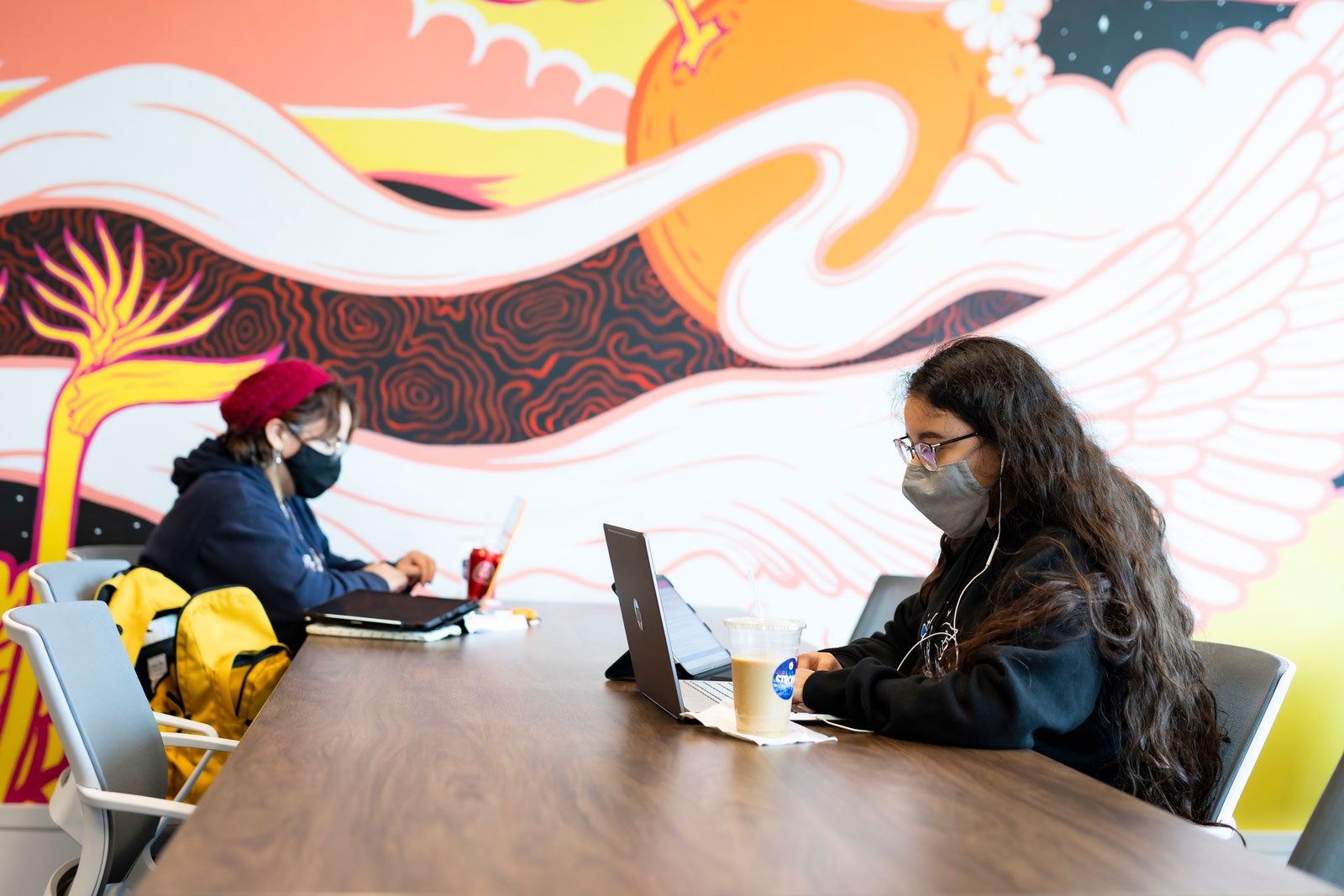 Due to COVID-19, campus services will be offered in both virtual and in-person formats.
Posted: May 10, 2021. Updated May 11, 2021.
Keep yourself and others safe. Employees and students are encouraged to conduct symptom monitoring every day before returning to campus through the online COVID Self-Checker or on the UCF Mobile app.
Emergency and Health Services
Counseling and Psychological Services (CAPS) is available by phone and videoconferencing.
Student Health Services will offer both in-person and telehealth services this summer. To make an appointment, call 407-823-2701.
UCF Police officers remain available 24/7 at 407-823-5555 for non-emergencies or 911 in an emergency.
Victim Services Hotline is available 24/7 by phone and text.
Operations/Facilities
Addition Financial
The Downtown branch is open. Hours are Monday – Wednesday, 9 AM – 5 PM, Thursday, 10 AM – 5 PM, and Saturday's 9 AM – 1 PM. Appointments are not needed but are recommended. Visit the Addition Financial website to make an appointment.
Bookstore
Barnes and Noble offers free shipping on textbooks for all students who order through the online link.
Card Services
Located in the Communication and Media Building, Card Services offers in-person service from Monday – Thursday 10 AM – 2:30 PM.
Career Services
Career Services offers their appointments virtually for the summer semester. Appointments can be made by logging into Handshake. Virtual hours are Monday – Friday, 8 AM – 5 PM.
Faculty Center
Virtual service is available downtown by emailing fctl@ucf.edu. In-person service is available on UCF's main campus from Monday – Friday 10 AM – 5 PM.
First Stop
First Stop offers students assistance with admissions, financial aid, transfer information, registrar's office and more. Their office hours are Monday – Thursday 8AM – 5PM and Friday 9AM – 5PM.
UCF students:
To schedule an appointment with a student services coach, click here.
Valencia Students:
IT Support
Support for IT issues is available in-person at the Tech Lending desk located on the 2nd floor of Dr. Phillips Academic Commons and remotely by phone at 407-823-5177 , email or online.
Classroom IT support is available 7 AM – 10 PM, Monday – Friday and can be reached by phone at 407-823-5177 , email or online.
Learning Support Center & Writing Center 
The Learning Support Center and Writing Center will continue to be online. Offering distance tutoring and writing assistance will be available 7 days a week: Monday – Friday, 8 AM – 10 PM, and Saturday – Sunday, 9 AM – 7 PM. All Downtown students can access more information about the services and how to access them here. 
Library
The Addition Financial Downtown Campus Library is open. Hours for summer are:
May 5 – 14, Monday – Friday, 9 AM – 5 PM.
Beginning May 17, Monday – Thursday 8 AM – 7 PM; Fri 8 AM – 4 PM; Sat – Sun Closed.
For more details, visit the Library's website.
Recreation & Wellness Center @ Downtown
RWC@Downtown is open. Please read more about hours, guidelines, and policies that have been implemented. The RWC on main campus has reopened parts of the RWC Park, Lake Claire and Tennis Courts. Outdoor gear rental is also available. Visit the RWC's website for more details.
Reflection Room
The Reflection Room is available with a maximum of 4 students to use the space at once. Individuals using this space must bring their own materials (mats, cushions, etc.). The Reflection Room is open Monday – Friday, 7 AM – 7 PM.
Student Academic Resource Center (SARC)
SARC will have an on-campus presence and will hold in-person peer tutoring for select upper division courses by appointment only. Virtual services will be available for peer tutoring and academic coaching via Zoom.
Student Success
The front desk, located on the 2nd floor of UnionWest at Creative Village, is open for in-person service Monday – Friday, 8 AM – 5 PM. Any general questions about these departments can be referred to 407-235-3820 or dt3820@ucf.edu.
Student Engagement
Student Engagement is hosting a mix of both in-person and virtual events this summer. Information about specific events will be communicated to students as well as posted to the UCF Downtown Event Calendar. Questions regarding Student Engagement, the Downtown Student Life Board, or events can be sent to studentengagement@ucf.edu.
Study Rooms
Individual Study Rooms in the UnionWest at Creative Village building are available Monday – Friday, 9 a.m. – 4 p.m. To gain access to these rooms, please visit the Student Success & Engagement front desk, located on the 2nd floor of UnionWest. While not required, room reservations can be sent to dt3820@ucf.edu.
Tech Lending
In-person service is available from Monday – Friday, 8 AM – 5 PM.
Testing and Accessibility Services
UCF Student Accessibility Services (SAS) has both an on-campus and virtual presence and is holding both appointments and drop-in hours. Testing will be limited to UCF students who are registered with SAS. In-person office hours are Tuesday and Thursday, 8 AM – 5 PM. Virtual office hours are Monday, Wednesday, and Friday, 8 AM – 5 PM. General questions regarding Testing can be referred to 407-235-3825. General questions regarding Student Accessibility Services can be referred to 407-823-2371.
Wellness and Health Promotion Services
Downtown services remain available both virtually and in-person. All services are by appointment only. Appointments can be made by calling 407-823-5841. Biofeedback relaxation training is offered in-person on Mondays, HIV testing and counseling is offered in-person on Tuesdays, and Wellness Coaching is offered via phone and in-person on Fridays.
Housing
UnionWest at Creative Village housing is open for residents. For questions related to UnionWest housing operations, please visit the UCF Coronavirus FAQ website.
Events
Check the UCF Downtown events calendar for a complete list of events throughout the semester.
Downtown Market Days will not take place in Summer 2021.
Dunkin' – UnionWest at Creative Village: Open
Subway – UnionWest at Creative Village: Open
Starbucks  – Marriott Orlando Downtown: Open
Due to limited traffic on campus for the Summer 2021 semester, food trucks may not be available on a daily basis.
Transportation
Downtown Parking Office Hours
Open Monday – Thursday 10 AM – 2:30 PM. The office is closed Friday – Sunday.
Downtown Express Shuttle Service
Shuttle service between UCF Downtown and main campus is available while classes are in session. The latest schedule can be found on the Parking and Transportation website.
Parking
Both the UCF Amelia Garage and UCF Parramore Garage are open to the campus community.