By: Jamie Giller
Published: Sept. 18, 2018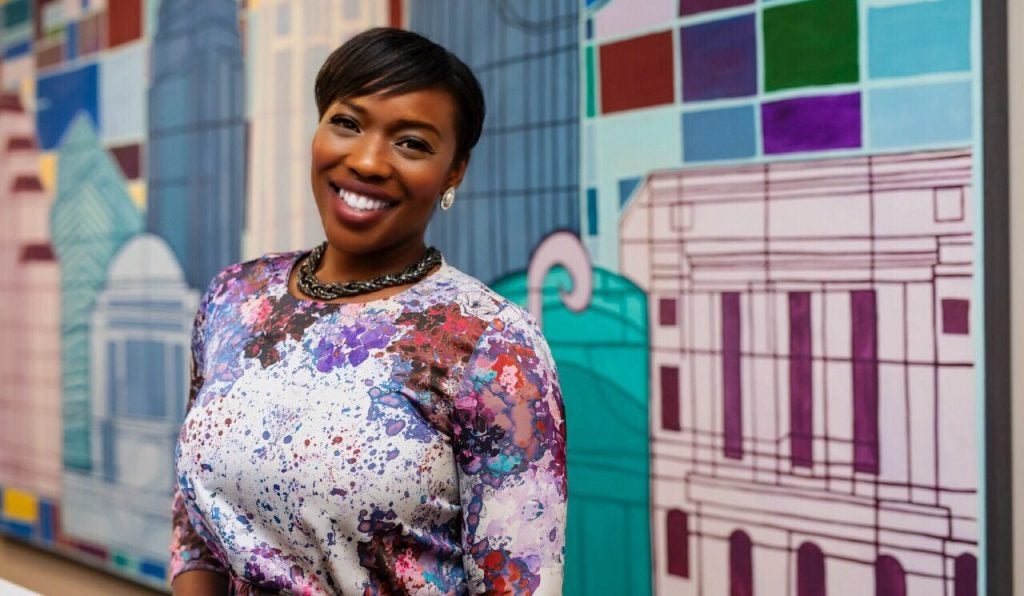 It's no secret that Orlando is growing exponentially. Recently, the metro area's population surpassed 2.5 million for the first time ever. With the seemingly endless addition of buildings and the 56,000 people that moved to the Orlando-Kissimmee-Sanford areas in 2017, it can be easy for residents to feel confused about all of the developments happening in one of the nation's fastest growing metropolitan areas.
To assuage their worries and create clear communication between residents and local officials, the city created a position that would extend direct lines of help to residents and allow their voices to be heard.
These days, residents can pick up the phone and call Jamilah Felix.
As a Central Florida native, Felix '16 graduated with her bachelor's degree in public administration and now works as a Neighborhood Outreach Coordinator for the City of Orlando. Mayor Dyer created the Office of Communications and Neighborhood Relations team to assist neighborhood organizations and residents in effectively accessing and using city services and other community resources to enhance their quality of life in Orlando.
Felix, of course, answers many questions for residents about the changing landscape of Orlando as well as what's happening with the development of UCF Downtown. When asked about how she thinks the new campus may affect the surrounding communities, Felix expressed excitement for the endeavor.
"When we think about the cradle to college mission, this is great for a generational outlook," Felix said. "There's now a pathway for individuals in the community to get certifications and degrees. I think it's going to encourage residents to further their education —  it's going to level the playing field in some ways and make college seem obtainable."
She credits her passion for public service to her undergrad experience at UCF. In a strategic partnerships and government relations class taught by Fred Kittinger she realized she was interested in learning more about how the public and private sectors work together for the community. In her senior year, she landed a spot in the competitive UCF Legislative Scholars Program, where she interned for former Senator Alan Hayes during the 2016 legislative session. While working in Tallahassee, Felix gained practical experience in government relations that fueled her decision to apply for the Neighborhood Outreach Coordinator position upon graduation.
Kittinger couldn't have hoped for a better outcome for one of his former students. "Jamilah has taken the lessons she learned in the classroom—coupled with her natural leadership abilities and infectious energy — and is now applying all of those talents to her work with one of America's best city governments," he said.
"We could not have a better ambassador for us in the city beautiful."
Keeping up this energy is no small task. Now, Felix is pursuing her master's degree in public administration.
---
Read More: UCF Downtown Places NASPAA Accredited Programs In The Heart Of The City
---
"When it comes to local government, you're in the trenches and you're actually working with the people in a very direct way," Felix said. "At the state level, the focus is more on policy with a bird's eye view. This job was a combination of everything I wanted to do in my city."
Aside from working inside City Hall, a typical week also includes visits to neighborhoods where she takes the time to attend meetings as an advocate for the residents. Some of these districts are also the focus of the Parramore Community Engagement Council, which aims to create opportunity for the residents of Parramore and give them choices over how they decide to pursue their lives, ultimately leading to life success through the creation of a healthy community.
The Neighborhood Relations team is working on building a collaborative partnership workshop for neighborhood organizations among other projects in the city. One of the team's primary developments has been the restoration of the historic Grand Avenue School into a recreation center in the Holden Heights neighborhood, which will house space for several community programs, a gym, and the home of a new Orlando pottery studio.
Even with all of the busy developments in downtown, Felix has never been more excited to be part of a growing and innovative city, especially as a UCF student and alumna.
"The addition of UCF Downtown is going to open opportunities," Felix says. "To be able to walk to these places from the campus – the barriers just come down."