From surfing lessons in Cape Canaveral to hiking in Patagonia, UCF Outdoor Adventure provides students affordable options to explore beyond campus.
Students of all experience levels are welcome to take part in the activities Outdoor Adventure offers. Accessible and inclusive outdoor equipment are available, as well, so every Knight can enjoy the outdoors.
Whether you're enjoying an extended holiday break or looking for a quick weekend getaway, the Outdoor Adventure staff recommends this list of 13 in-state excursions within driving distance from UCF. Equipment rentals — including kayaks and surfboards — are available for UCF students and current RWC members at the Outdoor Adventure Center, located in room 154 at the Recreation and Wellness Center on UCF's main campus.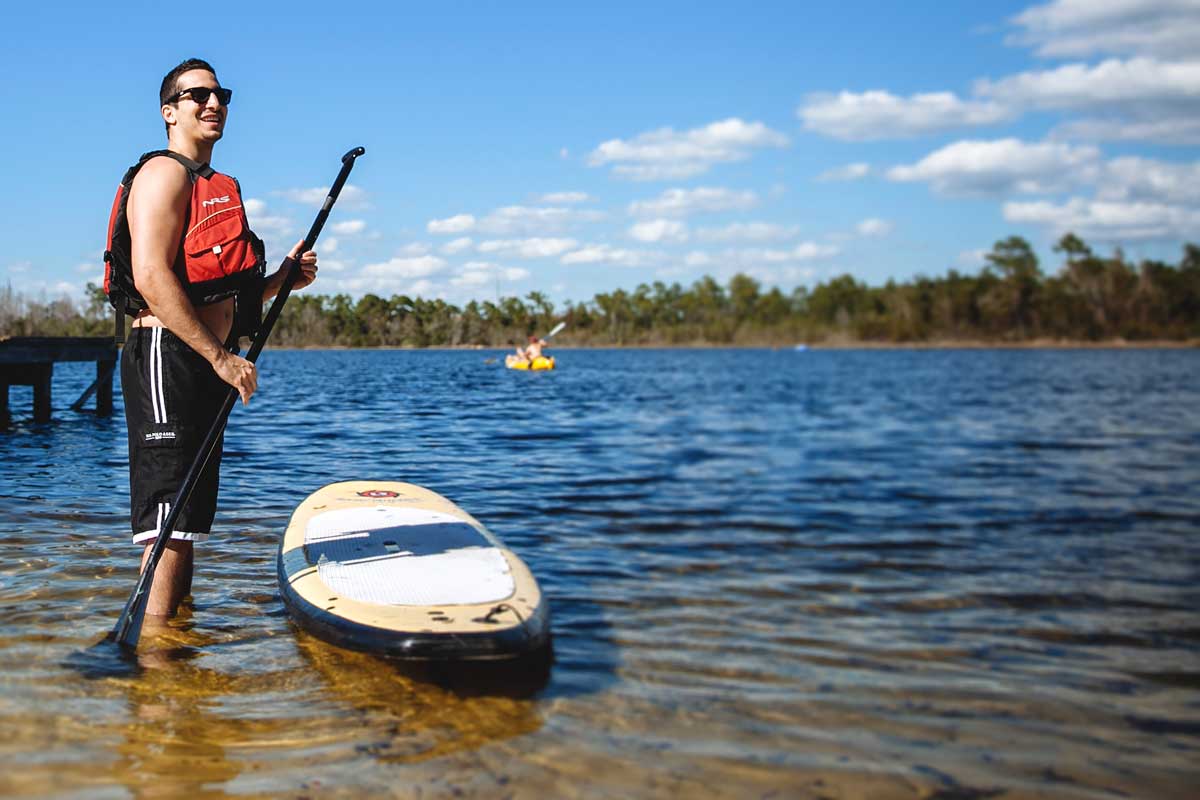 Distance from UCF: 1 hour; 45 miles
Entrance fee: No cost to launch at Ramp Road
After launching at Ramp Road Park, paddle into the mangroves that make up the Thousand Islands Conservation Area. This 338-acre site is full of a variety of Florida native wildlife, including manatees, dolphins and countless birds. This area is perfect when the winds are high, and you don't want to venture into unprotected waters. If you want to make a whole day out of it, spend the afternoon at the beach — there's beach access on the other side of Highway A1A.
OA Advice: Arrive early in the day for your best chance to see the most animals.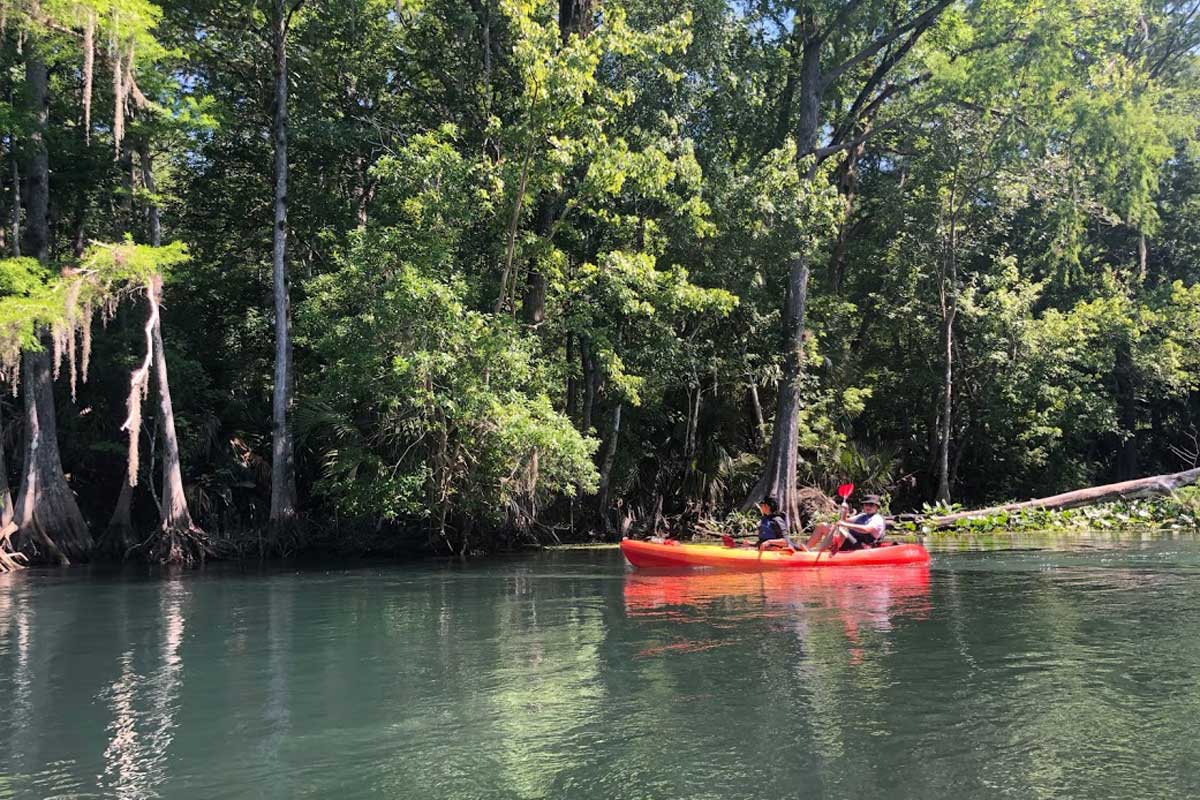 Distance from UCF: 45 minutes; 20 miles
Entrance fee: $2 per car
Wekiva Springs too busy for you? Try a more tranquil experience of the Wekiva River by launching your vessel at Katie's Landing. Keep your eyes open for Florida black bear, river otter, American alligator, sandhill crane and indigo snake which are all common to the area.
OA Advice: Even though Katie's Landing is less busy than Wekiva Spring State Park, you should still consider getting there early to beat the crowds. Paddle upstream and then float down to your car.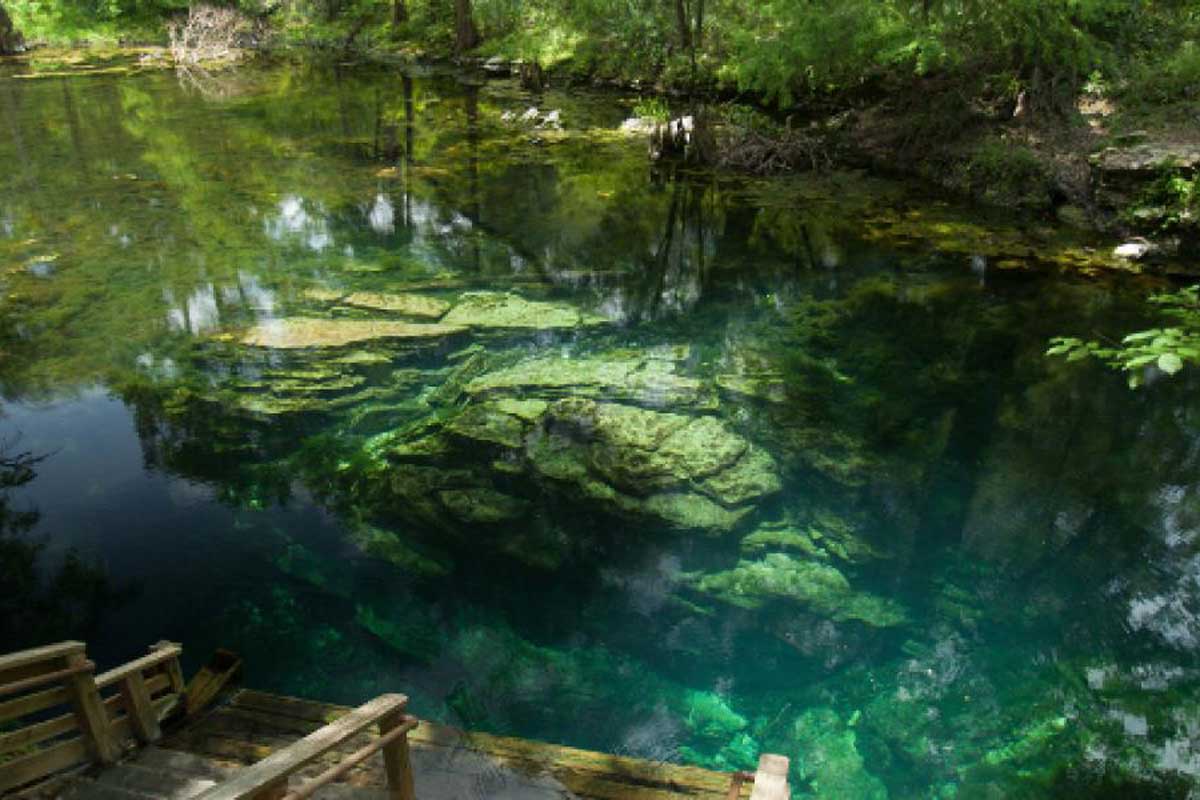 Distance from UCF: 3.5 hours; 190 miles
Entrance fee: $4 per vehicle
This park features one of the longest underwater cave systems in the continental United States. Certified divers (must show certification) can explore the underwater caverns, and all other visitors can enjoy the crystal-clear water near the surface. If you want to make a weekend out of it, there is one primitive campsite at nearby Lafayette Blue Springs State Park, or consider Spirit of Suwannee Music Park.
OA Advice: Use this secret spot as an alternative to the ever-popular and ever-busy Ginnie Springs north of Gainesville.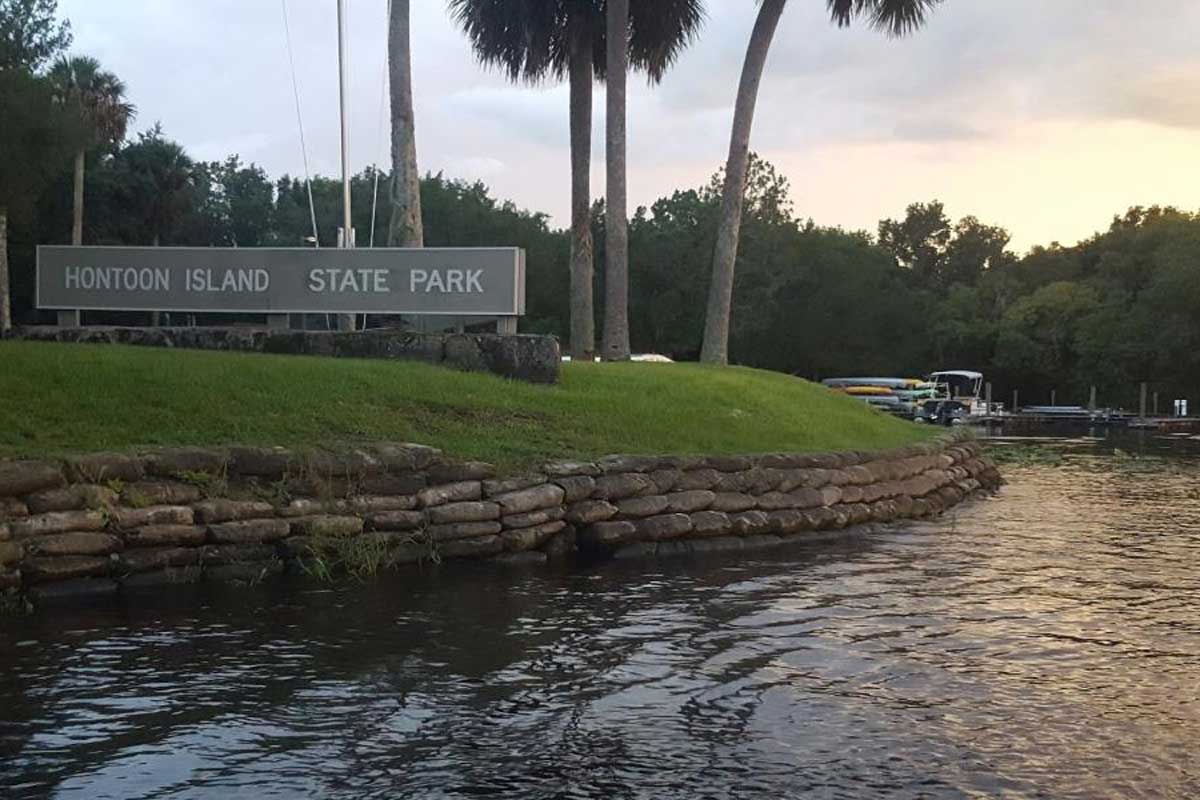 Distance from UCF: 1 hour; 37 miles
Entrance fee: No fee to launch your boat at Hontoon Island Adventures; small entrance fee to Blue Spring State Park (closed to vessels during manatee season – November 15 through March 1) if you choose.
Hontoon Island is accessible only by boat or ferry, so it is a rare, secluded adventure in Central Florida. Park and launch your vessels at Hontoon Island Adventures, which is across the river from Hontoon Island. Paddle counterclockwise around the island, stopping for wildlife as you go. Once you reach the convergence of the St. John's River, follow it downstream past Blue Spring State Park. Finish your paddle back at your car for a full-day loop (10 miles).
OA advice: Start early, wear lots of sunscreen, bring plenty of water and snacks, and don't forget some cash for the Blue Spring entrance fee.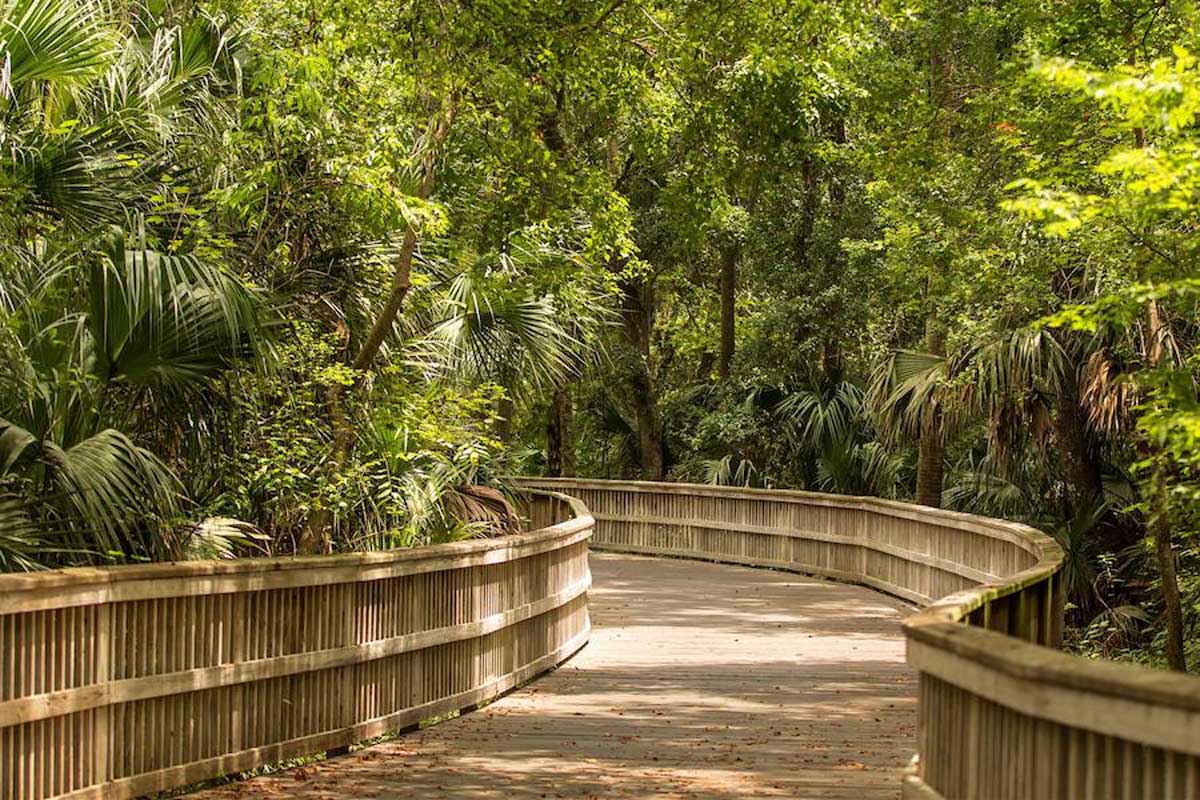 Distance from UCF: ~1 hour, depends on where you start
Entrance fee: No entrance fee to the trail, some springs may require an entrance fee. Parking can be found at Lake Beresford Park (2100 Fatio Road, Deland), Blue Spring State Park (2100 W. French Ave., Orange City), and Rob Sullivan Park (200 W. Highbanks Road, DeBary)
Stretching 26 miles from Deltona to DeLeon Springs State Park, this nicely paved trail is great for a few day trips or a longer bike ride in Volusia County. Some portions of this trail are still being built, but there are plenty of completed sections for you to explore on foot, by bike, or even rollerblading. As you travel, you can further explore some majorly beautiful sights like Blue Spring State Park, Lake Beresford and Gemini Springs State Park.
OA Advice: Plan out your day in advance to make sure you have everything you need if you plan to swim in one of the springs (think: change of clothes, proper footwear, and money for an entrance fee).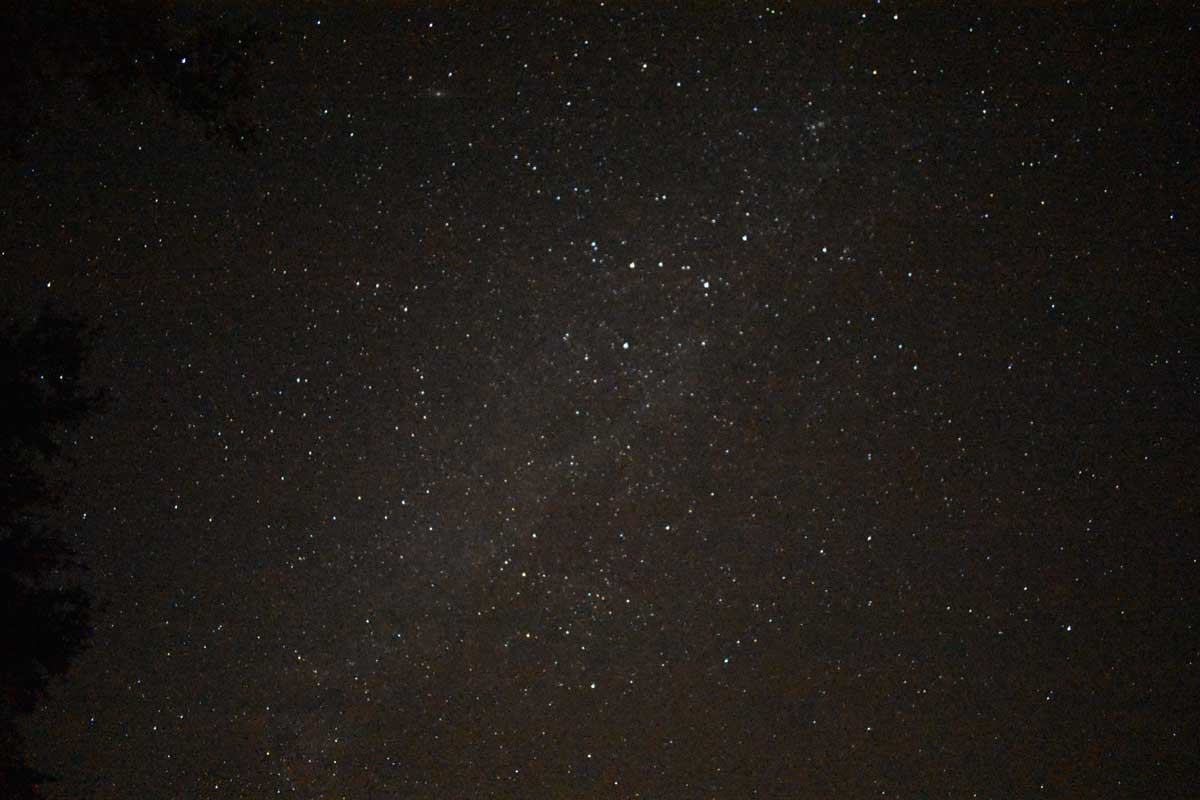 Distance from UCF: 2-2.5 hours; 130 miles
Entrance fee: $4 per vehicle
Internationally recognized for its lack of light pollution, the prairie offers the perfect setting to gaze at Milky Way at night without using telescopes or binoculars. This is a great place to get away from the hustle and bustle of the Orlando area for the evening. Please note: The entrance is closed daily 15 minutes after sunset. Only registered campers or after-hours pass holders are allowed entry after dark.
OA Advice: Although the sky is dark enough to take in expansive views of the Milky Way, you'll be able to really appreciate it properly with a telescope or binoculars. Don't have either? Make some new friends at the park — there are usually a lot of stargazers with their own equipment who may be willing to let you sneak a peek through their lenses.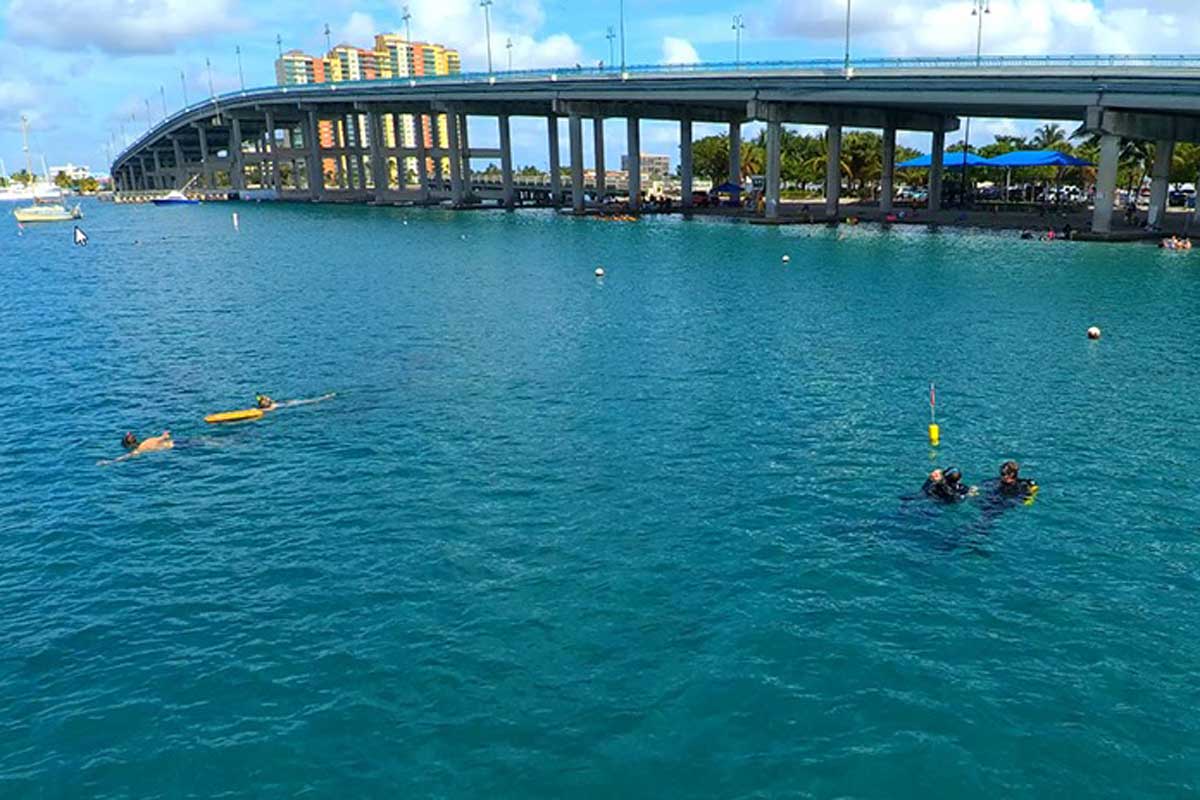 Distance from UCF: 2.5 hours; 165 miles
Entrance fee: No entrance fee
One of the best places to see a variety of marine life without traveling by boat to an offshore reef, Blue Heron Bridge is a local snorkeling and scuba diving dream. The area is protected by Lake Worth Lagoon and offers easy access from a sandy beach, so it is accessible regardless of weather conditions. The snorkeling trail is about 800 feet long, no deeper than 6 to 10 feet, and mimics a barrier reef with over 600 tons of Anastasia rock boulders full of marine life. Free parking is available as well as restrooms and outdoor showers.
OA advice: This location can get very busy with snorkelers and scuba divers, so we suggest getting there early and heading out before mid-afternoon.
Distance from UCF: 4.5 hours; 290 miles
Entrance fee: Park entrance is $8/per car (up to eight people); snorkeling tours are $29.95 per person
Located in Key Largo, John Pennekamp Coral Reef State Park is considered the first undersea park in the United States. Encompassing about 70 nautical miles, the park offers daily snorkeling trips out to the world-famous reefs off the coast of the Upper Florida Keys. Tickets can be purchased in the visitor's center, where they also offer mask, fin, snorkel and wetsuit rentals. Once you've finished your snorkeling tour, you can also rent a kayak to explore the awesome mangrove tunnels along the coastline.
OA Advice: Kayak the well-marked mangrove trails after your snorkeling trip. Keep an eye out for manatees.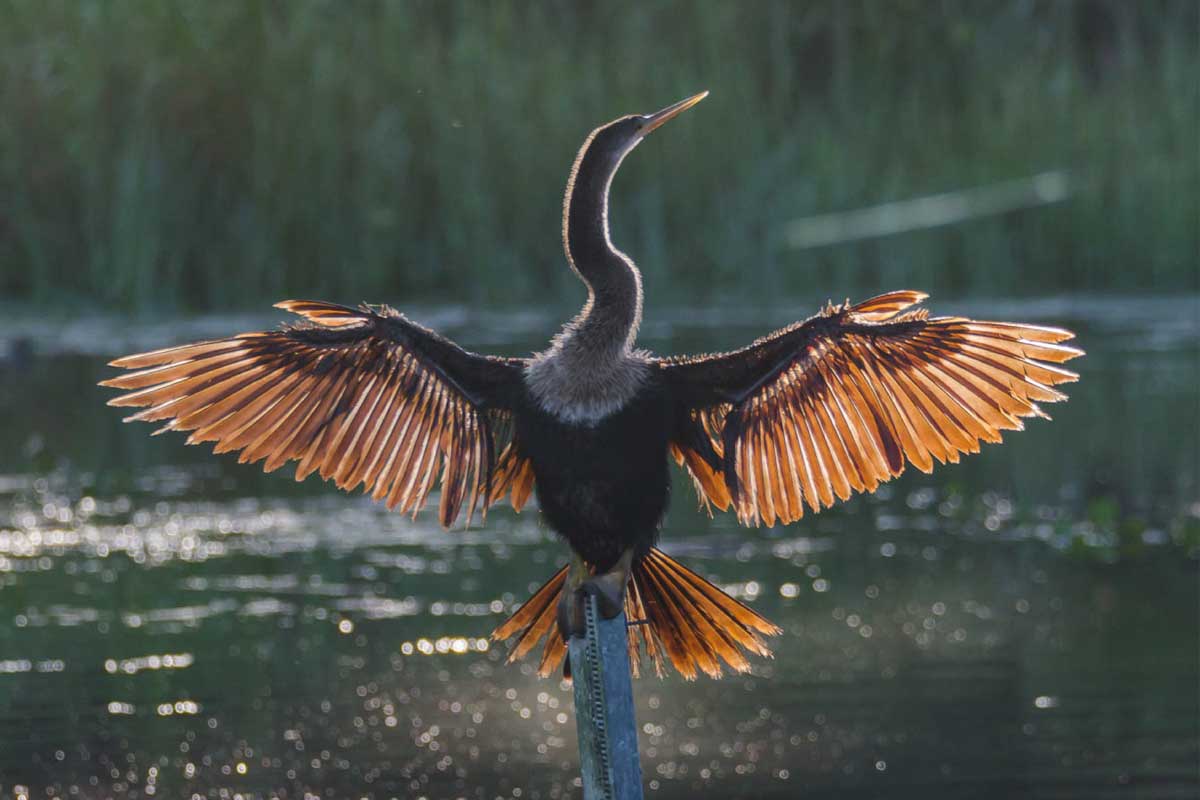 Distance from UCF: 30 minutes; 17 miles
Entrance fee: free
Orlando Wetlands Park is truly an experience like no other in this area. A man-made wetland, this area is designed to naturally treat reclaimed wastewater from the City of Orlando and its surrounding area. This unique treatment system has created a world class birding destination right in our backyard! With nearly 20 miles of levees and natural trails, visitors can expect to see a wide variety of flora and fauna.
OA Advice: Don't forget your binoculars. Animals are plentiful here, but make sure to keep a safe distance from them. Be mindful of alligators sunning themselves along the levees; give them plenty of space.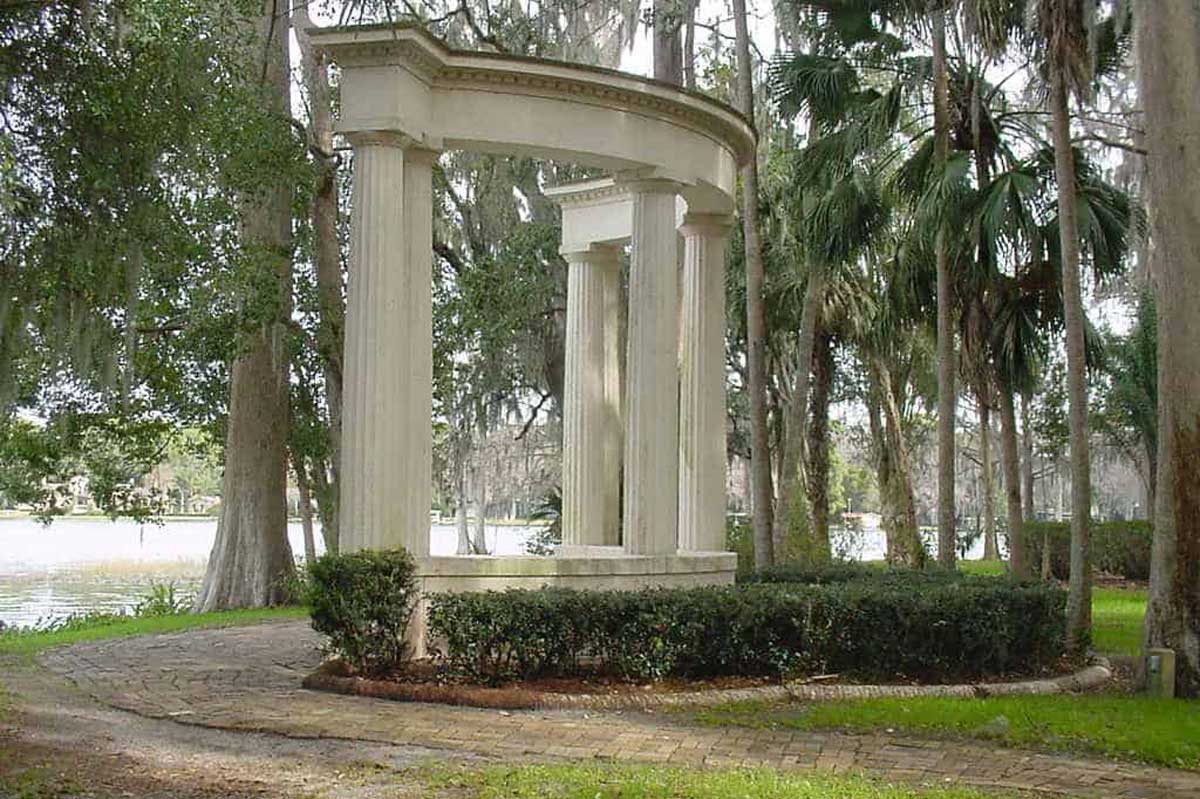 Distance from UCF: 25 minutes; 10.2 miles
Entrance fee: Free
Just looking to get away for an hour or two? Kraft Azalea Garden in Winter Park is a beautiful, serene location to plan a picnic with friends, read a book or set up a hammock for a little while. The park features enormous bald cypress trees with swaying Spanish moss, so it's a perfect place for a quintessential Central Florida picture for the 'gram.
OA Advice: If you don't feel like packing food for your picnic, order some to-go food from one of the many delicious restaurants in Winter Park. Ethos Vegan Kitchen is an OA staff favorite!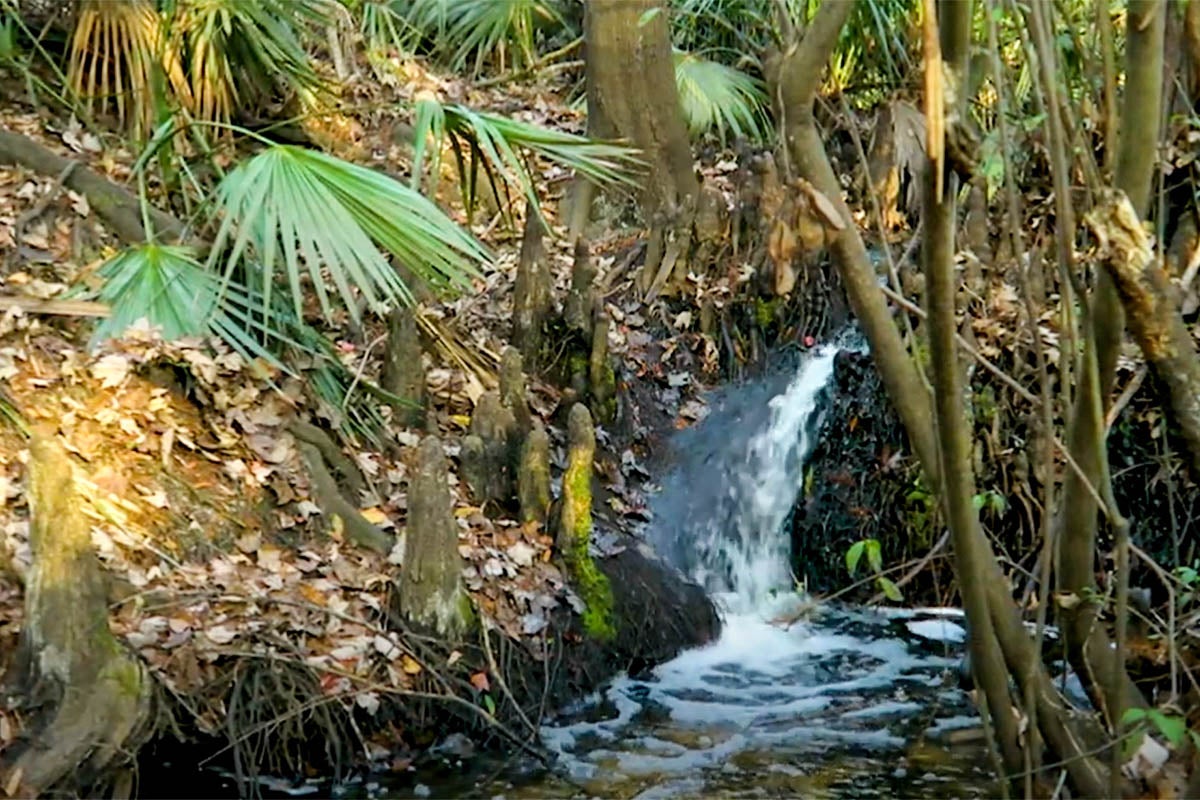 Distance from UCF: 15 minutes; 7 miles
Entrance fee: Free; park in the grass along Lockwood Drive (across from Evans Street)
This section of the Florida Trail feels like you've stumbled upon a well-guarded local secret. The entrance to the trail is not easily seen from the road, but for several small Florida Trail signs. As you walk along the Florida Trail, you'll cross several boardwalks and bridges before arriving at Boonie Falls. You can continue along the Florida Trail from there, or head back to your car.
OA Advice: Manage your expectations. Boonie Falls is cool because it's the southernmost waterfall on the Florida Trail, but it is a small waterfall that flows over and around cypress tree roots.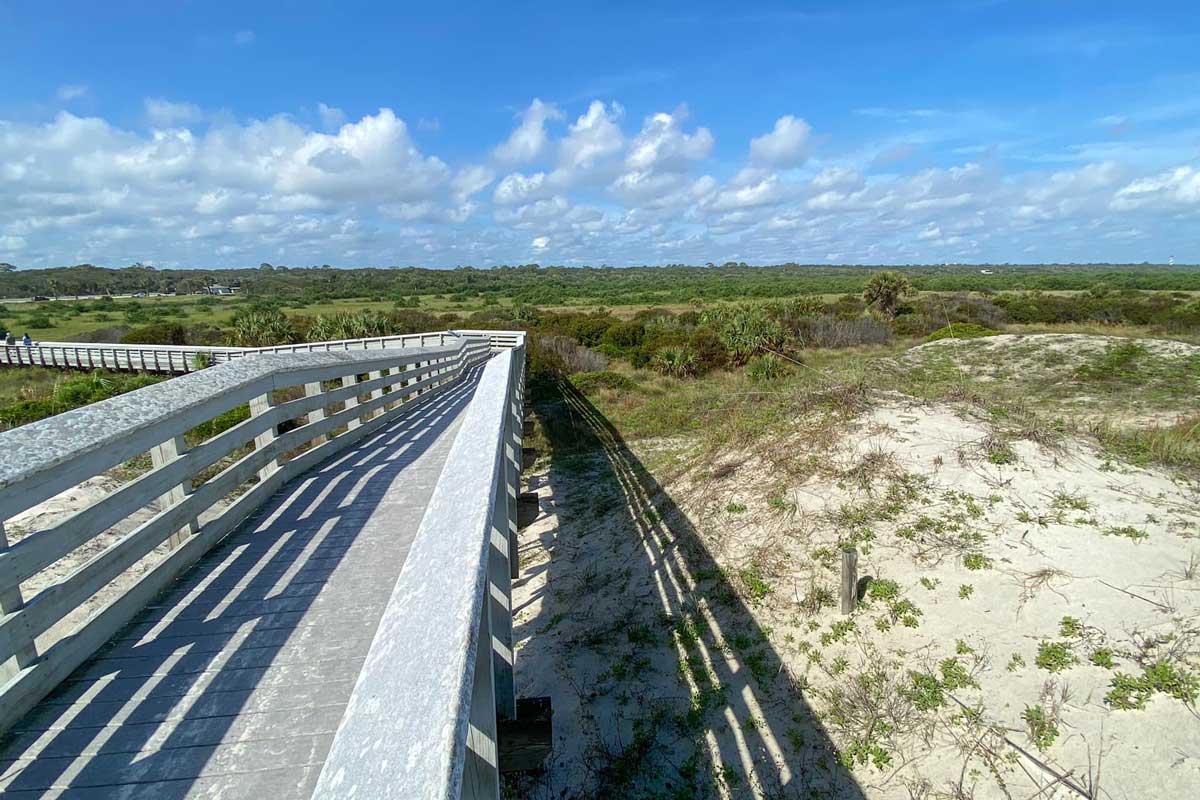 Distance from UCF: 2 hours; 109 miles
Entrance fee: $8 per vehicle; camping: $28/night, plus tax and $6.70 reservation fee
Anastasia State Park offers a wide variety of outdoor activities, all in a coastal environment. With over 1,600 acres of diverse ecosystems and unique Florida wildlife, you can hike, kayak, surf and comb the beach for seashells all in the same weekend. The park offers ancient sand dunes, an open beachfront area, and a tidal marsh to further explore and view wildlife like dolphins, manatees, sea turtles, fish, crabs and a variety of birds.
OA advice: You'll need to plan this trip well in advance if you hope to camp. Campsites fill up fast!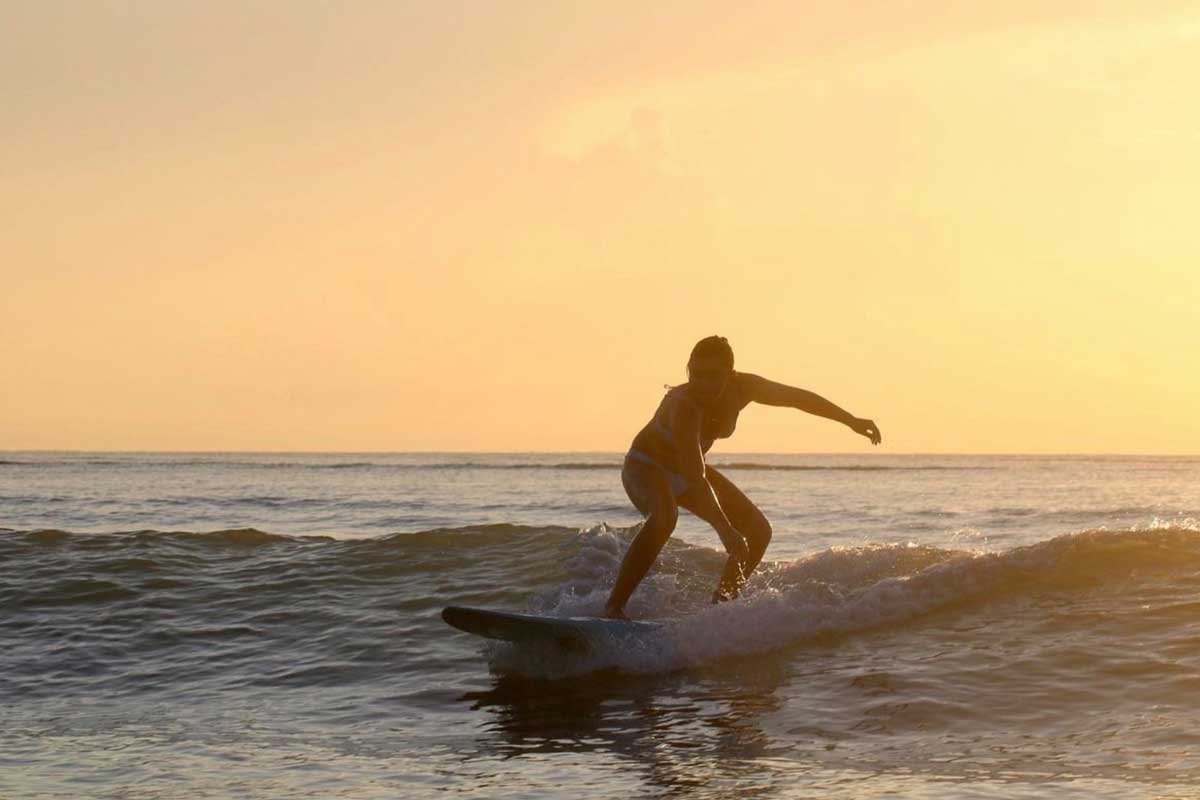 Distance from UCF: 1 hour; 49 miles
Entrance fee: Free, park at Tables Beach at no cost
The home of 11-time world champion surfer Kelly Slater, Cocoa Beach is a prime location to catch a wave. Many people head for the Cocoa Beach Pier, but we suggest heading a little south to Tables Beach (just north of Patrick Air Force base). This location offers gentle rolling waves throughout the year and is generally less busy than beaches closer to the pier. Make sure to check the weather and surf report before going out, there are no lifeguards on duty at Tables Beach.
OA Advice: Go with someone knowledgeable if it's your first time. Outdoor Adventure offers resources for surfing, or you can find a local guide from one of the many surf shops in Cocoa Beach.