While four Knights fulfilled lifelong dreams of hearing their names called during the 2018 NFL Draft, another pair of Knights were working behind the scenes to capture every moment.
Alumni Eric DeSalvo '09 and Brandon Naidus '12 are the maestros of the social media accounts for their respective teams.
DeSalvo, who majored in interpersonal/organizational communication within the College of Sciences, is the assistant athletics director for #content within UCF Athletics Brand Advancement.
Naidus, a management alumnus from The Burnett Honors College, is the social media manager for the Arizona Cardinals and previously worked with the Jacksonville Jaguars' social media department for four years.
The two share more than a similar job. Naidus was an undergraduate student intern for UCF Athletics Communications when DeSalvo took his first job out of graduate school in 2011 as the UCF assistant director of communications for the baseball and volleyball teams.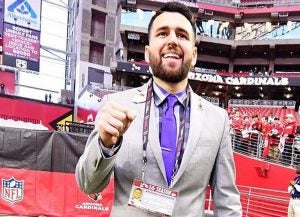 They keep in touch often, and that was certainly the case over the weekend as they both worked to churn out content.
DeSalvo and UCF were one of the select college brands whose digital-content teams were invited to the draft at AT&T Stadium in Dallas. Meanwhile, Naidus and his department covered the draft remotely from the media conference room in the Arizona Cardinals facility.
They still might be slightly sleep deprived from the big weekend, but they took some time to share a glimpse into the strategy, creativity and heart it takes every day to do their jobs.
You both have covered drafts before in some capacity. How did you apply what you've learned from those experiences and adapt your strategy for success this year?
DeSalvo: "The first draft I was really involved with was when Blake Bortles was drafted in 2014 and went third overall. We had a template created for a graphic that allowed us to interchange the team he was drafted to. It also had the round and the overall pick. People might not remember, but I screwed that up. I put he was taken sixth overall because I had put that in the template as a placeholder, and when he was picked third, I forgot to change it and didn't realize it until about three minutes after I tweeted it. A coworker spotted it, and I had to delete the tweet with well over 100 retweets. I fixed it and put it back out and all was OK.
"That actually happened again the following year when Breshad Perriman went in the first round. It said the 25th pick when he was the 26th. So, we have learned, you don't worry about rounds and picks. It's all about what team the guy is going to. After that, I measure our success on how much original, on-site content we can get and if we can get video or photos straight from the guys to show that these lifelong dreams that came true. We knew we were going to have our stuff prepared, but success in my mind, was getting more of the stuff that hits the hearts of our fans and the NFL team's fans."
Naidus: "My first draft I was wide-eyed, not sure what to expect. I was in charge of updating the website and handling all social media postings for the Jaguars in 2013 when I was an intern. In 2014, I still did that, and that was the year they took Blake and Storm (Johnson). This year was the sixth draft I have been a part of, and I was responsible for leading the charge of what kind of content we created and put out there. It's interesting to see how things evolve. In 2013, I was preparing headshots for the website. Now I'm preparing graphics and tweets that can be shared by our current players to welcome our draft picks to the team – which a few years ago wasn't even a thought. We want to be informative and engaging. Our fans have a lot of outlets they can go to for news, but we want them to come to us first."
What kind of preparation do you need to do before a big event like the draft?
DeSalvo: "Twitter is always going to be first because it's the immediate news. Before the draft, we uploaded 32 versions of a highlight video for each player, for each team they could potentially go to. We had seven guys who could have been drafted. So seven guys multiplied by 32 possible teams meant we uploaded 224 into the back end of Twitter before the draft with the message of the post already crafted. I had Megan Herboth in the communications department send that out from Orlando because I was on site in Dallas. I don't ever want to jeopardize connectivity because every second is precious when it comes to getting this post out. People can't wait to celebrate big news. Having it out immediately and accurately is the biggest part to our success when it comes to those big numbers."
Naidus: "I basically looked at every mock draft and said 'OK, what are positions of need for our team?' and created content based on the top few players at every single position. You try and do as much work on the front end to save yourself on the back end to keep from getting trampled. We had a whole list of content with all the pieces we planned on putting out leading up to the draft; the days of the draft; and the day after the draft. All the graphics, all the video elements. Could they pick someone we didn't anticipate them to pick? Sure. But you prepare as best you can and then I assigned responsibilities to our social team so everyone knew what they were responsible for handling."
Many have said they expect that this year's draft will forever be known as the year of Shaquem Griffin. Eric, what was it like to be there to experience it?
DeSalvo: "It was pretty incredible to see the amount of coverage he got. He was a day three pick that received top-five pick coverage. It was a roller coaster because he initially wasn't there to hear his name called. He was with his family at the hotel. So, I was determined to get crowd reaction from whatever team he went to. Seattle had two really close picks back to back in the fifth round, so I figured it would be his time more than ever, hedged my bet and waited by their section in the stadium. Sure enough, when he got picked they went crazy. Being able to get a different angle – that in-the-moment reaction – was awesome to capture. When he did get to the stadium, it was really neat just being able to see everybody yelling his name as he was riding in his golf cart to go to the ESPN and NFL Network sets. Everyone from security guards to producers wanted to say hi and congratulate him. A lot of people congratulated his mom. So being able to experience that and just see the love he received from every single person first hand was pretty incredible. "
What does the average person not know about your job?
DeSalvo: "The amount of people you collaborate with. They don't understand how many people are contributing to what we're putting out there. The amount of edits that can happen. The amount of stuff that's done on the fly. You have to be so reactionary in this business. You always have to be on. I mean, I had no idea when Alabama was giving their rings to their players, and all of a sudden, we're getting bombarded by people, including Alabama players, tagging us in pictures of their rings. I'm flattered they are thinking about us, but to be able to pivot on the fly and come up with some replies to people, it's a lifestyle. It's not just a job. There's a lot more to it than just having fun and posting messages, and sometimes it's very tough to turn it off. Social media can consume your life. Shout out to my wife, Jessica, for putting up with me in this field. I know she enjoys seeing me love what I do, but I can't appreciate her enough."
Naidus: "Probably the amount of hours that go into it. I've had drafts where I've worked over 50 hours in three days. The preparation that goes into it from a content perspective – how prepared you have to be on the front end in order to succeed as everything is happening. It's not just grabbing a cool video as a guy walks by. I would be shocked if any team has a heads up on who their picks are. I had no idea who we were taking this year. In the six years I've done this, I've only had a heads up once for a first-round pick. People probably think, 'Oh if he works for the team, he probably knows.' Not really. It doesn't really work like that."
Your role means you're often the voice of your team. How do you feel about having that responsibility?
DeSalvo: I'm in a unique position because I'm an alumnus of the school I work for. People give back to their alma maters in different ways: monetarily, service and by working there. I feel like this is the biggest way I've been able to give back to UCF – a school that's been a part of my life since day one with my dad graduating from the Class of '75. I'm able to utilize my passion on a daily basis because I'm a fan, too. Whenever we're putting out messages and we're 'yelling' in all caps, it's because we feel that way. I'm not just putting that out to fake emotion. It's real. And that's what is awesome because there are so many people who work here and graduated from here who feel the same way. Being at the controls of us in our golden years right now, that's something that I wouldn't change for the world. It's my way of giving back to my alma mater in maybe one of the most unique ways possible."
Naidus: "There's a lot of moving parts and a lot of pressure, so it's a little nerve-wracking, but it's exciting, too, and it has offered me a lot of unique opportunities. Last year we drafted Haason Reddick, and I was sitting at the press conference next to his mother, who was crying because her son realized his dream. In that moment, it's hard not to get choked up. Being a part of such a special day for people who have worked their whole lives toward something, it's really cool to be a part of that."
Share your most memorable behind-the-scenes moment from this year's draft.
DeSalvo: "I think it was riding in the freight elevator with the Griffin family and getting the picture where I said, 'Yep you guys broke Twitter.' It was just so quiet. Nobody was really talking, and they decided to go through their phones and check social media really quick. I've always wanted a picture like that because I was envisioning in my head it would look cool in black and white. Weirdly, two of the top moments of my career have happened in a freight elevator. The other was my first trip to New York City last year and riding in the freight elevator at Madison Square Garden standing next to [UCF basketball coach] Johnny Dawkins. I remember thinking to myself, he's probably ridden in this elevator so many times, and knowing how many people go through this elevator. So it came full circle again this weekend. That moment was definitely up there."
Naidus: "The coolest aspect for me was how quickly and efficiently our social media team produced content. The person that leads our efforts with social media videos, Jesse, was working his first NFL Draft. While this was the second draft for our social graphics guy, Jackson, this was his first one in his current role. Over the three days there is so much information and so much content, it can get overwhelming at times. I thought they handled it incredibly well. Their sense of accomplishment after the last pick was made was a great moment. I thought our entire broadcasting/digital department, which we fall under, churned out great content pieces for various mediums leading up to and during the NFL Draft."