As UCF approaches its inaugural season as the youngest member of a Power 5 conference, the athletics department is taking a look back to commemorate this special moment in history. The following feature is a part of UCF's 12 for XII series — 12 stories that define UCF and the meteoric rise of the Knights in their journey to the Big 12 Conference.
---
In 2017 and 2018, the UCF football team rose to the height of popularity and disrupted the college football world with its 25-0 run that spanned 745 days. The accomplishment ranks among the NCAA Division I FBS' top 25 longest winning streaks of all time, cemented UCF as a national brand and exposed access barriers to the College Football Playoff.
The following story is the most detailed account reported of the program's success, told exclusively by those who lived it. Read part one here.
Andrea Adelson, ESPN senior writer: I remember sitting down with Josh Heupel in the spring of 2018 because the questions that everybody wanted to know were, "How are you going to keep this momentum up?" "What was built here, how do you keep going?" "You're going to be changing schemes. You're going to have a new defensive coordinator. A new staff. What are you going to do?" "Does that put pressure on you?"
He said the most important thing he wanted to do that spring was learn from the players. Because the players had done it. And he had a lot of those players coming back.
Josh Heupel, 2018-2021 UCF football head coach: I think the success that the program had the year before I came in played a huge part in wanting to be a part of it. You had everything that you needed in a program to be successful. It felt like it was a unique place and time to be able to take over a program and have a chance to go win immediately.
It's always important that your players feel that they have a say in the program to create buy-in from your players. The circumstances in the way that the staff and I were taking it over, it wasn't a typical year one. Knowing that we were going to fast forward coming off that season, the expectations were to go compete for a championship and play in a big-time bowl game. You've got to do that really quickly.
For me, it was important that from the very jump they understood that a lot of the things they felt really strongly about that helped them be successful are things that we again can incorporate into our program as we continue to build it moving forward.
Some of those things were really small — uniforms and how they travel. Some of those things were big as far as the buildup and what a Thursday and Friday looked like before you get to kickoff on Saturday afternoon. The last 48 hours, we really wanted to make them feel comfortable and feel like they were still in the same type of routine as they were getting themselves ready to play.
Andrea Adelson: I thought that was really smart of him because he didn't come in here trying to destroy a foundation that was already built because he's the new head coach and (say), "Now we're going to do things my way."
McKenzie Milton '19, 2016-18 starting quarterback: Coach Frost and coach Heup, they're different guys. Different personalities. I think it was a challenge in our locker room initially to welcome him in with open arms.
Josh Heupel: Relationships and trust are built over time. When I took over, I said, "I'm going to have to trust you guys and just kind of give you some (trust) without some of those experiences if we're going to go be what we need to be as a football team when we get to next fall. You're going to have to do that as well." Each phase of our off-season, they got more comfortable.
Marc Daniels, longtime UCF radio broadcaster: I believe we were penalized in the preseason rankings because we had a first-time coach in Josh Heupel. If Scott Frost came back in 2018, I believe we would have started in the top 10 and the same win streak happens, it would have been really hard to deny UCF a playoff spot in 2018. If you go back and look how the first few weeks of the season began, there's a good chance UCF would have been in the top five before October. And I don't know if they would have denied that. But they penalized UCF because Josh was a first-time coach. I think we started 21st in the preseason poll and didn't get the same bounce to get up there.
Michael Colubiale '17, 2013-18 tight end and special teams: Going into that year, we knew how good we were. I think everyone else knew how good we were, too. We were getting everyone's best game. It was, "Oh, we got UCF this week, let's put a big circle on it." Coming in and doing what we did versus UConn in a new system with a new coach kind of gave us a little more confidence going into the next games. We didn't know what we were going to get. We were game planning for one style of defense and we'd come out and get a different style every single time. We had to adjust on the run, change our plays at halftime. It was definitely a grind.
This is where I feel like Heupel did a really good job. Our emphasis was 1-0 every week. We knew we won 13 straight, but Heupel, he beat it in our brains. I think I've said it in 100 interviews: "Our focus is to go 1-0 this week." Heupel really did a great job of making the guys buy into that motto. That's what I feel like got us through that season a lot.
Josh Heupel: There was so much noise surrounding our program in a positive way, and there was certainly high expectations outside of it. I thought it was important to get our players to really focus on the path of how you become successful and understand that it doesn't just follow you. It doesn't just happen. You've got to go make it happen. In our off-season, really started focusing on our daily habits and how we approach every single day.
As we got into the fall, that really became a really important motto for our football team. I thought our players bought into it and actually worked in that manner every single day and every single week. That was a huge part of our success.
Marc Daniels: I don't want to take anything away from 2017 but you go into 2018 and the pressure begins to mount when the win streak goes to 14 and to 15 and it moves down the line. Here's Memphis again. And I remember everything about this. All of a sudden the clouds come in. All of a sudden it begins to rain.
Josh Heupel: It was probably the wettest day I've ever experienced on a football field as a coach or as a player.
Marc Daniels: We're getting run off the field. We can't stop Darrell Henderson. He's running for touchdowns. Missing tackles. The offense is just sitting there, and we're not doing anything.
Michael Colubiale: 30-17 — Matt Wright '18 just drained a field goal right before half. We're going into the locker room. Dudes were not looking too optimistic. I remember running to the tunnel and just waiting for everyone and just trying to tell everyone we're still in this fight, we're still in this fight. We're playing with a pretty much broken McKenzie Milton.
McKenzie Milton: I was battling a grade 4 separated shoulder. I didn't practice the whole week coming off of SMU.
Eric DeSalvo '09, assistant athletics director of #content: I'll never forget his shoulder after the SMU game. He took his pads off and I'm like "Ohhh!" It was purple, yellow, blue.
Josh Heupel: I thought at halftime the ability of our leadership, Pat Jasinksi on the backside, Wyatt Miller '18, McKenzie Milton, to be able to get up in front of (the team) and understand that there's a lot of things that have been built, this was a pivotal moment for our program and the course of this season, our ability to compete for a championship — which obviously a conference championship was the No. 1 goal that we had — those guys as much as anything were able to reset the entire locker room, bring some real calm to it and refocus us as we went out. Understand it was one play at a time. We were good enough in all three phases to go out and execute and come back in this football game.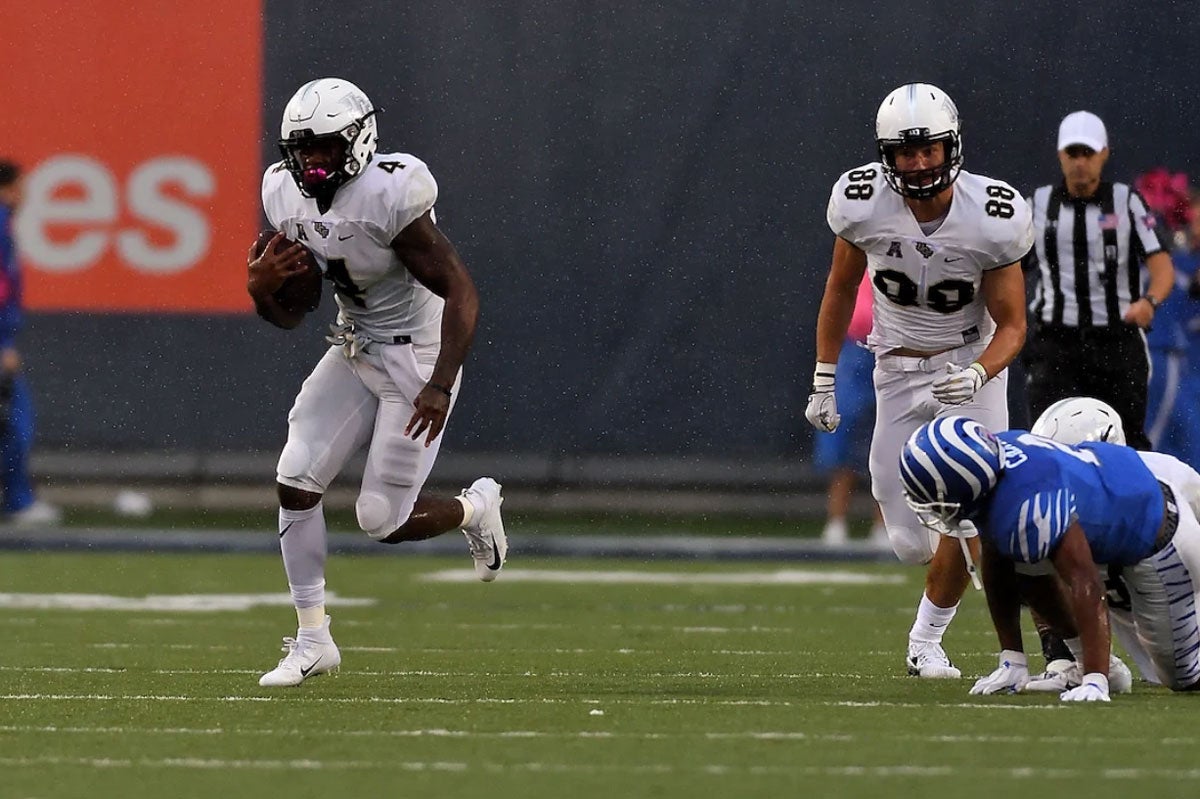 McKenzie Milton: We were struggling to get momentum, pouring rain. We had a pass play. I scrambled up the middle, made a guy miss.
Marc Daniels: It's 4th-and-1 on your side of the field and you're thinking, "OK what are we going to do at the 29?"
McKenzie Milton: I run to our sideline and I'm like looking at the (down and distance) and I'm like, "Coach, we've got to punt."
Josh Heupel: The clock was starting to move in the wrong direction on us in the second half. Felt like there were a limited number of opportunities. We're in a short yardage situation.
McKenzie Milton: He's looking at it, and he's like, "Alright, let's go bone here."
Josh Heupel: It was an aggressive call but one that I felt like we had to go execute at that point in the football game. I also had great trust in our guys and our entire football team. But in particular the guys up front. Our five bigs, our tight ends and our skill guys being able to execute in that situation. KZ looked at me and had a question in his eyes. But it was the right moment in that situation for sure.
McKenzie Milton: We hardly go under center. I'm like, "Just don't mess up this snap. Don't fumble the snap." And when I did my part, handed it off, I'm like alright let's see if this works out. At the time, I wasn't sold on the call but luckily coach Heup, he had some big kahunas on that one. Trysten Hill made a great block, and Taj (McGowan '19) was untouched to the end zone.
It was a huge momentum swing in the game and our season and, really, that was one of, if not the most defining play of that win streak.
Marc Daniels: You look back and you go, "How in the world did UCF pull that out?" And while we had more games, down 17 at Memphis in 2018 — that to me was the big (defining) moment.
McKenzie Milton: We gave everything in that game and we were able to be plus one. That's a feeling I will never forget. The Peach Bowl was great, but it was also like a sense of relief, like "Okay we didn't blow it." But that one was all odds were against us and we found a way.
Eric DeSalvo: That was huge. But we still weren't getting any respect for pulling out these wins. We've never been one to shy away from stirring things up. Our administration saw an opportunity to do that by strategically sending staff members to sites of College GameDay (Ann Arbor, Michigan, and Pullman, Washington,) with UCF flags and signs to force the conversation.
And it's clear that it's becoming harder and harder to deny UCF's relevance as the win streak continues, even if the pundits are downplaying the significance of the streak. So by the time we get to week 12 with Cincinnati and it's a top-25 ranked matchup, we knew it was going to be very hard for College GameDay not to pick us. And yet, I think there was still a bit of shock that they actually did.
Michael Colubiale: That story of the 25-0 run had to have GameDay there, right? Seeing us as the center of a College GameDay was awesome. If you would have told me that in 2015, I would have said, "Alright, get out of here." The whole build-up, finding out that Sunday with the coming to your city video they put out.
Josh Heupel: I remember driving home Friday after work and everything is getting set up. The amount of traffic on Thursday and Friday through our campus, you could feel the buzz on campus, but you could feel it in the city too. Big moments, big games are what as a competitor you love to be in. You could feel from our players the excitement and energy, but also the focus and preparation all week long. It was an unbelievable environment.
Marc Daniels: The night before (the Cincinnati game), I'm on campus. I go to interview Josh for a pregame interview. As I am coming into the office, Chris Fowler, Kirk Herbstreit, they're leaving and it just kind of hits you like, they're here doing this game.
Andrea Adelson: I just remember how many people were out. And all of the signs. And just the sheer joy. The sheer happiness of every single person who was there even though they probably were sleep deprived and had been lined up since the day before. It didn't matter. GameDay was there.
I feel that it legitimized the program quite honestly. Because anytime you get that stamp of approval from GameDay when they've never been there before, it says you've made it. You're big time. You're important enough for us to come and travel to see you in person. And I'm not just saying that as somebody who works for ESPN — I know there are several ACC schools who haven't had GameDay who would LOVE GameDay to be there on their campus because it just adds that credibility to your program and to what you have built.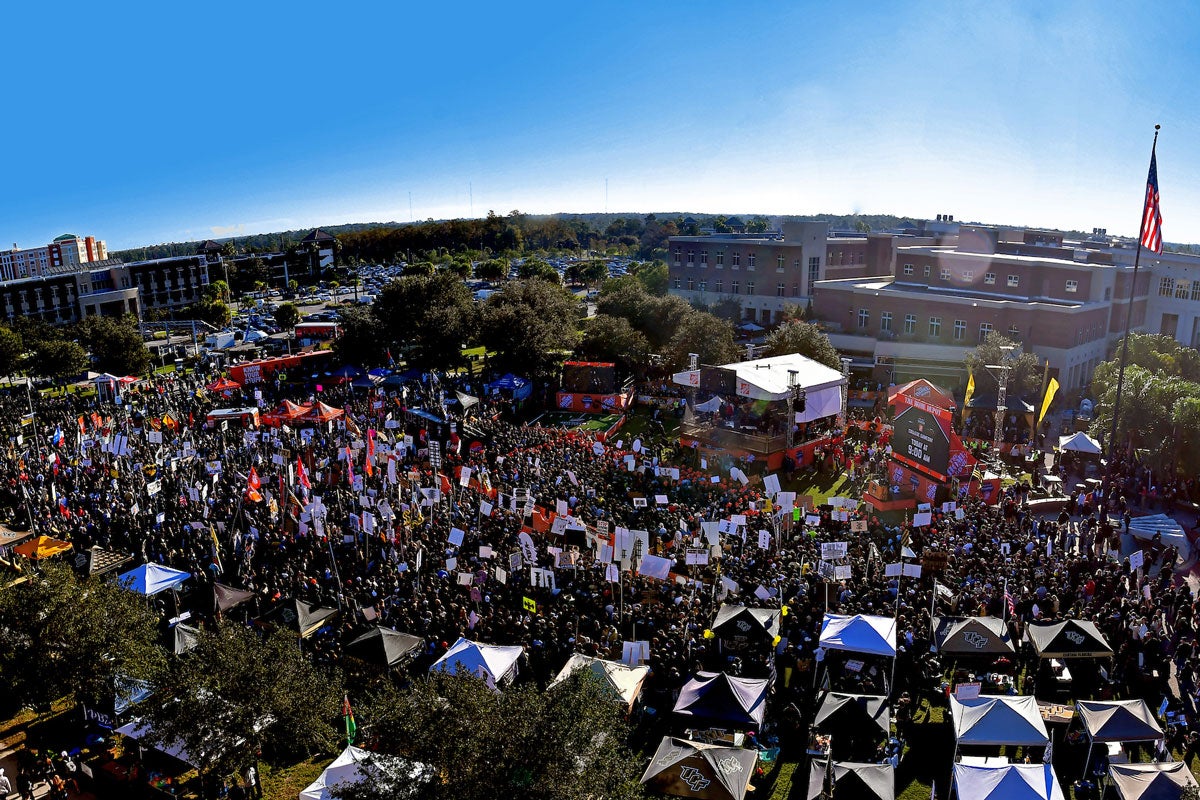 Linda Gooch '85, UCF spirit coach and former cheerleader: (My husband) Alan (Gooch '84 '89MA) and I have known Lee Corso for a long time. I get this phone call from him early in the week. I answer the phone, and he just goes, "Linda! It's going to be epic!" I'm like, "Coach?" And he says, "I'm going to put the whole (Knightro) costume on," and I pull into a little cubby so I can really hear him. And he goes, "I'm going to put my people in touch with you but I'm putting the entire costume on. They're building me a stage and everything. It's going to be epic!"
We were able to pull it off. We had I think it was 90 seconds to be able to get him into that costume and that head on. And it was epic. It was epic. Even today, when they do the intro to College GameDay, there it is.
McKenzie Milton: I just remember watching on TV in the morning and everybody getting excited. Seeing all the signs, it was cool. That place was rocking.
I've got to admit, there were probably only two games where I was a little nervous. It was that one and the Peach Bowl. The first play from scrimmage I get a strip sack for a touchdown so it couldn't have started much worse. But when they came out on offense their first series and they got two pre-snap penalties, that's still the loudest stadium I've ever played in.
It was the culmination of, wow we've really done something special here and let's keep it going. What else can we do? I don't want to say that was the pinnacle of the streak. But that was my last full game I played as a Knight.
Andrea Adelson: I was at the USF game that year. In 2018 basically my job at the end of that season was to keep following UCF. They're on a long winning streak. It looks like they're about to play for another conference championship. They're going to get into another New Year's Six game. I was there expecting UCF to win by two or three touchdowns. I think that's what a lot of people expected heading into that game.
McKenzie Milton: The first time I was considering the NFL was that week. My dad calls me and he's like, "Hey, I've been talking to some people, we've got a lot to talk about after these next two games." … But coach (Mario) Verduzco would always tell me, "You want to make God laugh, you tell him your plan." Sure enough, simple play we always ran, running the football, I take a helmet to the knee, and I got the worst knee injury in sports.
Mary Vander Heiden, UCF's director of sports medicine and head football athletic trainer: Just like any other game we're watching, looking for injury mechanisms. As soon as he was hit, we knew it was bad. I immediately started running. I don't know that I've ever run that fast in my life but got to him. Tried to protect him. I remember telling him, "Don't look," and he's like, "Too late."
Andrea Adelson: The whole press box was silent. Nobody said a word because we were all stunned and frightened, to be honest, because it looked that bad from where we were sitting. We are objective sports reporters. We don't have allegiances, we don't root for teams, but we are human, and these are college athletes. Nobody wants anything bad to happen to anybody on a football field ever. … And the only thing I could think was, "Please get up. Please get up and be OK." And I'm sure that's what everybody around me in that press box was thinking.
Scott Frost: We were on a road trip at my next job and played a game on the road. We had just boarded the plane to fly back home and the UCF game was on. So our entire coaching staff was watching it on the little TVs on the airplane and saw it happen. Made it a tough flight home for all of the coaching staff.
Mary Vander Heiden: My role in our emergency action plan is to focus on the patient. There was a lot of chaos, so I just stayed focused on McKenzie. And then they took him. And that's always the hardest part too I think from my standpoint — as the head athletic trainer, I couldn't go. Knowing just how bad it was going to be and then still having to stay to take care of the rest of the team and stay focused. I think that's a part that people don't realize is so hard for athletic trainers.
The one really big benefit of that day was that we were in an NFL stadium. If it would have happened anywhere else, I don't know that we have the same result. You have three hours to save a limb once you've lost vascular. He was in surgery in less than an hour under the top vascular doctor in the state at Tampa General.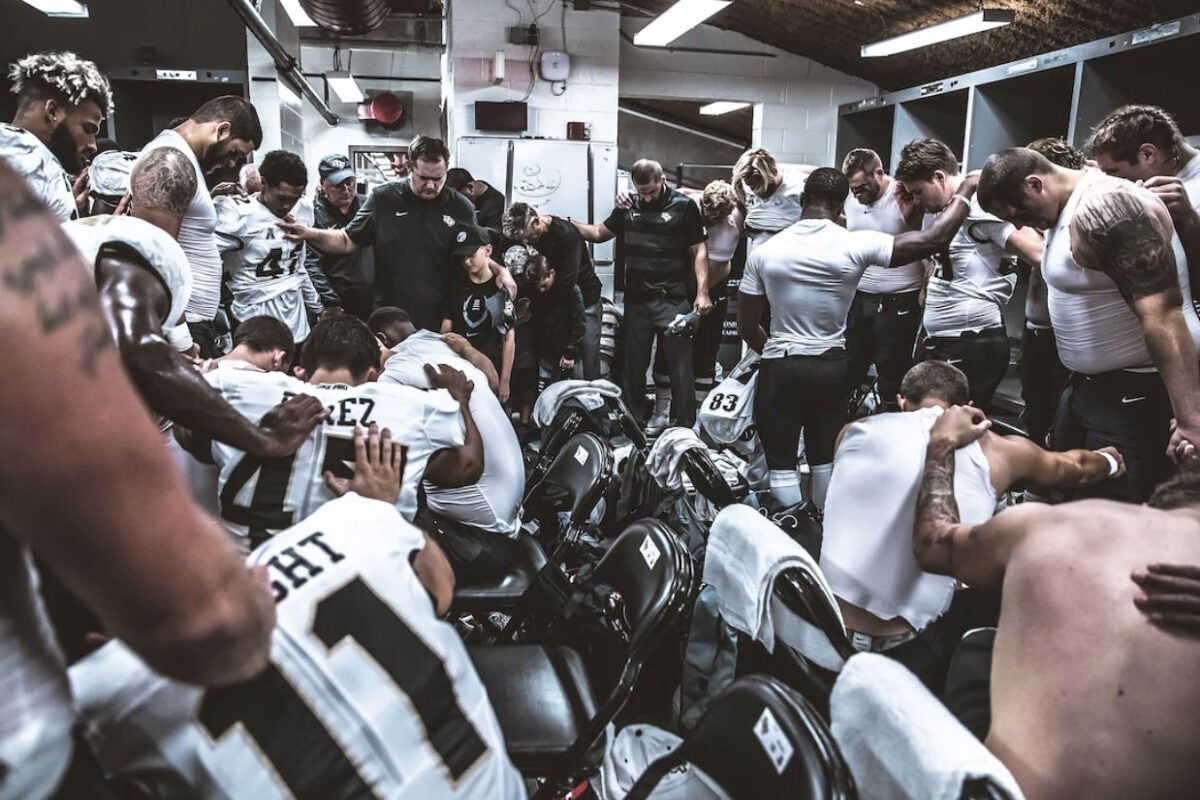 Marc Daniels: He's taken off. There's the emotion of him being carted off. You don't know the severity of it. And you're like, "What does it do to these guys?"
Darriel Mack comes in. At the time it wasn't a big offensive game plan for him, and yet UCF responds. Greg McCrae has an incredible game. UCF's defense plays well and they win the game comfortably, 38-10.
Mary Vander Heiden: The next hardest thing was probably postgame, having to tell coach Heupel because I was not updating him throughout the game. Immediate shock, grief came over his face. I said, "I will tell the team if you want me to, if you don't have the words."
Michael Colubiale: I just remember being in the locker room after the game and tears were flowing. People were circled up praying. … He kind of shaped those past two seasons. For him to not be there after the win or knowing he wasn't going to be there was tough.
Mary Vander Heiden: I went back to Orlando on the team bus, and then turned right around in my car. I think I got back to Tampa at like 4 in the morning. I remember that was a rough car ride. I was by myself. Just praying. McKenzie comes from a very faith-based family, and at that point really that was all you could do. He was in the best hands, but it was still not guaranteed. It's like less than 10% even walk again normally.
There was a lot of anxiety (at first) because he didn't have movement in his foot. He had a drop foot, which is very common for that injury. I think that was the most scary (feeling) for McKenzie — not being able to move is just a different level of anxiety. But he had blood flow. Dopplers were really encouraging, strong heart beats. So that was really positive there.
The next best thing we saw was he wiggled his big toe. We were so excited. And I think even then, he was like, "What the? It's a big toe?!" I'm like, you don't understand what that means. We have a chance.
There's not many that are built that could have made it through all the things that he had to do (to take the field again three years later).
Josh Heupel: It was really hard for everybody. Coaches and players. But certainly the players. Just in the entire week to be able to handle the emotion of one of the great players and certainly the leader of the program, the locker room, having a horrific injury. Somebody that was so pivotal in all the success that had transpired as a football program in recent history.
And then you look at a young player (Darriel Mack '20) that has not started a football game that is going to get thrust into a conference championship setting.
Michael Colubiale: We needed to finish off what we started. Our last game playing here officially. Conference championship. The 10hana. There was a lot going on that week. It was unbelievable. Everyone in the stands knew we were playing for McKenzie Milton.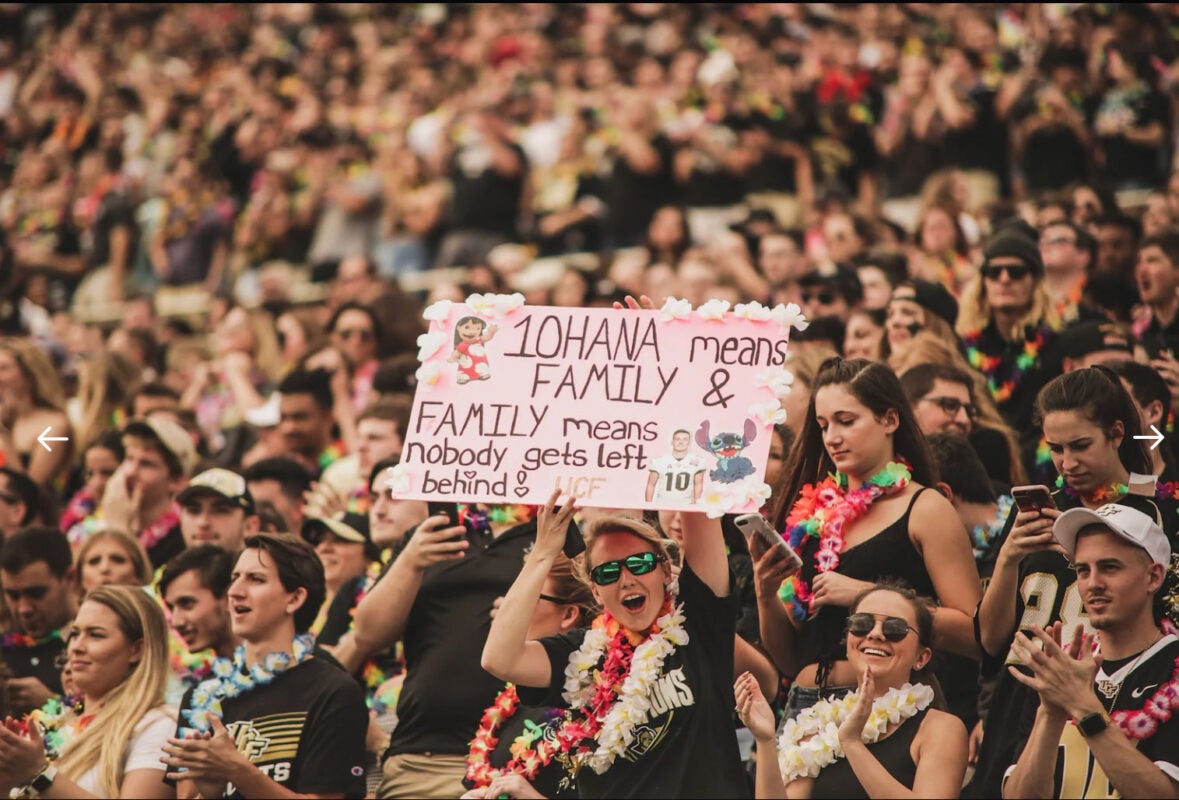 McKenzie Milton: Guys came and actually saw me the night before. Coach allowed them to come out past curfew and see me. Gabe (Davis), Bam (Brandon Moore '20), DJ (Darriel Mack '20) and those guys. They said, "We're going to handle business."
My mom was at the game. My dad was with me at the apartment. Obviously I was heavily medicated, but I knew exactly what was going on in the game. It was frustrating because you just want to be there with your guys to encourage them. I couldn't play but you just want to be there to support them — like "C'mon guys, we got this." I was going a little stir crazy in the apartment not being able to be there with them.
At halftime, I was just telling my dad, "Turn this off. I can't watch this anymore." And then obviously halftime goes around and 10 minutes go by and I was like, "Alright, turn it back on." They came out in the second half lights out. Defense shut them out, Trystan was unstoppable and DJ willed the team to victory and took over.
Marc Daniels: I've seen some magical performances over my years of broadcasting games and I can't explain how Darriel Mack found a way to that moment in that night to rise above it all and have this unbelievable performance. Made me flash back to think about Daunte Culpepper — this guy that was just physically better than everybody and willed his team.
Hard to imagine that you went from the heartache of watching McKenzie go down and here a week later celebrating another championship knowing he's still fighting. What a rollercoaster of emotion but also incredibly proud because of how the community came together and team and students and what it meant.
McKenzie Milton: Those (FaceTime calls postgame) are some of the best memories. I was proud of those guys, the way they fought. That just shows the heart and soul of that team. We always played for each other. I always played for my teammates, the brother to my left and the brother to my right. They always did the same.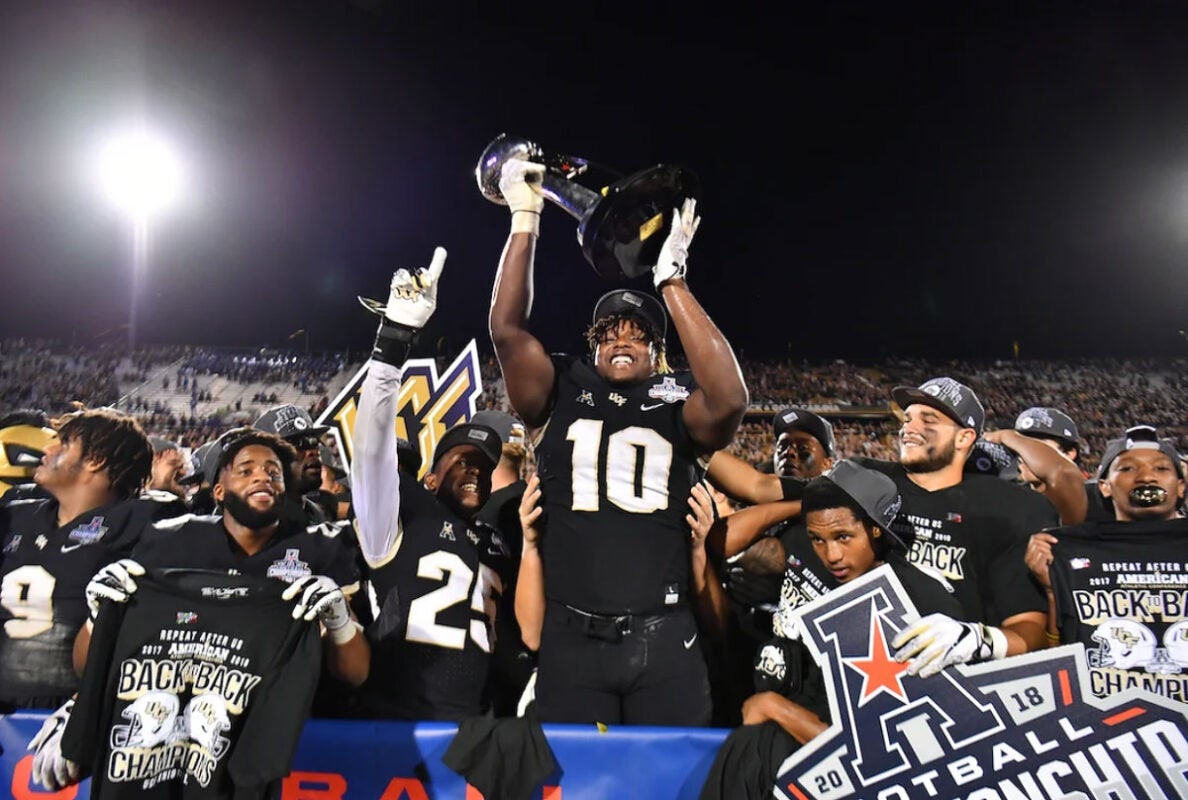 Marc Daniels: It was tough to watch it (the win streak) end the way that it did. Because the (Fiesta Bowl) game starts and you get a pick 6 and (LSU quarterback) Joe Burrow may be still the hardest hit he ever took from Joey Connors '17 '19MA — and by the way he never lost a college football game after that. But you're thinking, "Oh yeah, we'll find a way." And we didn't. It ended in a hard-fought game. LSU was a better team that day. And in a way, it was OK.
Michael Colubiale: Looking back now, and seeing how much talent LSU actually had on that field and competing the way we did with DJ who hasn't been our quarterback all year, was amazing. That game could have easily been a shutout by LSU. The talent, Joe Burrow, Ja'Marr Chase, Justin Jefferson, Devin White, they go down the next year — it's them or the Miami team as the best college football team ever. Just being in an 8-point ball game with them is something to be proud of ourselves.
I remember not wanting to take my pads off. Just reflecting on how special the season and that our run was.
I remember leaving the game and talking to coach O (Ed Orgeron) after the game. He was just saying that we had an amazing team, an amazing run, we were one of the toughest games they had been in all year. Really, some respect from a guy that has been around college football for a while. Obviously, a bummer we lost our last game but a lot to be proud of.
Marc Daniels: You would have liked to see it continue, but I think you look back at the two-year journey of the win streak and UCF had established its brand as that school that was more than just a fluke of 2017. That backed it up in 2018 and there are probably bigger things that lie ahead.
Josh Heupel: One of the things that I learned through my football journey but also as a coach having been through a bunch of seasons is, it's not just the end destination that matters. That does matter and everybody is pushing towards that goal, but the journey is the greatest part of it. And just tried to convey (in the post-game locker room) I was so proud of what they had done in the past 12 months with our staff, what they had built.
It's a legacy that's going to last forever. That's why you guys are doing this interview right now. It's a really special group of guys that restaked a claim on the future of UCF football.
McKenzie Milton: I think trendsetters, trailblazers, whatever you want to call it, that's what we were. That's what UCF is going to continue to be.
Andrea Adelson: In my view, those two seasons really set the stage not only for playoff expansion but for UCF to join the Big 12. Without those two seasons, maybe UCF is attractive, but maybe not. I mean you can look down the road on I-4 at another school (South Florida) that's in the state of Florida that hasn't really had football success and is kind of left out right now of the power conferences and UCF isn't. And a big reason why is because of the success they've had on the football field.
But in my view what they did in 2017 and 2018 — they showed and they proved that "We can play with anybody." And I also believe that those two seasons allowed Cincinnati to make the playoff. Without UCF leading the way, I don't think Cincinnati is ranked as high as they were in the playoff in the season that they made it.
Nicole Auerbach, The Athletic writer: The fact that it was so difficult and it took so many things to align for Cincinnati — after everything that had happened with UCF — to get an invite to the 4-team playoff, I think all of that fed into this whole conversation we've had about access. And what it means to start the college football season with a chance to be part of the marquee event, the postseason that everyone wants to be a part of. So, UCF really brought all of that to the forefront.
I think what my mind goes to as someone who covers the College Football Playoff piece and that off-field issue and the expansion issue, was how much they pushed that conversation forward and helped us get to the 12-team College Football Playoff.
Andy Staples, On3 national college football host: (UCF) kind of exposed the system for the closed system it was. And the system is changing now. There's at least a small part of that due to what UCF did.
Andrea Adelson: I feel like UCF has done a lot to help change college football, to help change the perception of UCF but also to prove to people, forget about a label. A label doesn't matter. What can you do?
I think we learned that anything is possible at UCF. It doesn't matter what your conference is, where you're recruiting your players from, all that matters is getting your teammates, your coaches, your players, the administration to believe. That's why I feel like those two seasons should be held up as these models for inspiration because that was a team that was really easy to root for because they were a team. They were an absolute team.
Shaquem Griffin: That's what UCF is all about — believing in yourself, believing in your people, believing in your team, and knowing that the whole nation of UCF loves you, how can you lose? Like, really, how can you lose with that?
Scott Frost: You can use this or not use this. I hope UCF keeps climbing. I think there will be some challenges ahead going into a new league, but if there's one university that's positioned to overcome those challenges and become a great, elite program, it's UCF.