Virginia Perwin '22MA has a lot in common with other students who received a master's degree at UCF this weekend. She likes to keep active by spending time with her family, gardening and ziplining. She engages in community work by teaching people how to read. She was a first-generation student.
The difference is that while many students are earning their graduate degrees immediately after their undergraduate program, Perwin received her first degree about 60 years ago.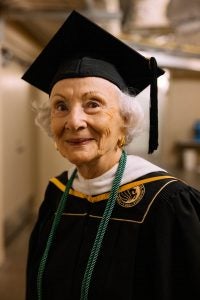 The 85-year-old recipient of a master's degree in teaching English to speakers of other languages has dedicated her life to learning and has no plans of ever stopping.
The fifth child in a family of seven, Perwin struggled in primary school until a teacher recognized that Perwin had a learning disability.
"My grades went from C's to A's and B's because of the help I received," Perwin says.
She wanted to be a doctor, but that wasn't an opportunity afforded to many girls at that time, so she went on to college at Temple, studying physiology and anatomy to earn a bachelor of arts in physical education.
After teaching physical education for years while rearing a family of her own, Perwin returned to school at Florida International University to get a master's degree in adult education. And in 2017 she came to UCF to get a certificate in teaching English as a foreign language (TEFL). Upon completion of that program, she realized she could apply the credits to earn a second master's degree in TESOL.
"Education and learning is a never-ending journey, because I have always been learning," Perwin says. "I have always been in schools for something. Even when my children were small, I was teaching and doing research."
Kerry Purmensky, coordinator of UCF's TESOL program, and one of Perwin's professors, says that having Perwin in the class has been advantageous to other students.
"Virginia's willingness to share her vast experience as a learner and teacher in the language classroom enthralled other students," Purmensky says. "She inspired everyone with her hard work and never-give-up positive attitude toward education and life."
Perwin has a passion for researching the methodologies of teaching. She says she still applies the methods that helped her overcome her own learning challenges to people she teaches. She is currently teaching an adult to speak English by guiding her through a juvenile mystery book that the student's granddaughter is reading. The English learner and her granddaughter can enjoy reading and talking about the book together.
Perwin has some words of experience to offer to students about mentorship and asking for help: "If I could tell students one thing it would be this: if you have goals and dreams, you must work with an advisor to guide you there."
What's next on the docket for Perwin? More education, of course. She has applied for the UCF reading education program in fall. Her goal is to help people who speak other languages better learn English by using methods used in reading education.
UCF's Master of Arts in teaching English to speakers of other languages (TESOL) provides students a strong foundation in language acquisition, use and pedagogy. UCF's professors have diverse research interests and thrive on working with students to develop their professionalism in the field. Current research trends in the department include vocabulary, assessment, community engagement, Russian ESOL, and sociolinguistics. Learn more about the program at cah.ucf.edu/languages/program/tesol.