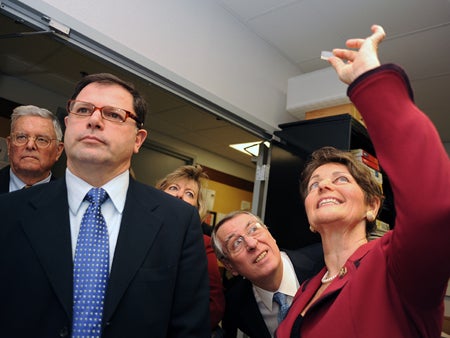 Several UCF professors and administrators joined U.S. Assistant Secretary of Commerce John Fernandez and Congresswoman Suzanne Kosmas Friday for a discussion about how the federal government can help companies grow and create more jobs.
Participants, including small business owners, said the federal government should focus on helping companies bridge the gap between their incubation stage – an area where UCF excels – and when they grow to more than 100 employees.
The UCF Business Incubation Program helps new companies overcome the many challenges that they often face in their first few years. Companies benefit from mentoring, workshops and shared facilities, along with close connections to UCF and its talented faculty members and students.
Since 1999, the program has helped to generate more than 1,600 direct and "ripple effect" jobs in the region with wages of more than $70 million. And the incubator's clients have had a 90 percent success rate of staying in business for at least five years after graduating from the incubator.
The discussion was held at the College of Optics and Photonics, home to the photonics campus of UCF's Business Incubation Program.
Provost and Executive Vice President Terry Hickey and college Dean Bahaa Saleh welcomed the guests. Professor Peter Delfyett and Larissa Glebova, director of glass marketing for OptiGrate, led lab tours after the discussion.