Throughout advertising/public relations major Valerie Mauricio Ruiz's academic career, she has not only adjusted to new settings, but thrived in them.
Take September 2017, for example. Ruiz and her family moved from Santo Domingo, Dominican Republic, to Central Florida — a long-term goal for the family. The transition was initially difficult for Ruiz, now in a new classroom and city different than the one she knew for most of her life.
Despite those initial challenges, Ruiz has proven to be successful, earning spots on the dean's list for two consecutive semesters. This June, she was one of 15 UCF students to win the distinguished Benjamin A. Gilman Scholarship. Awarded by the U.S. Department of State, the scholarship helps underrepresented communities intern or study abroad. This summer, Ruiz studied in Barcelona, Spain, with the help of the scholarship, and interned for Anytime Fitness, where she was part of a project focused on sustainability for a new location. For her part of the project, she assessed and provided an analysis of the company's social media channels.
"Being awarded the Gilman [scholarship] means I can achieve any goal I set for myself," Ruiz says. "The scholarship is awarded to just a handful of applicants, and you must do some soul searching in order to have a great application. Gilman allowed me to understand myself on a much deeper level than I could've ever anticipated. It provided me the life-changing opportunity of studying abroad while not having to worry so much about the financial implications it could mean for me once I got back from my trip to Barcelona."
Ruiz used the opportunity to study abroad to travel to Spain, which she says she always wanted to visit. There, she noticed the influence of the culture in the Dominican Republic, such as siesta time, which was from 2-5 p.m. in her hometown of Bani. The experience inspired Ruiz to travel the world later in her life.
"It made me feel like I was able to do anything that I set my mind to," Ruiz says. "I really liked the newfound sense of independence, that there's so many opportunities and possibilities out there that maybe some of us don't even consider."
Studying overseas also inspired Ruiz's current work, as she works in the UCF Study Abroad office as a global leader in conjunction with Academic Programs International, a partner program helping students to enroll in study abroad programs. Passionate about helping underrepresented students study abroad because of her background, Ruiz looks to assist those the way UCF's staff opened her eyes to academic and career possibilities.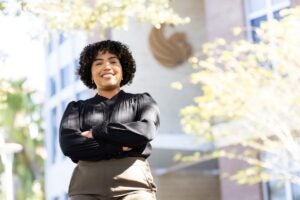 "Estrella [Rodriguez] from Experiential Learning told me I shouldn't say no to myself, my plans, or my dreams, that I should at least try because you never know if you're going to be able to do it," Ruiz says. "If she hadn't said that, I probably wouldn't have studied abroad."
Ruiz's desire to help students also played a role in her choice of major. Initially interested in speech pathology, she discovered advertising/public relations and thought it would be fun to work with different brands.
"Also, when I heard PR, I thought of Olivia Pope, from Scandal," Ruiz says. "I was like, 'Oh, she's a fixer. Maybe I could do that too.' "
The success she has enjoyed at UCF is representative of her academic achievements prior to enrolling at the university, with a constant theme of adapting amid new environments.
She graduated from Boone High School in 2018 and pursued higher education at Valencia College, earning places on the president's and dean's lists for the consecutive years she attended. She graduated from Valencia with her associate degree in 2022, and while she was successful in her college journey thus far, moving to UCF would be another unfamiliar setting to adjust to.
Going from Valencia's smaller class setting to some UCF academic halls that hold more than 100 students, Ruiz says the transition initially was intimidating. With an open mind and positive attitude, she saw courses hosted in large academic halls, like Mass Communication Law, as an opportunity to step out of her comfort zone and get to know her classmates.
"I thought it was going to be super difficult and I was scared of taking more than two classes at a time because I didn't know if I was going to be able to handle it," Ruiz says. "I took a leap of faith when I started UCF and I thought, 'You know what? I'm taking four classes, it's OK, I'm going to be fine.' "
Ruiz's success is driven by wanting to make her parents proud. She credits her mom for lighting the fire for education in her life, telling Ruiz it was the best thing she could do for herself, especially moving to a different country. Ruiz is scheduled to graduate in May 2024 and plans to work in advertising for international brands, providing another opportunity to thrive in a new environment.
"I know my potential," Ruiz says. "I just always knew that education was going to help me live the life that I have envisioned for myself, so getting my bachelor's degree is probably my biggest life goal. I see it as an opportunity."