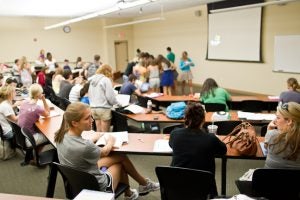 Dr. Kathy Cook believes in what UCF does—and shows it. After attending a Faculty and Staff Annual Fund Campaign kick-off breakfast, Cook was inspired to establish a scholarship fund for legal studies students. The theme of the breakfast, "Believing in what we do," reflected how she felt about her own students.
"My students are an extension of my family… they are my stars," Cook says.
Cook has been a part of the UCF community since 1972, when she joined the university as an adjunct professor in allied legal services. When she moved to full-time instructor in 1983, she continued to work as a private attorney in Winter Park specializing in family and juvenile law.
Mark A. Nation ('87), who founded The Nation Law Firm, is one of many of Cook's students. "Kathy's dedication to her students is unsurpassed and infectious," says Nation. "She truly has a servant's heart and lives out the creed that unless the student surpasses his teacher, then the teacher has failed."
Cook is active in many local organizations including the Central Florida Association of Women Lawyers, Orange County Bar Association and the Florida Respite Coalition. She is also the faculty advisor for Phi Alpha Delta Pre-Law Fraternity. She feels that professional organizations are vital to the future success of her students.
"Being a student can be difficult," Cook said. "By giving them the resources to join professional organizations to network and talk with others in the field is essential to their education and future careers."