One hundred and twenty new medical students — including a record number from UCF – received their white coats Monday in recognition of being colleagues in healthcare and pledged to serve their community by becoming "one of The Good Doctors."
UCF President Alexander N. Cartwright told the Class of 2026 M.D. candidates there has never been a better time to be part of Orlando's young medical school.
"This college was designed to be a model of 21st-century medical education, pioneering new ways to help people live better and teaching you to practice medicine not just for today, but for tomorrow," he said. "Your potential will be unleashed through our Academic Health Sciences Center that brings together UCF's expertise in health education, research and clinical practice — in the heart of Orlando's Medical City at Lake Nona."
The new medical students include artists, athletes, soldiers and scientists. They received their undergraduate degrees from colleges and universities that include Duke, Emory, Georgia Tech, Harvard, Johns Hopkins and UCLA; 30 — more than any in medical school history – are UCF Knights.
Kevin Reyes is one of those UCF undergraduates. After earning his bachelor's from the Burnett School of Biomedical Sciences, Reyes says he was excited to attend medical school at UCF because he will be part of the emerging Medical City and "pave the way for the next generation of Knights."
Lake Nona's biosciences cluster includes UCF's Academic Health Sciences Center and its medical school, UCF Lake Nona Hospital and the new UCF Lake Nona Cancer Center. In addition, UCF is working to build a new innovative College of Nursing building next to the medical school, with the goal of co-locating many of its health training programs in Lake Nona to increase interdisciplinary education, research and patient care.
Monday was the College of Medicine's 14th White Coat Ceremony and included a tradition that has occurred since the Charter Class matriculated in 2009. Before students receive their white coats, Deborah German, vice president for Health Affairs and founding dean, conducts their first class of medical school, "The Good Doctor — A UCF Tradition."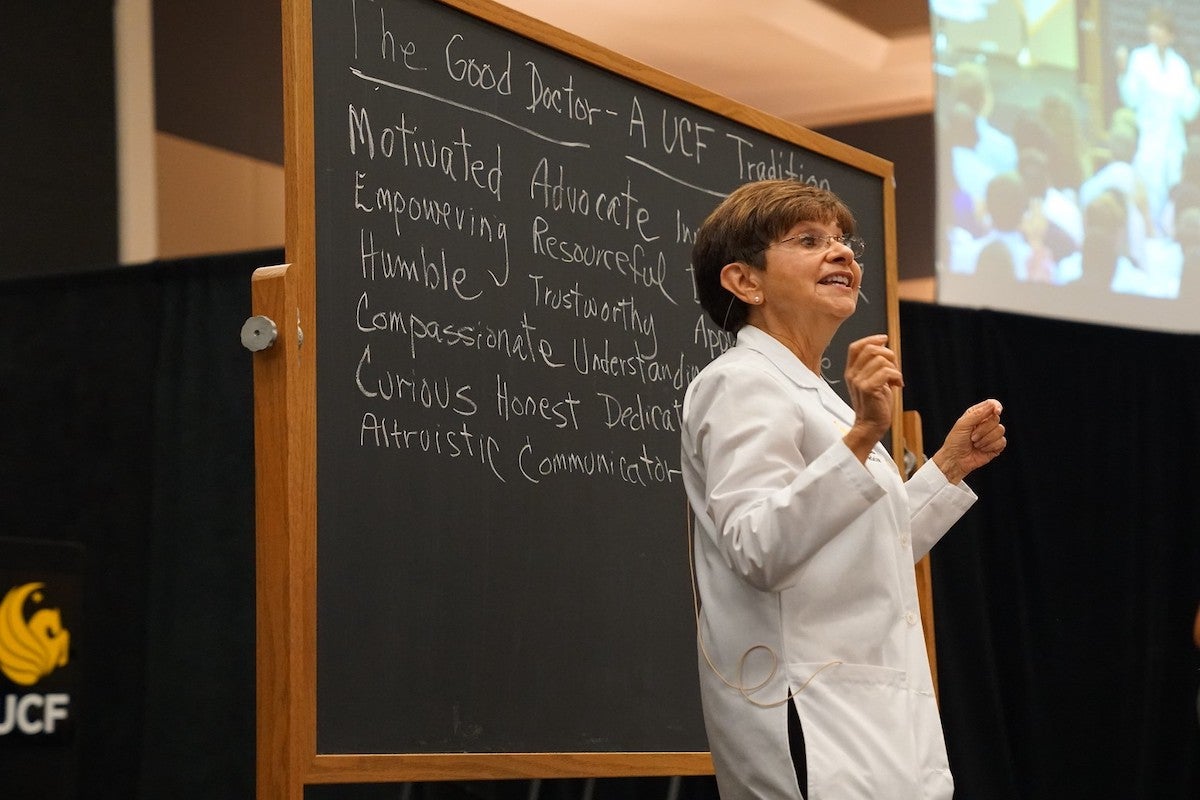 She asks students to think of the person they love most and then list the traits of the physician they want treating their beloved for a serious, undiagnosed medical condition. As students call out a trait, German writes it on a blackboard that stays on display in the medical school atrium for the entire year.
New med student Arielle Patterson was born into a military family and serves in the U.S. Army Reserve. She suggested two words – discipline and self-awareness because she says physicians need to be disciplined to show the same level of care to each patient and self-aware to recognize their own biases and limitations.
The Class of 2026 selected a total of 42 Good Doctor characteristics that also included courageous, humble, ethical, compassionate, holistic, grateful, knowledgeable, dedicated and prioritizing diversity and inclusion.
"We fully expect you to become this doctor. These traits live and breathe inside of you. It is why you are here," German said as she looked at the completed list. "So this is your contract with me—with your faculty, friends, family, community and each other."
After receiving their white coats, German asked students to look in the pocket. Inside was a card. She asked each student to write on it a short paragraph describing their greatest dream for the future. The cards will be collected at week's end. "At this medical school, I never want you to lose sight of your dreams," the dean told UCF's newest physicians-in-training. "I keep these cards in my office and read them when I need inspiration."
Ask the students why they chose UCF's College of Medicine and fulfillment of dreams is a common theme. Many mentioned the college's supportive culture and that fact that it didn't pressure them to become a certain type of doctor or specialist but was committed to helping students fulfill their dreams. Many talked about UCF's spirit of innovation and the opportunity to collaborate with so many entities in a Medical City minutes from one of the world's most visited airports.
Lauren Cervantes is a first-generation college student born to Cuban immigrant parents. She graduated from the University of Florida with a nutritional science major and a minor in health disparities. She came to UCF to fulfill her dream of caring for the underserved.
"I believe access to healthcare is still really difficult especially for some communities. And I feel like as a future physician, it's my role to be able to really advocate for that population and to be able to give back" Cervantes says. "Coming from a Latino background, I want to be able to give back to the community that raised me and I'm really grateful to be able to be in this position to do that."