Inspired by UCF's rich history and involvement in America's space program, the College of Business will host a space-themed, 21st annual Hall of Fame gala Thursday, Feb. 13, 2020 from 6 to 9 p.m., at Rosen Shingle Creek.
More than 750 College of Business alumni, faculty, students, corporate partners and friends of UCF are expected to attend this signature annual event that honors the college's most distinguished alumni and partners. Guests will be transported to the final frontier as part of the "out-of-this-world" gala. Highlighting the future of business, the event will begin with a cocktail party, followed by the interactive and entertaining Business Hall of Fame awards ceremony.
2020 UCF Business Hall of Fame Inductees
The UCF College of Business Hall of Fame recognizes alumni who have demonstrated exceptional professional success in their field. This is the highest honor given to business graduates. It is typically awarded to those who have been in the industry for 15-20 years and have brought recognition to the university through their professional achievements.
Woody Walker '92 '94MBA is the executive vice president of strategic partnerships at CCG, a U.S.-based data, artificial intelligence and analytics services and solutions firm. Walker has 25 years of management and consulting experience in the information technology industry. Walker's true passion lies in education with a focus on women in STEM. She is involved with ATHENA International, the Project Management Institute, Leadership Orlando and the UCF Alumni and College of Business Boards. She earned both her BSBA in management and MBA at UCF.
Justin Wetherill '07 is CEO and co-founder of uBreakiFix, a leading device repair company with more than 550 stores throughout North America, 5.5 million customers and nearly 7 million repairs completed to date. Earning $254 million in revenue in 2018 and joining the Asurion family in 2019, Wetherill started uBreakiFix in 2009, shortly after earning his accounting degree and dropping his iPhone.
Brian Wright '06 is general manager of the San Antonio Spurs NBA basketball team. Joining the Spurs in 2016 as the team's assistant general manager, Wright was promoted to the GM role earlier this year. As a graduate student in the DeVos Sport Business Management Program, Wright began his NBA career as a summer intern with the Orlando Magic.
Partnership Awards
The Partnership Awards recognize organizations that have initiated a successful partnership with, or on behalf of, the UCF College of Business, resulting in the achievement of the college's academic offerings or public outreach. These organizations embody the spirit of collaboration and are recognized for their initiative, leadership and involvement in the betterment of business education.
Holiday Inn Club Vacations Incorporated, a national vacation ownership company encompassing 28 U.S. resorts and more than 350,000 timeshare owners, is home to more than 5,000 team members, including nearly 2,800 working out of its Orlando corporate campus and Central Florida resorts. In its quest to build a high-performance team, Holiday Inn Club Vacations partners with the college and university for a variety of events, including career fairs and even a Holiday Inn Club Vacations Day at the College, which gives students an inside look at the company, as well as internship and career opportunities.
Withum is a national, top-ranking public accounting firm providing advisory, tax and audit services to businesses and individuals on a local-to-global scale. The firm provided a much-needed makeover to the college's accounting lab to establish the Withum Learning Lab, which provides tutoring services and collaboration space to thousands of students each year. By partnering with the college, Withum prides itself on hiring UCF business students and helping to develop future leaders in the accounting industry.
Legendary Knight Award
The Legendary Knight Award recognizes outstanding contributions that will transform teaching, research and learning through extraordinary philanthropy and commitment to the College of Business. This award is open to the entire College of Business community, including alumni, friends and corporate and foundation partners.
Kenneth G. Dixon '75, a 2005 Hall of Fame inductee, is the founder and CEO of Leland Enterprises, Inc., a diversified real estate company in Central Florida. Dixon, who has an accounting degree from UCF, made two generous gifts to the university to establish the Kenneth G. Dixon School of Accounting in 2004 and the Kenneth G. Dixon Athletics Village in 2017. After his career as a CPA with Price Waterhouse, he entered the real estate business primarily focusing on the development of multi-family housing projects and real estate lending. He is a member of the college's Dean's Advisory Board and serves on the boards of numerous charitable and non-profit organizations.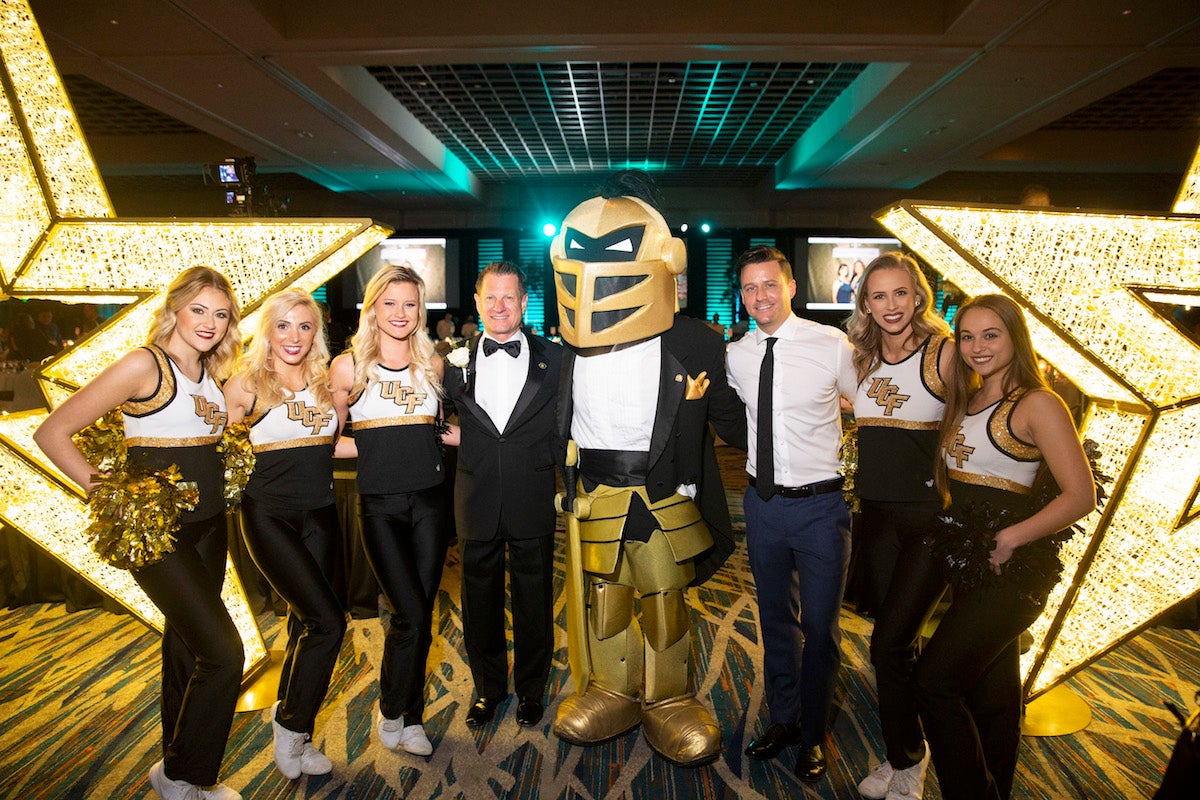 Entrepreneurial Alumni Awards
The Entrepreneurial Alumni Awards honor UCF business alumni from any discipline who exemplify commitment, vision, calculated risk-taking and growth potential. In their professional career, this person demonstrates perseverance in the face of adversity and overcomes obstacles.
Scott Saunders '88 is president and CEO at Fury Water Adventures, a multi-million dollar water adventure company based in Key West that has become the largest water attraction company in Florida. As a CPA with more than 30 years of experience, Saunders opened his own accounting firm, now known as Saunders & Koplin, PL, in 1992. He serves on various advisory boards and has given back to UCF Coastal and the College of Business. Saunders earned his accounting degree from UCF.
Jesse Wolfe '15 is founder and CEO of O'Dang Hummus, a line of hummus salad dressings he created while he was a business student at UCF. His salad dressing is now sold at more than 8,000 grocery stores, including 2,000 Walmart locations. As a student, Wolfe followed up a third-place finish at the 2013 Joust New Venture Competition, UCF's version of Shark Tank, before landing a $50,000 deal on ABC's Shark Tank in 2015. Wolfe earned his bachelor's degree in management from the college.
Honorable Knight Awards
The Honorable Knight Awards recognize alumni with more than 10 years of experience who have displayed excellence in their respective career paths.
Todd Bryant '07 is a founding partner and financial planner at Signature Wealth Advisors, LLC, a top ranked wealth management firm based in Orlando. After earning his bachelor's degree in marketing, Bryant remains involved with UCF through the college's mentorship program and alumni chapter. As a junior, Bryant found out about Outreach Love Inc, a non-profit tutoring and mentoring at-risk youth from downtown Orlando. Over the next decade, he devoted two Saturday mornings a month as a mentor/tutor and today remains active as a board member.
Charles Cho, CPA, PhD '99 '02MSA '07PhD is a professor of accounting and the Erivan K. Haub Chair in Business & Sustainability at the Schulich School of Business at York University in Toronto. He has held faculty positions at Concordia University and ESSEC Business School in Paris. Before returning to academia, Cho worked for KPMG LLP and other public accounting firms. He serves as a mentor to doctoral students and has funded the Charles and Jane Cho Endowment Fund for Sustainability Accounting Research. The UCF triple alumnus earned his bachelor's, master's and Ph.D. in accounting.
Linh Dang '93 is chief development officer at Addition Financial Credit Union, where she has spent the past 16 years of her career. Dang has held a variety of positions at the credit union and oversaw the company's recent rebrand. She has led corporate culture initiatives to empower credit union employees and improve product knowledge training, job shadowing opportunities and professional development within the organization. As a member of the UCF Alumni Board and the Dean's Advisory Board, Dang has fostered a strong partnership between Addition Financial and UCF. She earned her bachelor's degree in accounting from UCF.
Notable Knight Awards
The Notable Knight Awards recognize alumni who have displayed promise and excellence early in their career paths and have less than 10 years of experience.
Daniel Botero '12 is the founder of Mastering College to Career, a multimedia brand that teaches students to make the transition from college to career. Author of the best-selling book and host of a top-rated podcast of the same name, Botero has dedicated himself to guiding students toward their dream jobs. He stays connected with UCF as a member of the college's mentorship program and alumni chapter. Botero graduated from the UCF with degrees in marketing and management.
Caroline Castille '15 is managing director at Clickable Impact and founder of bSteps Dancewear, a company she presented at the 2014 Joust New Venture Competition. Castille has an extensive background in venture capital building and selling one of the state's largest angel investment groups—Florida Angel NEXUS. As a regular speaker at the Blackstone LaunchPad, Castille often engages with students and shares her career journey with budding entrepreneurs. She obtained her bachelor's degree in finance from UCF.
Cameron Marsh '13 is a managing partner at BottomLine Clarity, a consulting group that specializes in strategy consulting, back office support and CFO services. With more than a decade of experience in turnarounds, implementation, mergers and acquisitions, Marsh has overseen purchases and sales of more than a dozen multi-million-dollar businesses. He continues to give back to UCF through scholarship and as a member of the Young Alumni Council and College of Business mentorship program. Marsh earned his bachelor's degree in management from UCF.
Tickets and Hotel Accommodations
Individual event tickets for the gala are $150, or guests may purchase up to 10 table seats for $1,500, which includes sponsor recognition. Click here to purchase tickets or a table. Discounted hotel rooms of $119 per night are available for guests at Rosen Shingle Creek, valid Feb. 9-15, 2020. For reservations, call 866-996-6338 and mention you are with the UCF College of Business Hall of Fame. For more information regarding the UCF College of Business Hall of Fame, visit business.ucf.edu/halloffame.