Elizabeth "Beth" Chance served eight years in the U.S. Army, among many assignments handling classified mail in Iraq. When she came home, she became a classroom teacher. But she'd always dreamed of becoming an archeologist.
"I had watched a PBS special on the discovery of 'Lucy,'" said the Kissimmee native. "It was amazing to me that anthropologists were giving her a voice and telling her story. After that my interest in humans, human origins and culture blossomed."
Lucy was the name given to a female skeleton fossil discovered in 1974, which changed the understanding of human origins on Earth.
Chance just couldn't give up on the dream, so she went back to school. This semester she is finishing her master's degree in anthropology at the University of Central Florida. She's wrapping everything up online because she recently moved to Georgia with her partner, who remains in the military.
"UCF has been my home for a total of five years now, with a short break, and it is just that: my home," she said. "Every professor and student I have come to know has been wonderful, and added to my life in many ways."
Chance's work stands out because her research will likely end up in Florida's historical registry. She spent last summer running an archaeological dig in downtown Maitland, behind a McDonald's restaurant.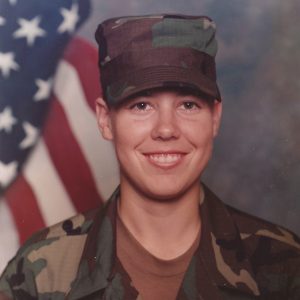 She excavated a watermill that was built in 1866 by Hugh Partin. His descendants still reside in Maitland and surrounding areas, she said. Until Chance came along, the mill had only been the focus of a few newspaper articles and the family's own documented history; the mill and family cemetery have gone undocumented historically or archaeologically and were not listed with the state archaeologist.
"I know, you don't think of watermills and Florida, but we had them and they actually were important to our economic development," she said. "Understanding how humans manipulate their environment or use their environment to live and prosper, is vitally important to some current issues we are facing today. So, it was interesting to me to see how they used water and the impact it had on early Florida society."
Based on what she found, Chance believes the Partin mill was very likely instrumental in the burgeoning growth of Central Florida after the Civil War.
"I wanted to bring the story of the mill and the Partin family into the light and in turn build on the history of Orlando and its surrounding communities," Chance said.
Her research and fieldwork was the focus of her thesis, and her mentor, UCF Professor Sarah Barber, expects that the mill site will be added to the state archaeological record.
"That's because of her work and dedication," Barber said. "Her contributions are exceptional and I know she will do well after she graduates."
Chance hopes to work for a government or educational organization leading projects to preserve archaeological sites.
"It was important to me to live out as many of my dreams as I could," she said about going back to school to get her master's degree. "So many veterans can't always do so and I felt a need to make something of myself in their honor, and use my voice to make a difference."