David Hagan was announced today as the new dean of the College of Optics and Photonics by Michael D. Johnson, interim provost and vice president for Academic Affairs.
Hagan joined UCF in 1987 and is a founding faculty member of CREOL, UCF's renowned Center for Research and Education in Optics and Lasers. Since December 2019, he has served as the college's interim dean and was previously an associate dean for academic programs.
"David is a top scholar and a seasoned leader. I am grateful that he has accepted this important responsibility, as I know his colleagues are as well," says Johnson. "I look forward to working with him to keep the College of Optics and Photonics on its remarkable upward trajectory."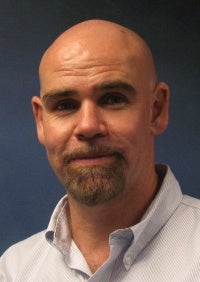 As dean, Hagan will direct efforts to advance the college's world-class excellence in optics, lasers and photonics, particularly in research, education and industry partnerships. Hagan's appointment concludes an intensive search process for the successor of former Dean Bahaa E.A. Saleh, who led the college for a decade before returning to the faculty.
Hagan has been a major influence in shaping curriculum in the college and is highly accomplished in teaching and research. Aside from being a Pegasus Professor, which is the highest distinction a faculty member can earn at UCF, Hagan is an International Society for Optics and Photonic Fellow, an Optical Society of America Fellow and a senior member of the IEEE Photonics Society.
"I am honored to have been chosen to lead the exceptional group of faculty, students and staff that form CREOL and the College of Optics and Photonics," Hagan says. "This is an exciting time for UCF as we pursue the goal of becoming a top 50 U.S. public research university. I will make sure that optics and photonics are right up front, leading the charge."
Hagan earned his bachelor of science and his doctorate in physics at Heriot-Watt University in Edinburgh, Scotland.