Drones have evolved over the years from novelty to a sophisticated tool deployed in the wake of natural disasters. Now researchers have unlocked its use as a time machine.
The work is happening in the coastal communities of Belize, including Hopkins Village, where rising sea levels are threatening homes and livelihoods. Lain Graham, a sociology Ph.D. candidate at UCF and a solution engineer at Esri, has traveled to Central America with other UCF scientists since 2016, working with local communities to find a long-term solution.
Their approach merges classic social science research with high-tech geographic information systems (GIS) to provide a comprehensive picture of the threat. It's the experiences and perceptions of community members that provides context and value to the data gathered by drones, Graham explains.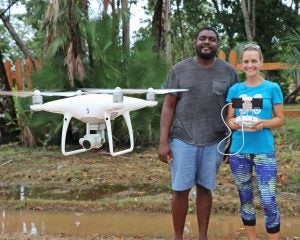 "Local knowledge should go hand-in-hand with technology and social science research. That's the key to impactful change," says Graham.
The result is a rich, comprehensive picture of areas historically prone to flooding and guidance toward points where new threats could emerge. This allows community members and local officials to make informed and targeted decisions, like where to place drainage culverts or plant mangroves to guard against flooding and erosion.
While community-based research and GIS provide a window into the future for Belize, it can also point to the past. Graham's master's research at Georgia State University led her to an antebellum, African-American cemetery called Avondale Burial Place. While the area contained some grave markers, it was believed there were many more people buried in unknown locations. Finding them without unnecessary, destructive digging required high-tech solutions like ground-penetrating radar, imagery analysis and photogrammetry. These assisted archaeologists in the targeted identification, excavation and detailed documentation of burials at the site. The last step was using DNA analysis, mapping and genealogical research to connect the deceased with living descendants, many of whom had migrated north after the Civil War.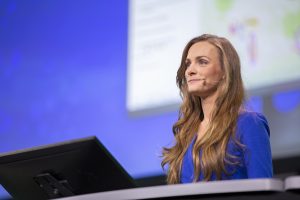 Today, Graham pursues a similar line of work as a solution engineer on the National Government Civilian and Sciences team at Esri, one of the world's leading GIS companies. In this position she leverages her GIS and social science research experience to drive solutions for national government agencies like the Environmental Protection Agency, U.S. Census and federally recognized Native American tribes.
Like her past projects, Graham goes beyond the technology and collaborates with people to fully understand and address their needs. Some of her work includes using GIS and drones for environmental monitoring and opening access to emergency services on Native American reservations.
"UCF is a global university and we're working with people to address real-world problems. That's our goal and our vision: to be a mechanism for change and to drive collaborative solutions," Graham says.