A new report co-authored by a University of Central Florida researcher has found that easing state regulations affecting solar energy production in Florida could result in a more than $3 billion economic benefit to the state, support 18,000 jobs and reduce numerous greenhouse gases emitted each year.
The regulations state that anyone selling power in Florida, regardless of size, must follow the same rules as large utility companies. This has resulted in keeping smaller energy developers from entering into what is known as a power purchase agreement with individuals, businesses and nonprofits. These rules include building codes, permitting, reliability reporting, electric-rate scheduling and tariff regulations under the Florida Public Service Commission. Currently, 28 states allow solar power purchase agreements to operate, while Florida is one of seven states with legal barriers in place effectively prohibiting their use.
With a power purchase agreement, a person or organization allows an energy developer to install, own, operate and maintain an energy production system, such as a solar array, on their property. The electricity generated from the solar array is sold back to the person or organization at a price that is often lower than what they are paying their utility provider.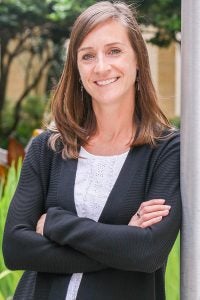 "The electricity generated from the solar array is sold to the customer using a long-term contract at a price that is typically below retail electric rates," says Kelly Stevens, an assistant professor in UCF's School of Public Administration and report co-author. "This way, the customer receives the electricity generated from the solar array yet avoids the high up-front capital costs and difficulty of arranging financing, design, permitting and construction of the array."
Stevens says things to consider before entering into a solar power purchase agreement are the electricity rate negotiated with the developer and the space available for a solar array.
"The third-party, power purchase-agreement rate that is typically lower than retail electricity prices could escalate over time, which would be identified in the long-term contract, so it would be anticipated," Stevens says. "But that price escalation or baseline price may not be significantly lower than the retail electricity price, which reduces some of the economic benefit to the customer."
"Also, not all customers can support the same amount of solar on their property due to space and environmental constraints," she says. "So, the benefit will depend on specific characteristics of each site."
In the study, the researchers examined the potential economic and environmental impacts of solar power purchase agreements in Florida if they were enabled in the state.
The researchers determined that if Florida increased its non-utility solar generation by 42 percent through power purchase agreements, bringing its share closer to the national average of 65 percent, that this would add an additional 1,165 to 1,942 megawatts of additional solar capacity to the grid.
This would result in an annual reduction of 1.8 to 3.1 million tons of greenhouse gases emitted, which is the equivalent of removing more than 118,000 gasoline-powered cars from the road each year.
Construction of Florida-based solar arrays through power purchase agreements would result in an economic impact of $2.3 billion to $3.8 billion, and the creation of 15,000 to 25,000 jobs, according to the report.
To illustrate the implementation of solar power purchase agreements in Florida, the report also provided three case studies of potential savings if the agreements were implemented in three Central Florida locations – the City of Orlando, the Osceola School District, and the First Unitarian Church of Orlando.
For instance, the City of Orlando currently has 19 city facilities participating in a community solar program. If the city were to install 18 megawatts of solar through a power purchase agreement on 14 additional city-owned buildings, it would save more than $400,000 in electricity costs annually and reduce carbon emissions equivalent to removing more than 1,200 gasoline-powered cars off the road each year.
For the Osceola School District, there are currently solar panels installed on seven schools. If solar was installed on an additional three schools through a power purchase agreement, the district could see annual electricity savings of more than $90,000, and it would result in the equivalent of more than 150 cars taken off the road annually.
Study co-authors were Gilbert Michaud, an assistant professor of practice at Ohio University, and David Jenkins, a research associate at Ohio University.
The research was funded by a $10,000 grant from Solar United Neighbors, a national nonprofit organization that promotes solar energy production.
Stevens received her doctorate in public administration from Syracuse University and joined UCF's School of Public Administration, part of UCF's College of Community Innovation and Education, in 2017. She's a member of UCF's Resilient, Intelligent and Sustainable Energy Systems Cluster.