University of Central Florida researchers are leading an interdisciplinary project to help communities use artificial intelligence and smart technologies to bounce back from disasters quickly.
The project is funded by a recently announced $1.2 million grant from the National Science Foundation as part of its Smart and Connected Communities program.
The three-year project will examine past use of AI and smart technologies for emergency response and risk communication in the Central Florida region and also implement new ones. It will also analyze leveraging community partnerships that exist, such as Seminole Heart, and identify ones that could be developed.
This resilience research is important since the region routinely faces threats from natural disasters such as hurricanes, flooding and tornadoes, as well as human-made emergencies and crises.
The study area will cover 78 towns and cities in eight counties — Brevard, Lake, Marion, Orange, Osceola, Seminole, Sumter and Volusia — with the idea that the findings could be generalized to other communities.
Smart technologies, like streetlights that monitor weather and traffic flow or storm drain meters that provide real-time data about water levels, give city planners and emergency managers immediate information about a city's emergency situation and response.
At the same time, this increasing amount of data is becoming more than humans can process without some AI assistance. That's why as part of the project, the researchers will develop AI that can analyze incoming emergency management data in a big influx during a disaster event, including social media and operation logistics data, and report findings back to community and organization leaders in real time.
The researchers hope the work can reduce the severity of natural and human-made disasters by making emergency managers and operators from all sectors more informed and better connected and prepared.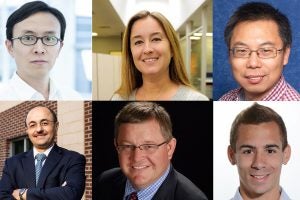 "The research design assessing resilience changes will help decision makers in governments, businesses and nonprofits obtain a deeper understanding of how AI-aided information technologies can advance collective decision making to reduce community vulnerability and enhance resilience," says Yue 'Gurt' Ge, an assistant professor in UCF's School of Public Administration and principal investigator of the project.
Multiple disciplines are involved in the project, including emergency management, urban and regional planning, public administration, computer science, geography, operation management and transportation engineering.
"The interdisciplinary research design involves community-engaged data collection and analysis at the organizational level that will generate research findings that contribute to the community resilience scholarship," Ge says.
In addition to their work with smart technologies and community partnerships, the researchers will also build a regional data platform, known as the Community Resilience Data Depot, or CoRD2. This platform will allow community leaders and emergency personnel to share data more easily and improve their communication with each other.
"The project's proposed metrics to assess the extent and speed of achieving appropriate post-event functionality will help address a nationwide community capacity building need to quantitatively evaluate resilience increases by public–private partnerships," Ge says.
Project co-investigators are Naim Kapucu, a Pegasus Professor in UCF's School of Public Administration; Liqiang Wang, an associate professor in UCF's Department of Computer Science; Jeremy Hall, a professor in UCF's School of Public Administration; Yago Martín, an urban resilience postdoctoral scholar in UCF's School of Public Administration; Christopher Zobel, a professor of business information technology at Virginia Tech; Haizhong Wang, an associate professor of Civil & Construction Engineering at Oregon State University; and Michelle Cechowski, an emergency preparedness manager at East Central Florida Regional Planning Council and an alumna of UCF's School of Public Administration.
Ge earned his doctorate in urban and regional sciences from Texas A&M University and joined UCF's School of Public Administration, part of UCF's College of Community Innovation and Education, in 2018.