Breast cancer is the most common cancer among U.S. women — with 240,000 diagnoses every year according to the Centers for Disease Control and Prevention. A shocking statistic — yes, but nothing compared to the level of shock many women experience upon learning about their diagnosis. The panic sets in. And like clockwork, some women think, "Cancer. I'm done for."
Typically, next steps for diagnosed women include speaking with their care provider, reaching out to support groups, or even just taking a moment to process everything.
But one thing has become clear for UCF volunteer Assistant Professor of Surgery Olga Ivanov and former Breast Imaging Technologist Tammy Springer-Marcotte — who have over 20 years' experience combined in the breast cancer space: A knowledge gap exists between diagnosis and true understanding.
Through Springer-Marcotte's one-of-a-kind online company Breast Cancer Coach, which launched this past July, the duo is empowering patients with educational breast cancer information to help them make well-informed treatment decisions while offering a compassionate ear to those in need.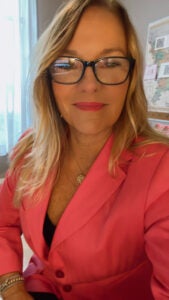 "I've had this [business] concept in my mind for at least six years now," says Springer-Marcotte, founder and CEO of Breast Cancer Coach, and medical professional with over two decades of experience as a mammographer, ultrasound technologist and in the medical device industry. "I just felt that nudge inside me saying, 'Do this now.'"
And who better to team up with than Ivanov, a board-certified and fellowship-trained breast surgeon and instructor in the College of Medicine at UCF. The pair have known each other for over a decade — building a bond over shared ideas and experiences in their field over the years.
"For both of us," Springer-Marcotte says, "our mission and goals are always patient-focused and how to better serve women."
In April, a meetup for coffee with Ivanov marked the kickoff of the small business. Three months later, BreastCancerCoach.com was up and running.
The urgency for comprehensive resource and support hubs like Breast Cancer Coach is evident. Women often face a daunting gap between diagnosis and understanding their options. Healthcare systems may only inform patients about educational materials or approaches specific to that health system rather than provide a broader scope of options.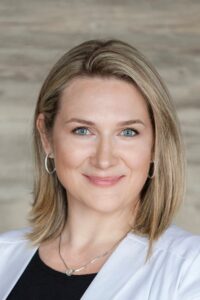 "As a breast surgeon, when women [who've been diagnosed] come to me, they're in that stress mode," Ivanov says. "[With Breast Cancer Coach,] we're giving patients the space and time to calm down, to turn off that fight or flight psychological response, and be able to put on their rational thinking cap."
Breast Cancer Coach offers tailored services, emotional support and education to empower women in their care journey. Packages range from a free meet-the-coach call to hourly consultations to one-year VIP support. The services encompass personalized coaching, education and resources, as well as survivorship planning, addressing both immediate concerns and long-term well-being. And since the website is HIPPA-compliant, women can also securely submit their pathology reports for review by a medical professional.
Bringing her extensive expertise to the team, Ivanov reviews each patient's case in her role as medical director at Breast Cancer Coach. She consults with Springer-Marcotte who then dives deep with the patient. Their partnership ensures that each case is thoroughly reviewed, allowing for more focused and personalized patient care.
The team is also supported by other physicians whom they've formed relationships within the industry over the years. These medical professionals span the entire field of breast cancer care, from pathologists to medical oncologists to reconstructive surgeons — some of whom Springer-Marcotte plans to partner with for a new series called "Ask The Expert" starting later this month. The free educational call is intended for patients wanting a better understanding of medical terms, surgical perspectives and more.
"There's a tremendous need for women to have a better understanding of side effects and some of the medications they're prescribed," Springer-Marcotte says. "[By having] a pharmacist join me to talk about side effects or to even have a radiation oncologist talk about different treatment options depending on [a woman's] stage of breast cancer … I'm bringing the knowledge to the table so women have a better understanding."
According to the Centers for Disease Control and Prevention, breast cancer is the most common cancer among U.S. women — with 240,000 diagnoses annually.
With Breast Cancer Awareness Month internationally recognized in October, Ivanov says that great strides have been made all because of a month like this, however, women shouldn't be complacent.
"Mammograms still do save lives because if we [can] find cancer early," Ivanov says, "we have a very good chance of curing it most of the time."
Emphasizing early detection is essential. In May of this year, the United States Preventive Services Task Force issued a recommendation lowering the age when women should start screening from 50 to 40 years old. It's recommended for women to prioritize this annual exam — as it can detect tiny calcifications much earlier on than ultrasounds — along with doing self-breast exams, Springer-Marcotte says.
In a world where knowledge is key, Breast Cancer Coach is on its way to becoming a leading resource and welcoming space in the breast cancer community. Its positive impact extends beyond its strong presence throughout Florida to other states like California, Pennsylvania and Texas — and even to other countries like Canada and Peru.
"Over the years I've learned so much and now is the time to take this knowledge that I have in the [breast cancer] field, the relationships that I have with physicians across the country [and] … use my gifts to serve other women to help make a stressful situation maybe a little less stressful," Springer-Marcotte says.